Auradine, a firm focused on artificial intelligence, privacy, and blockchain, has introduced new Teraflux Bitcoin miners, the AT2880 and AI3680. The firm, founded in 2022 by a team of seasoned entrepreneurs and technologists, claims that its new miners are the "fastest and most efficient Bitcoin mining systems in the world."
Auradine's New Groundbreaking Bitcoin Miners
As per the announcement shared on November 14, Auradine said that it has achieved groundbreaking innovation through "breakthrough architectural and process advances in ASIC technologies." The new Teraflux miners "offer cutting-edge uptime and demand-response features that help miners reduce costs and effectively partner with energy providers."
Rajiv Khemani, CEO and co-founder of Auradine, stated that his firm is "raising the bar again to help customers achieve the best economics and sustainability, even beyond the Bitcoin halving in 2024," while adding:
"We also offer Bitcoin mining operators a compelling alternative to foreign ASICs, which is vital to the continued growth, security, and confidence of the North American blockchain economy."
Unprecedented Performance
According to Auradine, the new Teraflux Bitcoin miners offer never-before-seen performance, efficiency, and sustainability while delivering superior total cost of ownership. Talking about numbers, the firm confirmed that the AT2880 air-cooled miners are capable of achieving an output of up to 260 TH/s with an optimal efficiency of 16 J/TH.
Related reading: Bitmain Unveils The New Antminer S21 Series
The AI3680 immersion-cooled miners have the capacity to achieve an output of up to 375 TH/s, along with an optimal efficiency of 15 J/TH. Also, in order to maximize the uptime of the mining rigs, the machines have been created with the capability to withstand temperatures up to 50°C (122°F).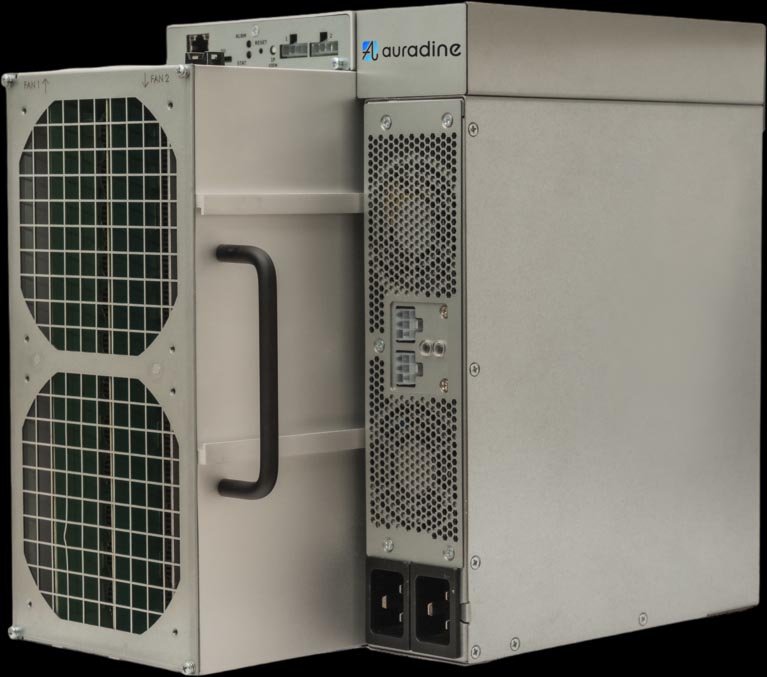 Auradine's trademark technologies, EnergyTune and AutoTune, allow users to dynamically adjust the Bitcoin mining hash rate based on the demand and needs of the electrical grids. Further, the firm's cloud-based solution, FluxVision, provides miners with an easy way to manage their operations at the data center scale.
Industrial Scale Mining Operations
"The adaptability and efficiency of Auradine's mining rigs are a testament to the innovative capabilities of American technology, setting new standards for the global Bitcoin mining community," stated Matt Prusak, Chief Commercial Officer at US Bitcoin Corp.
On the other hand, Ashu Swami, the chief technology officer of Marathon Digital, one of the largest Bitcoin mining companies, acknowledged Auradine's accomplishment. Swami noted that "the company's next-generation ASIC chip allows miners to achieve best-in-class performance and improves their economics."
Corporations around the globe are heavily investing in Bitcoin mining. For instance, in June  Blockstream debuted their long-awaited ASIC miner, "Cyberhornet." Additionally, in the month of October, Volcano Energy and Luxor Technology Corporation debuted Lava Pool, El Salvador's first Bitcoin mining pool powered entirely by sustainable geothermal energy sources.