In a paper published by financial industry giant KPMG, Bitcoin's positive impact is discussed, assessing Bitcoin as being ESG compliant. The firm explores specific use cases to assess bitcoin's environmental, social, and governance impact.
The paper highlights prevailing misconceptions and presents innovative ways to incorporate Bitcoin into the ESG framework.
Bitcoin is ESG Compliant: A Comprehensive Report
The report begins by stating that despite facing turbulence in 2022, Bitcoin remains in the spotlight as the best-performing asset in 2023. Its increasing maturity as a traditional asset is evident from its inclusion in popular finance shows and media outlets. However, Bitcoin is still often misunderstood as a technology and asset class. Nonetheless, it offers various impactful use cases that have proven to deliver value to users and society.
First part of the report focuses on Bitcoin's energy consumption as a topic of debate; currently, the network consumes around 110 terawatt-hours of electricity annually, accounting for approximately 0.55% of global electricity usage. Surprisingly, this amount is not as high as initially expected, given the criticism it has faced.
The primary concern lies not in the energy consumption itself but in the emissions linked to the production of that energy, particularly from burning fossil fuels. To understand the impact better, the study compares Bitcoin's emissions with various industries and services.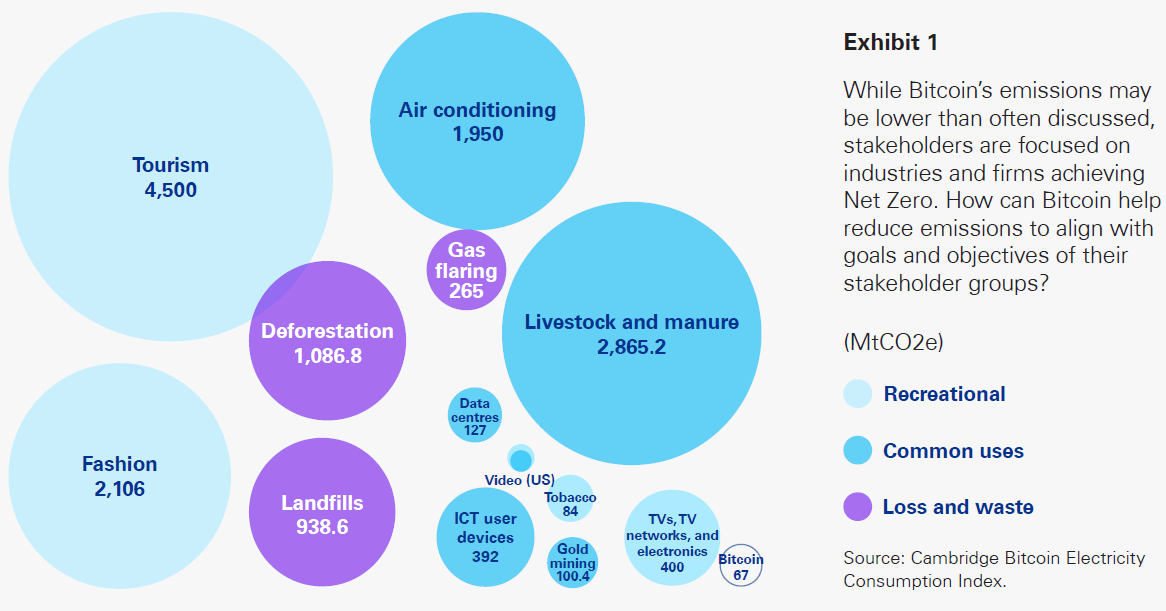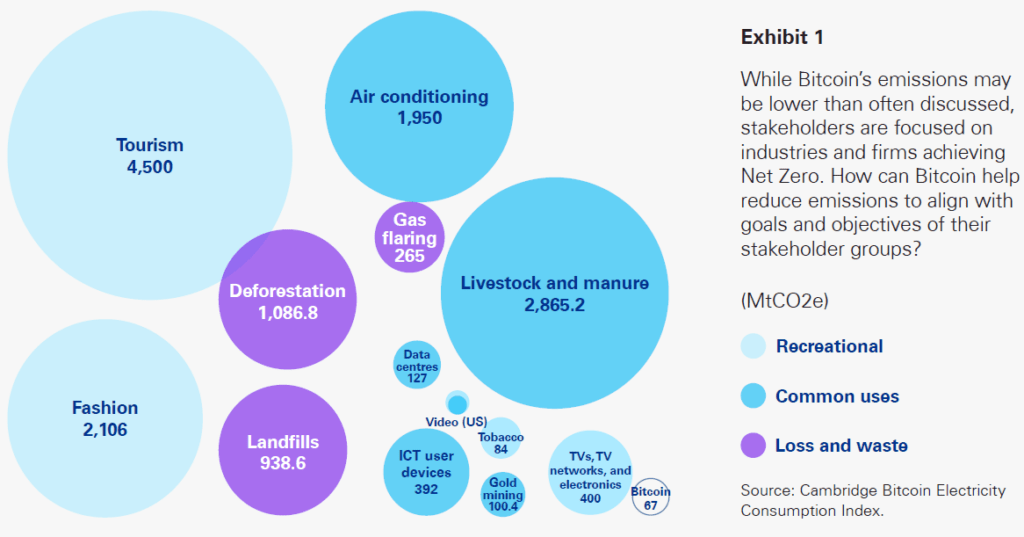 Case For Renewable Energy
The research argues that the competitive nature of bitcoin mining has led miners to seek low-cost sources of electricity, often turning to overbuilt renewable energy like hydro, wind, or solar.
While renewables have limitations due to their variable nature, bitcoin miners can set up near these sources, offering a flexible source of demand that aligns with supply patterns. This ability to adjust power consumption during periods of excess supply can incentivize the expansion of renewable energy capacity.
The report highlights Texas, with its vast renewable energy production, emphasizing that it has become a popular location for bitcoin miners and represent a significant portion of the total hash rate in the U.S. It concludes that bitcoin mining has the potential to support and balance electrical grids by quickly adapting energy use during peak demand.
A Response To Demand
bitcoin miners not only act as buyers of last resort during low demand but also serve as a flexible load by participating in demand response programs that balance electrical grids. They can quickly reduce power usage and give excess energy back to the grid when demand exceeds supply.
The report points to the winter storm Uri in Texas in February 2021 as an example, when bitcoin miners curtailed their energy consumption, contributing approximately 1,500 megawatts back to the grid during the extreme weather conditions.
The study finds this ability to adjust power usage is what makes bitcoin mining valuable in supporting grid stability and managing energy fluctuations.
Recycling Heat As A New Approach
Bitcoin mining rigs generate significant heat, and some miners have started to repurpose this heat to sustainably warm homes, commercial buildings, greenhouses, and swimming pools. By co-locating mining facilities next to these structures, the heat can be transferred through existing ductwork or heat exchangers.
Canadian company MintGreen is mentioned in the report. MintGreen has partnered with Lonsdale Energy Corp to pilot a project in North Vancouver where they're using their "Digital Boilers" to convert heat from bitcoin miners into sustainable heat for 100 buildings.
This innovative approach makes North Vancouver the first city to utilize bitcoin mining's heat to reduce greenhouse gas emissions and heat parts of the city.
Methane Emissions And Bitcoin's Role In Its Reduction
bitcoin miners are finding innovative ways to source their power, leading to a reduction in methane emissions.
Methane is a potent greenhouse gas emitted from various sources, and capturing it instead of releasing it directly into the atmosphere can mitigate its impact on the climate.
Companies like Crusoe Energy are noted in the report for partnering with oil and gas companies to convert flared gas into electricity for bitcoin mining, thereby reducing emissions and creating an additional revenue stream.
Vespene Energy is also mentioned. The company mines bitcoin at municipal landfills, using vented methane that would otherwise be released into the atmosphere, helping to reduce the environmental impact of landfills.
The report arrives at the conclusion that despite its energy consumption, bitcoin mining's ability to utilize renewable energy and aid in emission reduction makes it a valuable ally in the transition to more sustainable energy sources.
Social Impacts Of Bitcoin
The concerns about Bitcoin's potential use for illicit activities are often raised due to its pseudonymous nature and the absence of KYC/AML requirements.
The study, however, points to a 2022 Chainalysis report, showing that illegal use of digital assets accounted for only 0.24% of total transaction volume in that year, significantly lower than estimates for global money laundering.
Moreover, Bitcoin's role in illegal activities, including money laundering, was less concentrated compared to other assets like Ethereum and stablecoins. The study argues that the transparency of Bitcoin's immutable ledger makes conducting illegal activities with it challenging, as all transactions can be tracked publicly from one wallet to another.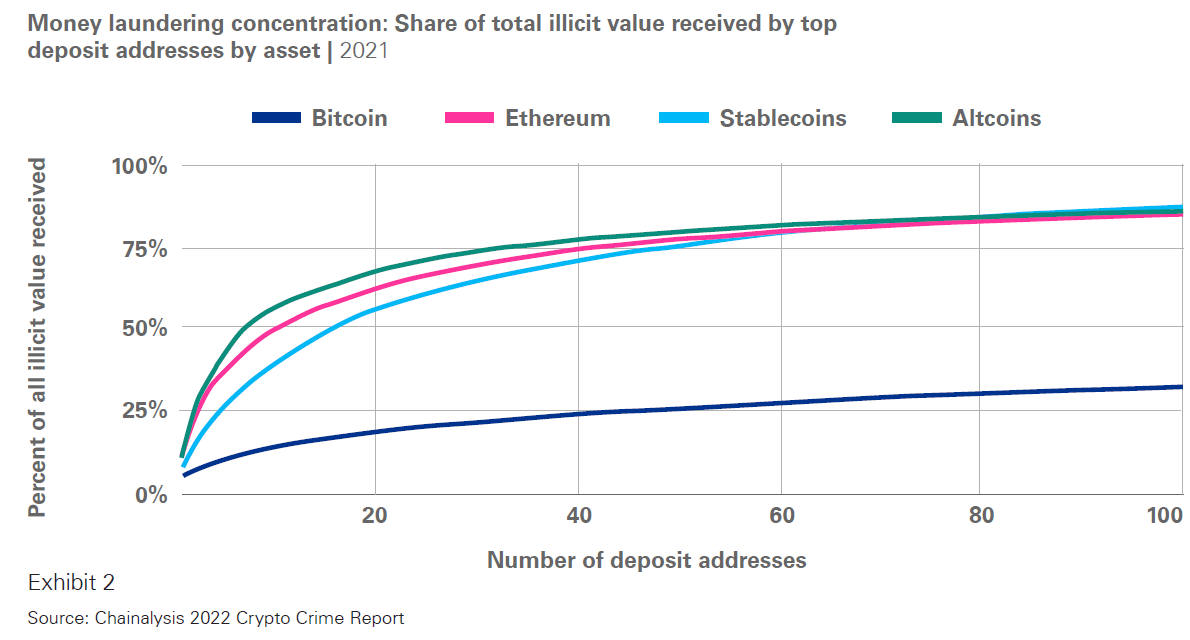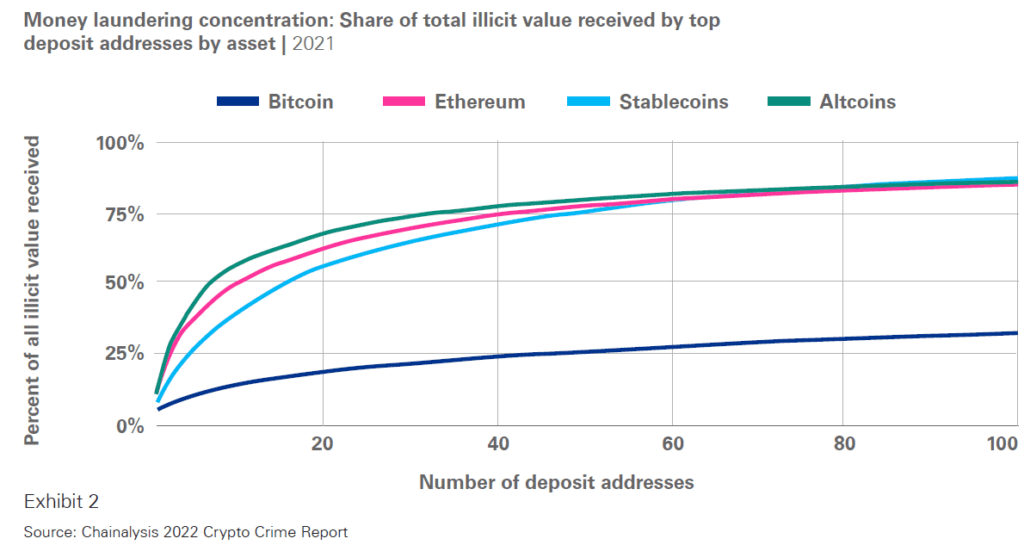 The Role of Bitcoin Governance
The report praises Bitcoin's decentralization, saying that it is one of its key features, achieved through a network of nodes running the same software.
This design ensures that no single entity can modify the protocol's rules without forking off from the main network. The immutability of the blockchain and cryptographic security further strengthen the system's integrity.
It is also highlighted that the proposed changes in the past to increase block size led to the creation of Bitcoin Cash (BCH) as a separate protocol, demonstrating the robust governance of Bitcoin itself. Its decentralized nature prevents abuse and manipulation, making it resistant to interference by individuals in power. As a result, Bitcoin's governance is a fundamental aspect of its design.
KPMG Report Conclusion
The report finally concludes that Bitcoin offers various benefits within the ESG framework.
Its innovative applications have the potential to stabilize energy grids, reduce greenhouse gas emissions, and provide sustainable heat to buildings. As Bitcoin's role evolves, it may play a crucial part in the transition to renewable energy and serve as a financial tool for individuals in authoritative regimes or those facing (hyper)inflation. The future holds promise for Bitcoin's contributions to sustainability and financial empowerment.
About KPMG
KPMG is a global professional services network and one of the Big Four global accounting firms, (alongside EY, Deloitte, and PwC). It operates in 145 countries, has 265,000 employees, and offers financial audit, tax, and advisory services — with specialized divisions within tax and advisory areas. Headquartered in Amstelveen, Netherlands, it is officially incorporated in London, England.