The mining difficulty of bitcoin, which indicates the ease with which miners can find a bitcoin block, is poised to exceed the 50T milestone, reaching an unprecedented record. In the meantime, total hashrate of the network keeps steadily increasing.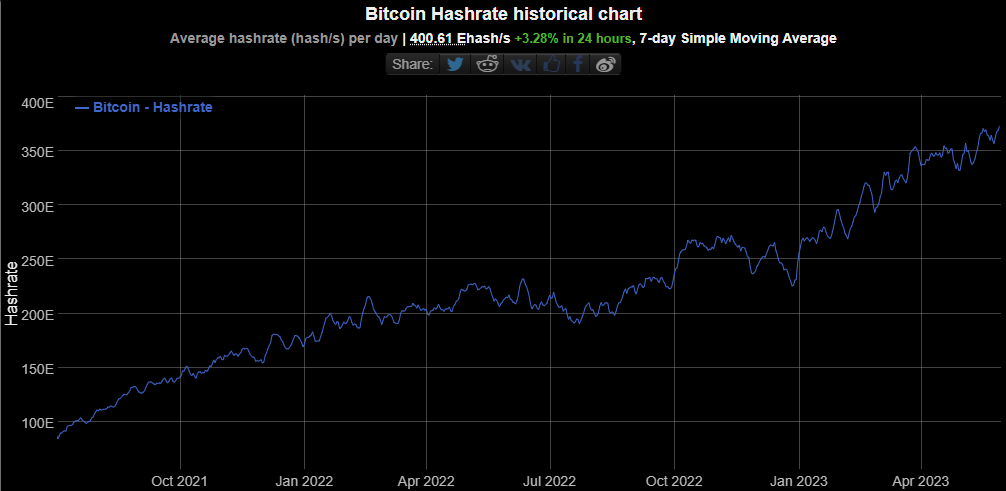 The surge in Bitcoin prices throughout the year, coupled with the growing adoption of the Ordinals protocol, has brought enhanced profitability for miners. As a result, miners are actively deploying additional mining machines. These factors collectively contribute to an increase in computing power, ultimately leading to unprecedented levels of mining difficulty.
To maintain a consistent block mining time of approximately 10 minutes, bitcoin mining difficulty undergoes automatic adjustments in response to the increasing computational power, known as hashrate, being added to the network. This ensures that the mining process remains stable even as more computing power joins the network.
The increasing popularity of the Ordinals protocol has resulted in transaction fees that are much higher than usual. This boost in transaction fees contributes to higher revenue for miners.
Ordinals introduce additional capabilities to the bitcoin blockchain, including non-fungible tokens, which subsequently lead to a higher volume of transactions. As a result, mining a block becomes more profitable.
As the next halving approaches, miners are employing all available resources to mine the remaining blocks, fueled by the anticipation of a price surge following the halving. The remaining days leading up to the halving represent the miners' sole chance to secure block rewards of 6.25 BTC before they are cut in half.
As an increasing number of miners enter the competition to mine the upcoming blocks, the mining difficulty escalates. An increase in the mining difficulty translates into reduced profitability for miners since their chances of successfully mining a block and generating revenue diminish.
Marathon Digital Holdings, a prominent mining company, observed a decline in their monthly mined bitcoins as the difficulty rose in April. Similarly, Canadian miner Bitfarms (BITF) experienced a loss in the fourth quarter due to the higher difficulty level.