Daniel Batten, co-founder of CH4Capital.com and a sustainable energy technology investor, challenges prevailing notions about Bitcoin's environmental impact in a groundbreaking report.
Notably, Bitcoin has always been attacked by critics for its alleged negative impact on the environment. However, Batten's analysis, published on November 13, reveals that the Bitcoin network employs 52.6% sustainable energy, surpassing all other industries, including electric vehicles (EVs).
In particular, the research claims that the Proof-of-Work (PoW) digital asset uses more sustainable energy than the banking sector (39.2%), industrial sector (32%), agricultural sector (19.6%), gold industry (12.8%), and iron and steel industry (9.8%).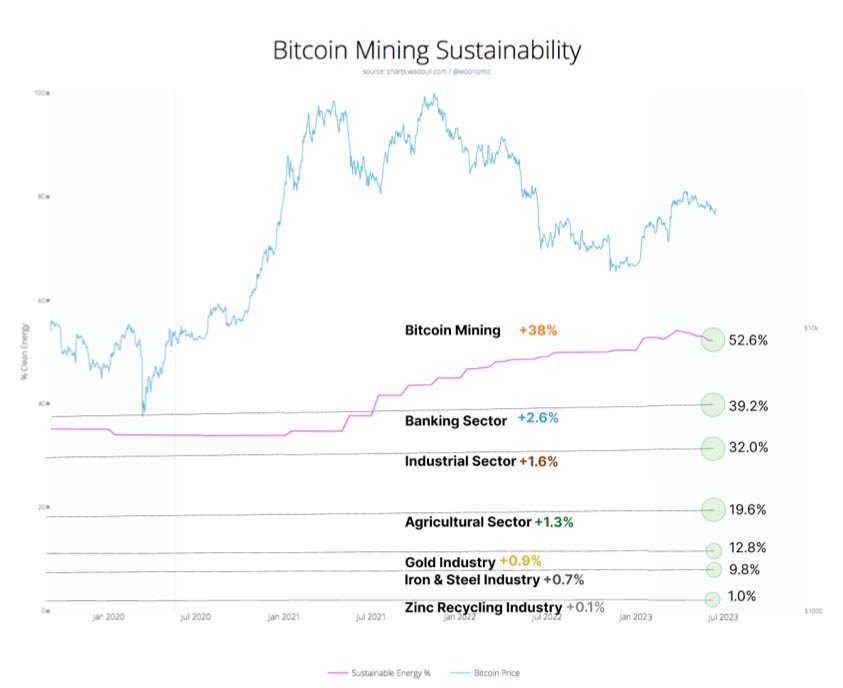 Daniel Batten highlights the paradoxical relationship between Bitcoin's industry growth and declining emissions. He stated that the emissions produced by bitcoin mining activities have decreased impressively by 9.4% in the last four years. Despite a 450% increase in hash rate, a 160% surge in price, and nearly 290% more users over the past four years, Bitcoin network's emissions currently sit at a modest 35 MtCO2e (metric tons of carbon dioxide equivalent).
This anomaly positions Bitcoin as the sole global industry where growth hasn't resulted in emission escalation.
Sustainable Energy Source Comparison: Bitcoin vs. EVs
Batten compares the indirect energy sources used by EVs and Bitcoin. It states that while EVs utilize 36.7% sustainable energy, bitcoin leads with 53.8%. Conversely, EVs rely on 63.3% fossil fuel, contrasting with Bitcoin's 46.2%.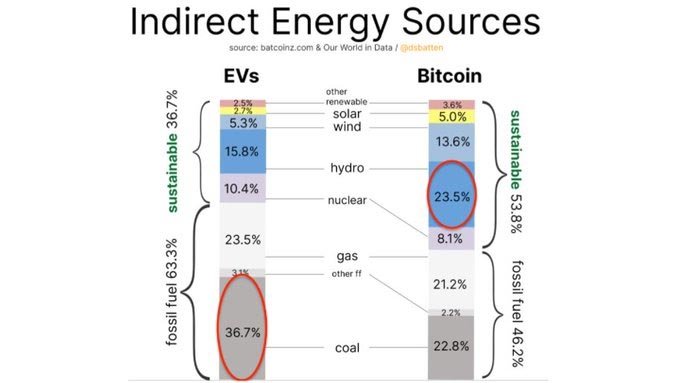 According to the report, both Bitcoin and EVs exhibit zero direct emissions, but secondary emissions from electricity use differ. Bitcoin predominantly relies on hydroelectric power, while EVs depend on coal. This means that Bitcoin is more sustainable between the two.
Addressing the ESG Investment Gap
Batten underscores the importance of more precise data in dispelling misconceptions about Bitcoin's environmental impact. He states:
"All the allegations about bitcoin's environmental impact are wrong. But they are not just wrong; they have wrongly indicted an industry that has achieved four ESG firsts that remain unique to any industry."
Related reading: Bitcoin is ESG Compliant: A KPMG Report
The lack of ESG investments in Bitcoin, despite $23 trillion in available ESG funds, is attributed to imprecise information and confirmation bias. Batten aims to redirect attention to the nuanced sustainability data of Bitcoin, challenging prevalent beliefs and encouraging more informed investment decisions.
This is not the first time the community has tried to spread awareness about the subject. In June 2022, the Bitcoin Mining Council (BMC) released a report recognizing the bitcoin mining industry as one of the world's most sustainable industries. It revealed that 64.6% of the miners consume electricity from the sustainable electricity mix.