Bloomberg analysts Eric Lam and Matt Turner have hit upon what they claim is yet another strong sign that the crypto bear is retreating into the winter, and that the bull might just be emerging with a much anticipated crypto spring.
According to the Bloomberg trading analysts, the first bullish "golden cross" for Bitcoin has emerged since October 2015, making it the first appearance in over three and a half years.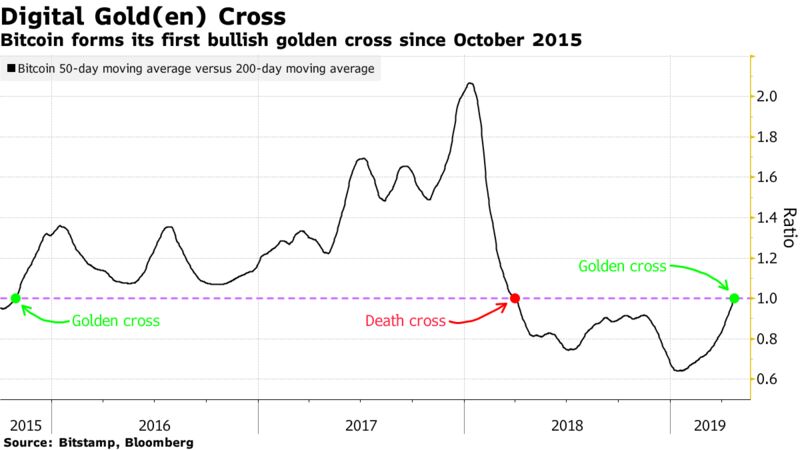 According to Bitstamp pricing that includes weekend moves, the recent uptrend, which continued into the early hours of today in Asian trading, is showing up only a year after the dreaded Death Cross showed up in early 2018.
The golden cross is a candlestick pattern that is a relatively short-term moving average that crosses above a long-term moving average. It is seen a s hugely positive signal for traders and Bitcoin bulls will take heart at this milestone, as golden crosses can be the portent of a major buying spree for investors. This was indeed the case with the last Golden Cross in late 2015, the bottom levels from which were never breached again until three years later 2018.
Meanwhile, Bitcoin continues to make new gains for 2019, scaling new heights at impressive volumes. Bitcoin currently trades just above USD 5,500 and shows no signs of letting up.
Follow BitcoinNews.com on Twitter: @bitcoinnewscom
Telegram Alerts from BitcoinNews.com: https://t.me/bconews
Want to advertise or get published on BitcoinNews.com? – View our Media Kit PDF here.
Image Courtesy: Unsplash