Renowned Canadian Bitcoin mining firm Bitfarms has been on an impressive expansion streak, substantially boosting its BTC mining production in September.
In their latest mining report released on October 2, Bitfarms revealed that it mined a total of 411 BTC last month. This figure represents a notable 7.3% increase compared to August's mining performance.
According to the announcement, the mining firm liquidated 362 out of 411 BTC mined, resulting in total revenue of $9.5 million. The company continues to maintain a substantial BTC reserve, currently holding 703 BTC — worth around $20 million at the current market rate.
Furthermore, Bitfarms has achieved a 9% boost in their hash rate in September, reaching 6.1 exahashes per second (EH/s). However, this hash rate falls slightly below the firm's third-quarter target of 6.3 EH/s, due to electrical infrastructure delays at its Baie-Comeau facility in Québec.
Bitfarms' Massive Expansion
The surge in mining production can be attributed to Bitfarms' continuous efforts in deploying new mining hardware and fully activating their Rio Cuarto facility in Argentina. Impressively, the new facility now boasts a 51-megawatt (MW) capacity. With these developments, the overall operational capacity has reached 233 MW, for a 24% increase in 2023.
Geoff Morphy, Bitfarms' CEO, believes that the company's most promising growth opportunities lie ahead, with a keen eye on the upcoming Bitcoin halving expected in April 2024. This event will cut the Bitcoin miner block reward from 6.25 BTC to 3.125 BTC, significantly increasing mining-associated operational costs. He stated:
"To this end, we are focused on infrastructure and balance sheet strength to provide the financial flexibility to move aggressively when conditions for growth are optimal."
Despite the firm reporting an impressive boost in mining operations in September, it's important to note that its mining pace is still slightly behind the figures achieved in 2022. In particular, the amount of BTC mined in September was 14.6% lower compared to the same month previous year.
Bitfarms has mined a total of 3,692 BTC year-to-date, in comparison to 3,733 BTC it generated in 2022 over the same period.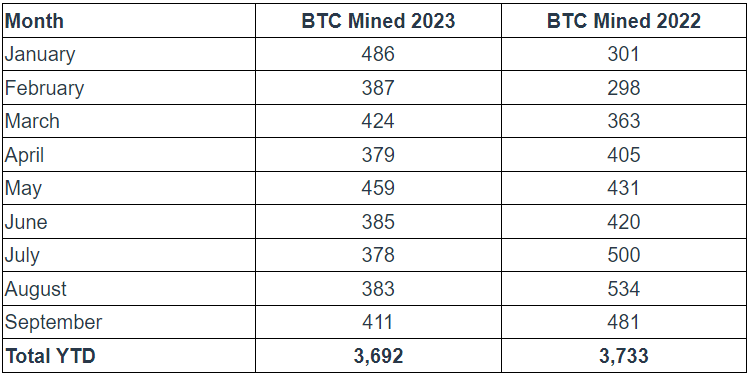 These developments unfold as Bitcoin's mining difficulty sees a 2.7% month-over-month surge in September, with Bitcoin miners anticipating a surge in BTC prices.