Leading asset management giant BlackRock Inc. is reportedly confident about its Spot Bitcoin ETF approval. On November 9, Fox News reported that the firm anticipates that the United States Securities and Exchange Commission (SEC) will greenlight BlackRock Bitcoin ETF in January 2024.
The $9 trillion asset manager expresses confidence that the ETF's approval is imminent. BlackRock's Spot Bitcoin ETF application, submitted in July with Coinbase as the custodian, could become one of the first ETFs in the United States, advancing Bitcoin towards mainstream adoption. FOX Business correspondent Charles Gasparino cited internal sources to state:
"Blackrock is growing increasingly confident that the SEC will approve its BTC ETF by January, sources say."
All 12 Spot ETFs Including BlackRock Bitcoin ETF Might Be Approved by January 10: Analysts
BlackRock, alongside other major applicants like Grayscale, is among the earliest financial institutions vying to introduce a Spot Bitcoin ETF in the United States.
Bloomberg ETF analysts James Seyffart and Eric Balchunas align with BlackRock's optimism. Despite delays in SEC orders for various ETF applications, they believe there's a 90% chance of approval for BlackRock, Bitwise, WisdomTree, Invesco, Fidelity, and Valkyrie next year.
Notably, the filings suggest that the financial regulator only has an eight-day window, from November 9 to 17, to decide on whether to approve or reject the applications, including BlackRock's iShares Bitcoin Trust.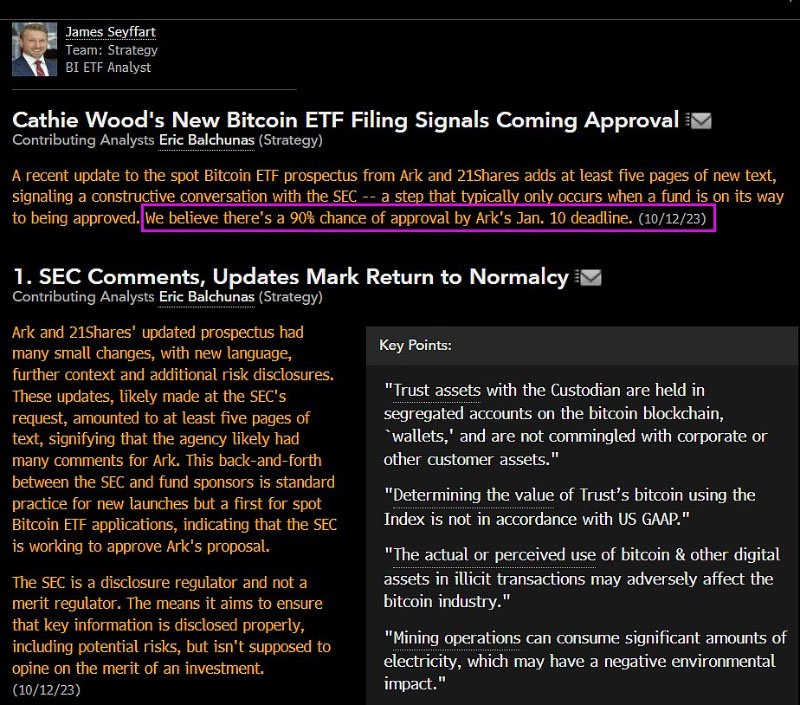 The SEC recently extended the deadline for several applications, providing an opportunity to grant approval for multiple Bitcoin ETFs concurrently. The two analysts speculated that the SEC might approve all 12 spot Bitcoin ETF applications on January 10. Seyffart recently stated on X:
"New research note from me today. We still believe there is a 90% chance by January 10 for spot Bitcoin ETF approvals. But if it comes earlier, we are entering a window where a wave of approval orders for all the current applicants *COULD* occur."
Growing Optimism and Bitcoin Price
While the exact timeline for ETF approval remains uncertain, BlackRock Bitcoin ETF could significantly impact the broader digital asset market. The growing optimism is evident in the market's performance, with Bitcoin experiencing over a 30% price increase in the last three months.
This surge contributes to heightened interest and activity in the broader digital asset space. Interestingly, Spot ETFs are generally viewed as a means to improve asset accessibility for everyday investors.
BlackRock's journey to historic approval is not without controversy. It recently faced pro-Palestine protests at its Manhattan headquarters, highlighting the challenges faced by large financial institutions in the evolving Bitcoin space.
Nonetheless, on October 23, BlackRock listed its iShares Spot Bitcoin ETF on the Depository Trust & Clearing Corporation (DTCC). The company picked IBTC as its ticker, suggesting its confidence in potential approval by the SEC.