"BlackRock ETF Bitcoin" seems to be the three words that are on everybody's mind in the bitcoin markets' realm these days.
The possibility that SEC Chair Gary Gensler may still reject pending Spot Bitcoin ETF applications from BlackRock and others, dashing hopes for approval, is the talk of the market according to Bloomberg ETF analysts who say they can't rule out a last-minute denial.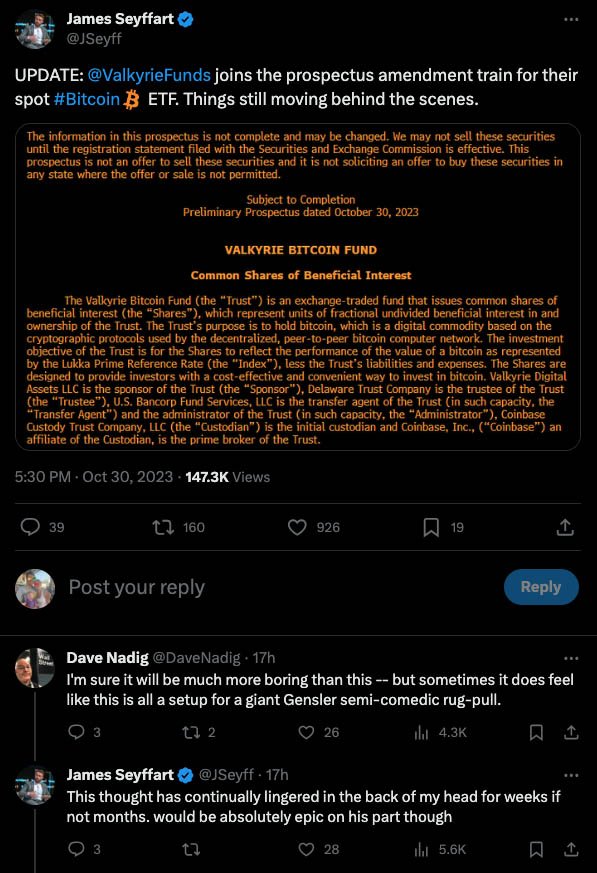 Inconsistent Actions From The Securities And Exchange Commission
The SEC's position on Spot Bitcoin ETFs has been a topic of discussion, especially since a 2019 video resurfaced showing Gensler describing the SEC's stance on such products as "inconsistent." Gensler pointed out the discrepancy between approving futures ETFs but not spot ETFs.
The SEC has rejected numerous Spot Bitcoin ETF applications, citing investor protection concerns. In June 2022, the SEC faced legal action from digital asset manager Grayscale over rejecting its Spot Bitcoin ETF application. The court ruled in favor of Grayscale, but the SEC chose not to appeal.
As of now, the SEC has only approved ETF applications for Bitcoin futures products. The possibility remains that Gensler could still reject pending Spot Bitcoin ETF applications from BlackRock and others despite growing anticipation of approvals.
BlackRock ETF Bitcoin: Investors Eagerly Waiting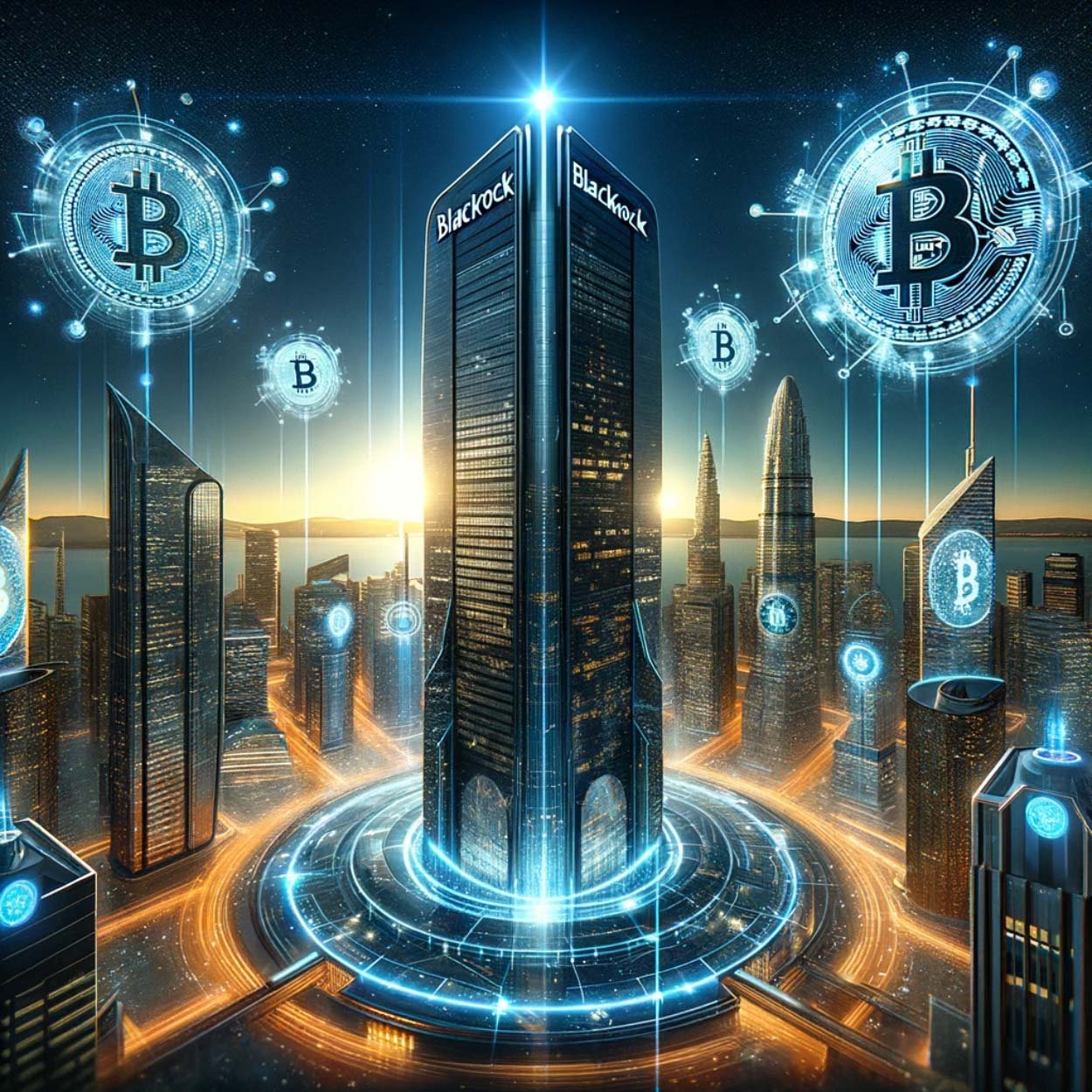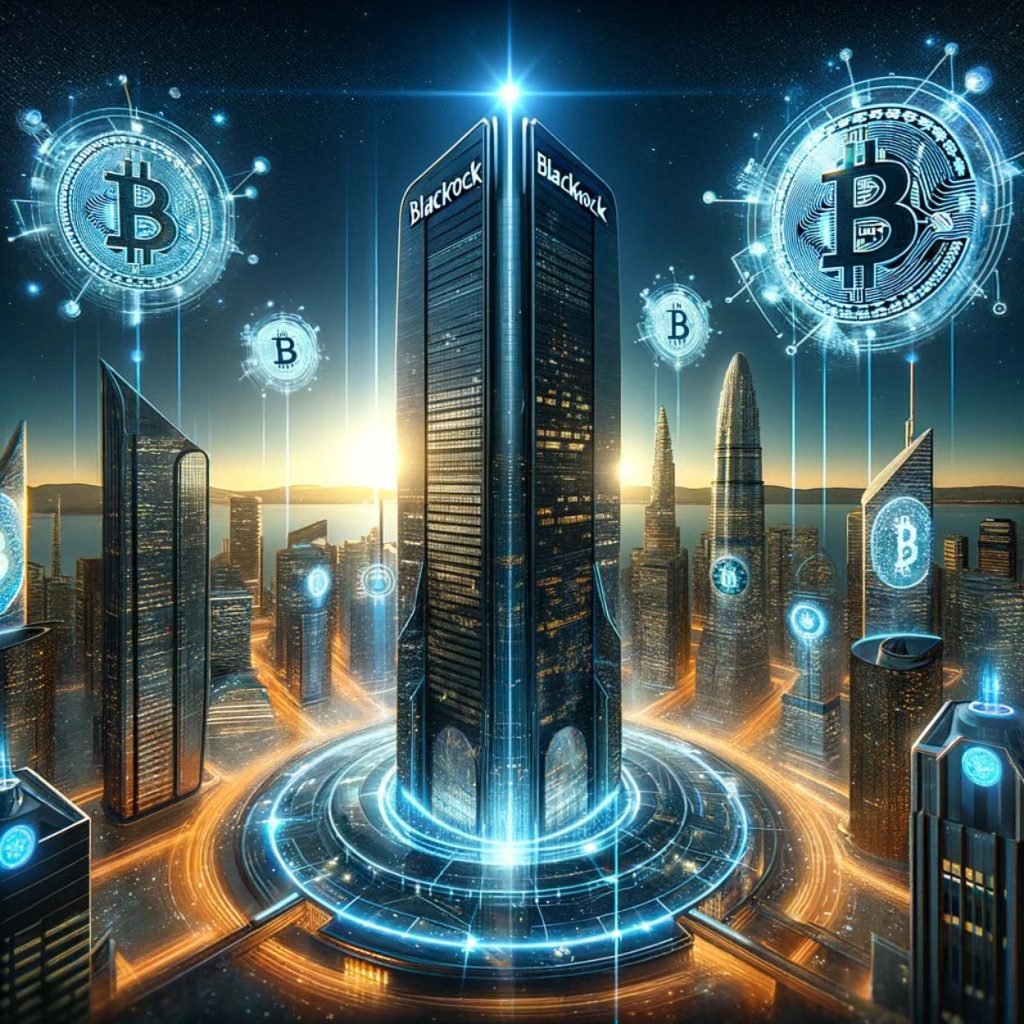 BlackRock's pristine ETF approval record makes an SEC rejection seem improbable. The financial juggernaut has gotten the green light on 575 ETF applications, while facing just a single rejection – amounting to a 99.8% success rate.
However, past performance does not guarantee future results. SEC Chair Gary Gensler could still deny BlackRock's Spot Bitcoin ETF bid, despite the company's sterling track record. While unlikely, analysts say one should not rule out a last-minute rebuke that would shockingly make the BlackRock Spot Bitcoin ETF just the second product proposal ever rejected by the SEC. For an ETF giant like BlackRock, a denial would be surprising but it would not stop Bitcoin's mainstream embrace.
The Institutions Are Here
Recent news about CME overtaking Binance in Bitcoin futures, signals rising institutional engagement in the Bitcoin space. Regardless of the ETF decision, institutions are clearly gaining interest.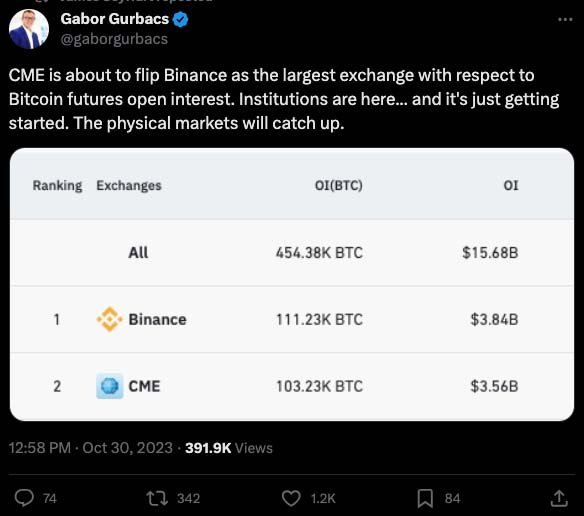 A ruling on BlackRock's proposed product would be historic, but CME's growth shows mainstream adoption is gathering momentum with or without a Spot ETF approval. Institutions are here, and it's just getting started.
Don't Trust; Verify
While Spot ETFs present diverse use cases, self-custodying bitcoin remains unparalleled in value. As anticipation grows for Spot Bitcoin ETF approvals, especially from giants like BlackRock, Bitcoiners should emphasize verification over trust.
The odds of BlackRock becoming insolvent are even lower than a Spot ETF denial, yet the future is always uncertain. In investing and technology alike, verification stands crucial.
Given the unpredictable macro environment, the principle "Don't Trust; Verify" becomes even more essential. For those able, taking self-custody is wise; owning the private keys to your bitcoin is far more precious than any IOU offering exposure to bitcoin's price action!
Related reading: