Blockchain intelligence platform Arkham Intel has found that Coinbase holds nearly 1 million bitcoin in its wallets, worth over $25 billion at current prices. The exchange's reported BTC holdings account for around 5% of total circulating supply.
The Largest Bitcoin Holder
Coinbase holds 947,755 BTC of the total 19,493,537 bitcoin units in existence, as per the data. On September 22, Arkham shared that the analysis has identified and tagged over 36 million BTC deposits and holding addresses associated with Coinbase. Additionally, their largest cold wallet holds nearly 10,000 BTC.
Interestingly, based on Coinbase's recent financial data, Arkham believes that it "likely has thousands more BTC not yet labeled."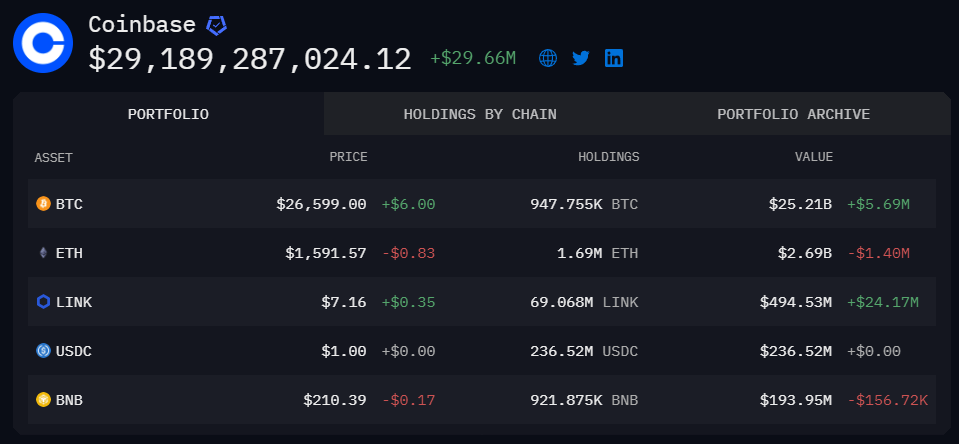 As per the report, Coinbase has become "the largest bitcoin entity in the world alongside the enigmatic Satoshi Nakamoto. The uncovered reserves amount to nearly 5% of the total bitcoin supply."
It is important to note that while the exchange holds over $25 billion in BTC, it only owns around 10,000 of them, worth around $200 million.
Coinbase Going Global
The analysis comes at a time when the U.S.-based exchange has successfully ventured into several global markets. With strategic moves like obtaining VASP registrations in multiple European countries and expanding its presence in regions like Singapore, Brazil, and Canada, Coinbase is making its mark worldwide.
Mixed Reactions From Community
In response to the report, community members showed mixed reactions.
Some view this as a signal to withdraw their bitcoin from exchanges, warning fellow holders not to delay until exchanges potentially restrict withdrawals like FTX did. Others are concerned about the security of cold wallets and believe there's no foolproof method for storing their assets.
Meanwhile, in terms of bitcoin ownership by companies, business intelligence firm MicroStrategy still maintains its position as the biggest BTC owner.
In their earnings report released on August 1, co-founder Michael Saylor revealed that the company owns 152,800 BTC, with a current valuation exceeding $4 billion.