In a recent report, data analytics firm CryptoQuant projected that if the United States Securities and Exchange Commission (SEC) approves the proposed Spot Bitcoin exchange-traded funds (ETFs), Bitcoin could evolve into a $900 billion asset, while the overall digital asset market could reach $1 trillion.
The Report by CryptoQuant
In 2020–2021, the Bitcoin market experienced the first wave of institutional adoption when the institutions primarily added bitcoin to their balance sheets. However, the next wave of adoption is anticipated to come from financial institutions offering bitcoin access to their clients through spot ETFs, as highlighted in CryptoQuant's report.
The U.S. is witnessing a surge in Spot Bitcoin ETF applications from major financial institutions, including Bitwise, VanEck, Invesco, and Valkyrie. It's anticipated that these proposals could receive green light by March 2024 at the latest, signaling a new era of Bitcoin adoption. The report stated:
"The total Assets Under Management (AUM) of these companies are around $15.6 trillion. If they were to put 1% of their AUM into these Bitcoin ETFs, the total US dollar amount that would enter the Bitcoin market would be ~$155 billion. To put it in context, these amounts represent almost a third of the current market capitalization of Bitcoin."
According to Julio Moreno, the Head of Research at CryptoQuant, if this happens, it would hypothetically drive the BTC price to between $50,000 and $73,000.


Capitalization to Expand by $3–5 for Every $1 Invested
Notably, during previous bull market cycles, Bitcoin's market capitalization grew significantly compared to its realized capitalization. CryptoQuant analyzes this pattern and suggests that for every $1 of new capital entering the Bitcoin market, its capitalization could expand by $3 to $5, underscoring the potential for massive growth.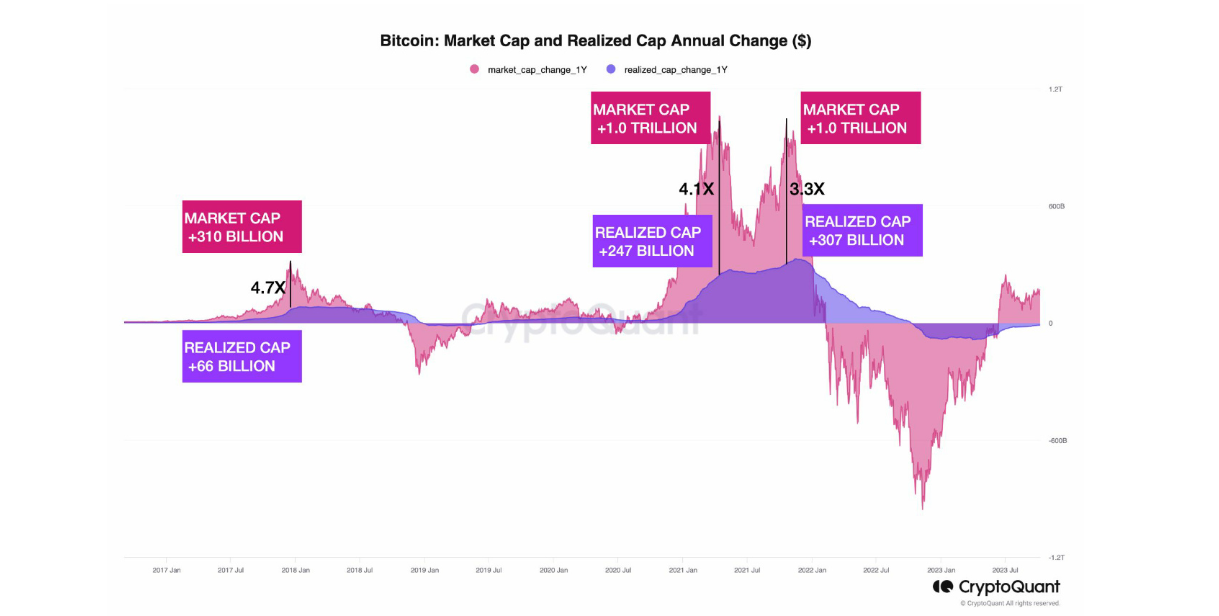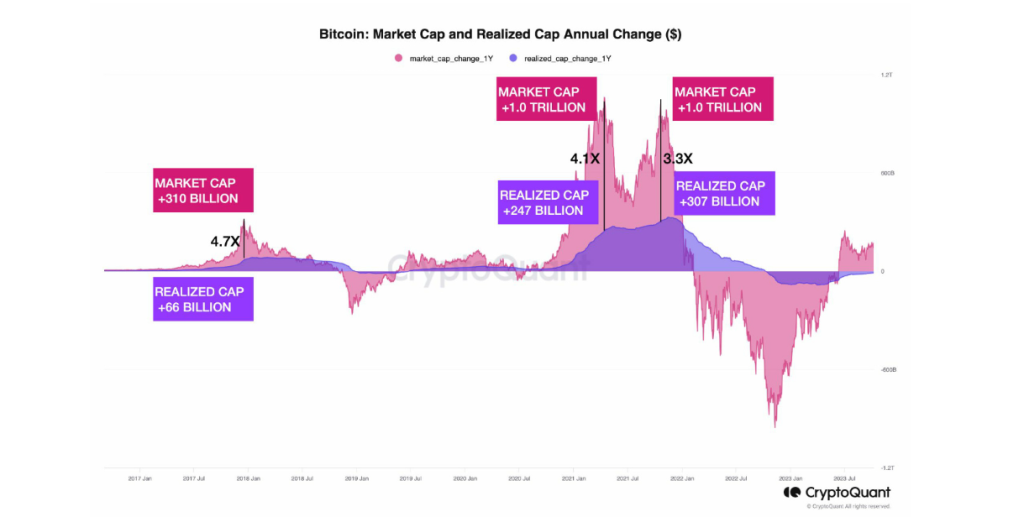 It is interesting to note that recent false news regarding the approval of a Spot Bitcoin ETF momentarily sent the BTC price to $30,000. This incident has left many convinced that the fervent bullish sentiment may continue, deterring bearish positions. Markus Thielen, head of research and strategy at Matrixport, recently commented on the same by stating:
"Nobody will dare to short BTC now for the foreseeable future. Even if this Cointelegraph news was false, BTC can still grind higher in anticipation of the approval."
The bullish sentiment can also be confirmed by the continued narrowing of Grayscale's GBTC discount as the asset manager awaits approval from the SEC to convert the fund into a Spot ETF.
The total market capitalization of the digital asset market first exceeded the $1 trillion mark in January 2021. It currently stands at around $1.1 trillion, with Bitcoin representing more than 50% of this value.
Related reading: