In an incriminating testimony, FTX co-founder Gary Wang admitted that FTX's claimed $100 million insurance fund for 2021 was incorrect and entirely fake.
Wang has made this shocking revelations during the third day of his testimony at Sam Bankman-Fried's criminal trial.
How Did FTX Fake Insurance Numbers?
SBF allegedly used hidden Python code to distort the fund's value, frequently leaving it insufficient to cover losses. He also stated that the fund never held any FTX tokens (FTT).
This aligns with suspicions from the community, having found evidence of software code allegedly used by the exchange to manipulate the insurance fund's value.
FTX Deceived Public With Random Numbers
Notably, on October 7, BitMex Research shared a screenshot suggesting that FTX used a random number function to generate the publicly disclosed insurance fund figure, deceiving users.
Moreover, another screenshot by BitMex Research revealed the FTX database code in the Python programming language. It contained "return f2d(numpy.random.normal(7500, 3000)) * daily_volume / Decimal('le9')," which clearly indicates that the exchange generated random numbers to fake its insurance fund.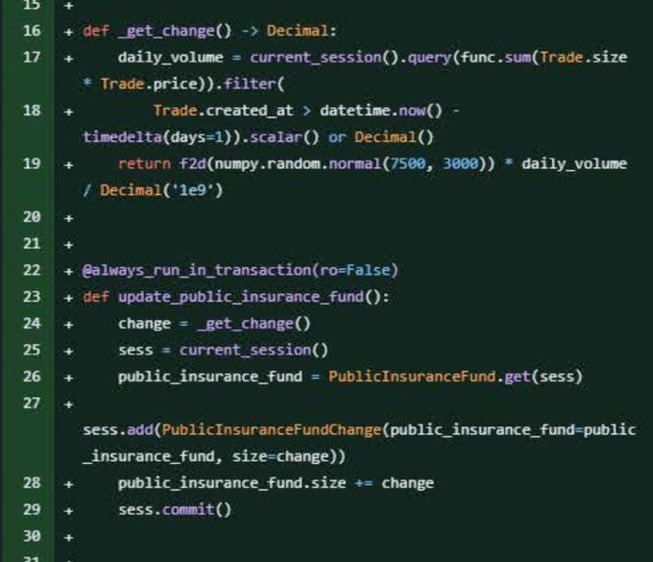 In the meantime, Wang admitted that the allegedly fake insurance fund was represented only by a USD figure, not FTT tokens, which didn't match the actual data in the database. He claimed:
"For one, there is no FTT in the insurance fund. It's just the USD number. The number listed here does not match what was in the database."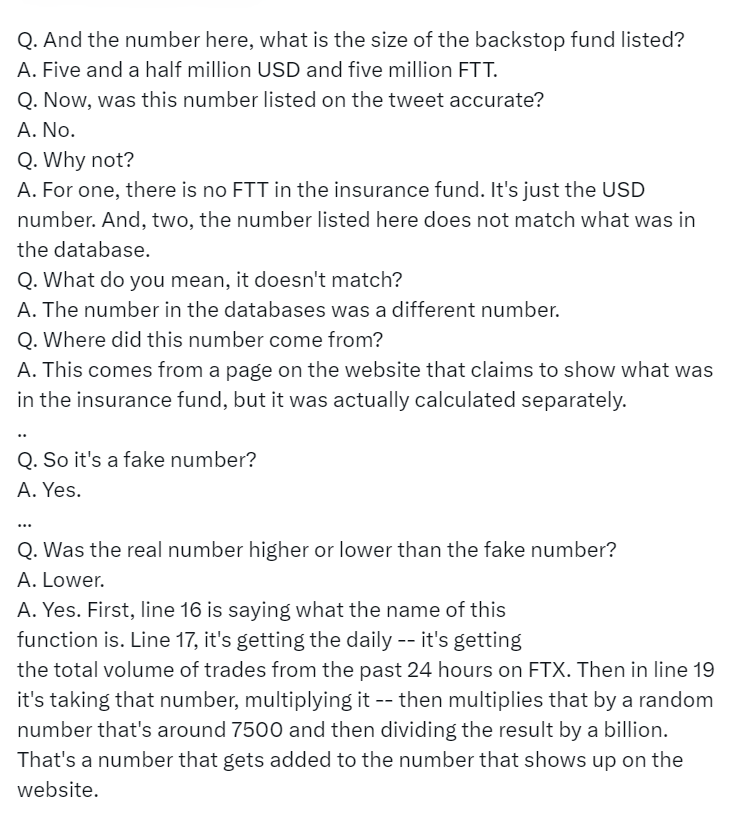 Additionally, Wang claimed that when SBF realized that the insurance fund was nearly depleted, he instructed him to assign losses to Alameda Research. This was allegedly to hide the loss, as Alameda's financial records were more confidential than the exchange.
Who Else Was Involved?
Wang also stated that SBF encouraged him and Nishad Singh, FTX's director of engineering, to add an "allow_negative" balance feature to the FTX code. This feature allowed Alameda Research to trade on the exchange with near-infinite liquidity.
Interestingly, Wang and Singh had a 10% and 7.8% stake in Alameda, respectively. They always stayed in the background, right up until FTX's collapse. Wang describes himself to be different from SBF, who often spoke to the media, government, and investors.
It is worth noting that Wang, Singh, and Alameda's former co-CEO and SBF's ex-girlfriend, Caroline Ellison, previously pleaded guilty to wire fraud and other crimes. Bankman-Fried faces seven counts, including money laundering, conspiracy, and wire fraud.