Across the globe, billions grapple with unreliable financial systems marked by high inflation, bank failures, state seizures, and looming central bank digital currencies. For these individuals, bitcoin could serve as a protective shield, yet many remain unaware of its potential. Since 2019, starting with initiatives like Bitcoin Beach, communities have sprouted at the world's edges, championing bitcoin and its promise. These communities offer hope, knowledge, and tools to protect against such threats.
Geyser Grants Round 5, Education in Bitcoin communities, was focused on amplifying the reach and impact of these communities, by giving away 1 bitcoin and by shining a light on projects at different levels of development. This grant has further highlighted how bitcoin is a global grassroots initiative.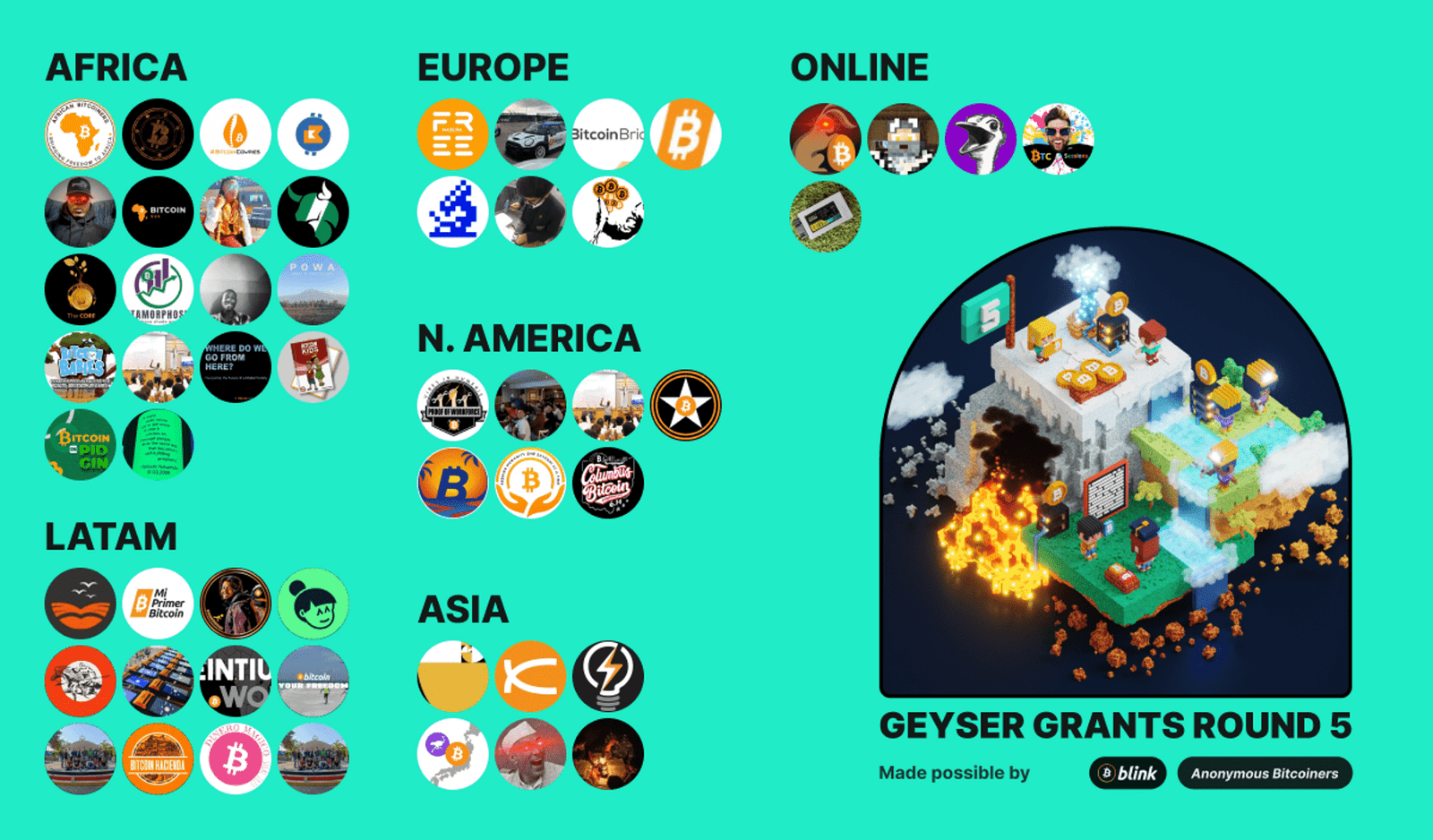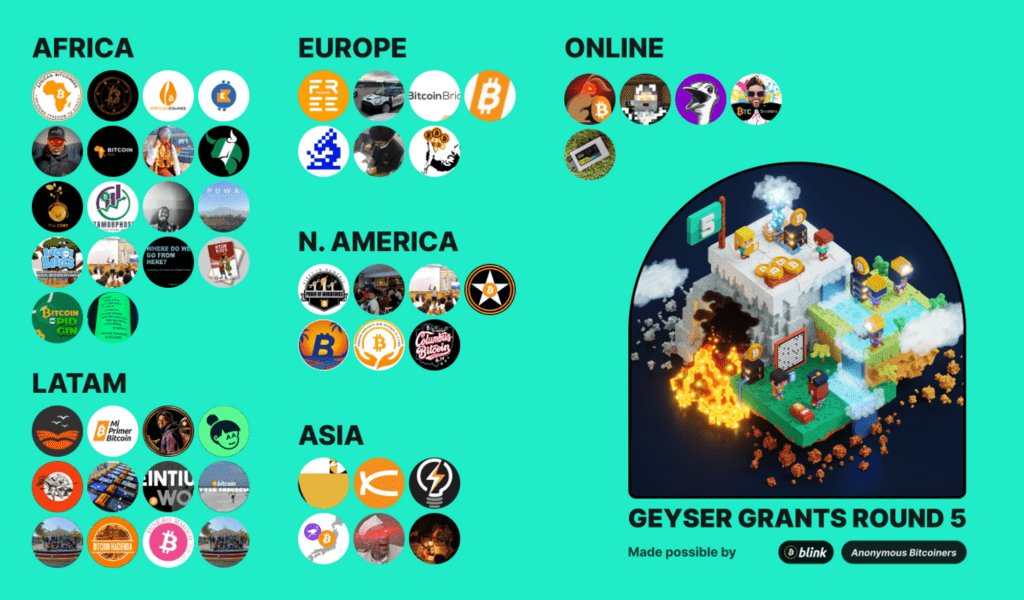 Last week Geyser announced the winners in a X/Twitter thread where 55 bitcoin communities from all over the world were placed in three different tiers. Tier 1 projects received $2,500 worth of sats, Tier 2 projects received $500 worth of sats, and Tier 3 projects received $150 worth of sats. Let's take a look at them!
Before we get into it, it's worth mentioning that we have Blink (@blinkbtc) and anonymous Bitcoiners to thank for making this grant happen.
Africa
African Bitcoiners are a group of passionate, decentralized, and diverse members willing to bet a lifetime on educating Africans about bitcoin. [Tier 1]
Easy Sats' mission is to find ways that allow anyone in Namibia to easily purchase bitcoin and be made aware of how they can accept it for their goods and services as well as securely storing it themselves. [Tier 2]
Bitcoin Cowries carries out Bitcoin education in local communities, schools, and businesses within the 16 regions of Ghana. [Tier 2]
Bitcoin Innovation Hub is a social entrepreneurship startup in Uganda that educate and create awareness about bitcoin and its benefits to transform financial systems. [Tier 2]
Bitcoin Kids is a comic book designed and written by Nzonda. It's is appealing, fun, and easy for kids, young adults, and adults to understand and get to use bitcoin in the Global South. [Tier 2]
The Bitcoin Matatu Tours project will enable Bitcoiners living across the globe to experience bitcoin-only projects, educational trainings, onboarding sessions, and meetups in Kenya. [Tier 2]
Building a Bitcoin education center in Agbozume, Ghana, looks to educate children in the local community. [Tier 2]
"Bitcoin Doc: Where do we go from here?" by DocJenna is a documentary currently in production, which explores Bitcoin communities across the globe who are focused on education and/or creating circular economies. [Tier 2]
Bitcoin Reach is orange-pilling new nocoiners in Zimbabwe by going out in the streets and giving away sats and hoodies. [Tier 3]
Nigeria Beef Initiative is educating 400 orphans in Lagos, Nigeria, providing meals with nutritious local beef, spreading compassion, uniting community, and sharing blessings. [Tier 3]
Bitcoin in Pidgin Podcast is providing Bitcoin-only content through podcasts/vlogs in Pidgin, a language spoken by millions in Nigeria. [Tier 3]
The Core 21M aims to bring Bitcoin awareness to the youth of Kenya through education, entertainment, and engaging content including short courses. [Tier 3]
The Metamorphosis Hub aims to bring Bitcoin awareness through education by meetups, bootcamps, casino games, and a newly launched podcast. [Tier 3]
Bitcoin Education with Apata Johnson is working on building a bitcoin community around Atan and Ogun states in Nigeria. [Tier 3]
Proof of Work Academy is working to introduce Bitcoin education, establish a Bitcoin hub, and foster a circular economy in Arusha, Tanzania. [Tier 3]
Orange Pilling the AU aims to educate African legislators about bitcoin and Austrian economics by providing books. [Tier 3]
Bitcoin Babies unites the power of bitcoin with the noble cause of nurturing infants through a book that educates on financial literacy and proper infant nutrition, envisioning a world where no child suffers from malnutrition. [Tier 3]
Asia
21ideas is an educational bitcoin-only project that provides fundamental materials for a multinational Russian-speaking community. [Tier 1]
Bitcoin Education in Hong Kong is teaching students how bitcoin is changing the world in Hong Kong's first bitcoin school. [Tier 2]
Right Shift is Thailand's first and only media company focusing on bitcoin. [Tier 2]
Indian Pleb Space is educating Indians on the value of bitcoin through Twitter spaces in Indian languages. [Tier 3]
Yutaro21jp is making Bitcoin and Nostr resources available in Japanese. [Tier 3]
Yusef has been supporting his community in Palestine thanks to donations from the worldwide Bitcoin community. [Tier 3]
Europe
Free Madeira is a movement to make Madeira one of the leading bitcoin-friendly regions in the world. [Tier 2]
Bitcoin Racing is a U.K.-based racing team with the mission to drive Bitcoin adoption further. [Tier 2]
Bitcoin Bridge's goal is to raise awareness and educate small businesses in south Germany with plans to start a small hub of bitcoin adoption and create a circular economy. [Tier 2]
Mein Erster Bitcoin — Mi Primer Bitcoin in Germany is another project from the Bitcoin Bridge team aiming to implement the Mi Primer Bitcoin diploma across Germany. [Tier 2]
BitPolito is building the next generation of Bitcoin developers and enthusiasts, equipping them to excel in this dynamic field. [Tier 3]
U.K. Sovereign Student Project is supporting the U.K.'s first Mi Primer Bitcoin node in London, and all the nodes that join in the future. [Tier 3]
Street Cyber is putting up an art exhibition in Barcelona, "The Art of Revolution," to raise awareness about bitcoin and teach the basics of this new monetary technology. [Tier 3]
North America
Bitcoin and Black America Book Tour is spreading the message of bitcoin further in minority communities through a national book tour for the #1 bestselling book, Bitcoin and Black America. [Tier 2]
The Bitcoin Bay Foundation is building a circular economy in the Greater Tampa Bay Area in the U.S. [Tier 2]
The Progressive Bitcoiner is a podcast designed to give a voice to the individuals and communities who have used bitcoin to foster positive changes for personal, social, and environmental issues. [Tier 2]
Columbus Bitcoin is educating and raising awareness about bitcoin while making Columbus the premiere hub of information in the Midwest. [Tier 3]
From Bars to Bitcoin is leveraging the untapped talent in prisons to give people skills and employment opportunities that will strengthen the Bitcoin ecosystem. [Tier 3]
Operation Bitcoin is connecting veterans to the Bitcoin mission through education, empowerment, and community building. [Tier 3]
Bitcoin Cyberpunks Toronto is expanding the network of Bitcoiners in the Toronto region utilizing workshops, education, presentations, speaking circles, and engagement. [Tier 3]
Proof of Workforce is working to orange-pill the workforce by educating labor unions, pension funds, and individual workers about bitcoin. [Tier 3]
Online
Summer of Bitcoin is a global summer internship program to introduce university students to Bitcoin open-source development and design. [Tier 1]
Sovereign Craft intends to be the best educational resource for sound money in Minecraft for players looking to interact with a real-game economy regardless of their age or geography. [Tier 3]
Team Nerd Miner is a FOSS project making bitcoin mining accessible, affordable, and collaborative for everyone, regardless of your skill level or resources. [Tier 3]
BTCSessions has been creating high-quality Bitcoin-only content, tutorials, and educational videos since 2016. [Tier 3]
Bitcoin Academy is an open-source Bitcoin university with 4,000+ students and eight free courses. [Tier 2]
Latin America
Mi Primer Bitcoin aims to create a free, empowered Bitcoin society in El Salvador and the rest of the world. [Tier 1]
Libreria de Satoshi's mission is to empower Spanish-speakers to become Bitcoin Core contributors and entrepreneurs by providing accessible, high-quality technical education. [Tier 2]
Paco, Run with Bitcoin, is on a mission to travel to 15 LATAM & CARICOM countries using bitcoin, this journey aims to showcase the widespread adoption of bitcoin through engaging travel content. [Tier 2]
Praia Bitcoin Brazil are building and distributing Bitcoinize Machines, to empower bitcoin circular economies to start accepting bitcoin around the world. [Tier 2]
Amity Age is the first bitcoin education center in Honduras. They educate locals on bitcoin and help with merchant adoption. [Tier 2]
Bitcoin Yucatan Community is introducing BTC circular economy in their region, with an aim to show nation/media/government possibilities similar to results in El Salvador, increasing tourism by 30% after adoption. [Tier 2]
Bitcoin Berlín SV is creating a bitcoin circular economy in the mountain town of Berlín, El Salvador. [Tier 2]
Bitcoin Hacienda is building the first bitcoin classroom in Venezuela and gives free classes to everybody, aiming to plant the seeds of a Bitcoin community. [Tier 3]
Bitcoin in Mexico is building the first bitcoin classroom in Venezuela, which is aiming to give free classes to everybody and plant the seeds of a bitcoin community. [Tier 3]
"Let's Rescue Venezuelan Books for a Free Education" is populating a library for Venezuelan students with newly digitized books. [Tier 3]
VENTIUNO World is a Spanish publication, focused on creating and translating expert content about the philosophy, science, psychology, society, and culture of bitcoin. [Tier 3]
This list of Geyser Grants winners showcases the variety and breadth of creators. It highlights that anyone can take part and contribute to Bitcoin. You just have to get out there and launch your idea and everything else will flow from there — even sats!
Geyser Grants is an open and community-led initiative. If you're interested in contributing to it you can do so in the Grants page or if you want to get involved as a sponsor you can reach the Geyser team on Telegram.