The United States Securities and Exchange Commission (SEC) reportedly won't challenge a recent court ruling that deemed its rejection of Grayscale's ETF application as incorrect.
The SEC had until October 13 to decide on challenging the appeals court's decision. However, a Reuters source stated that the regulator will let that deadline come and go without appealing.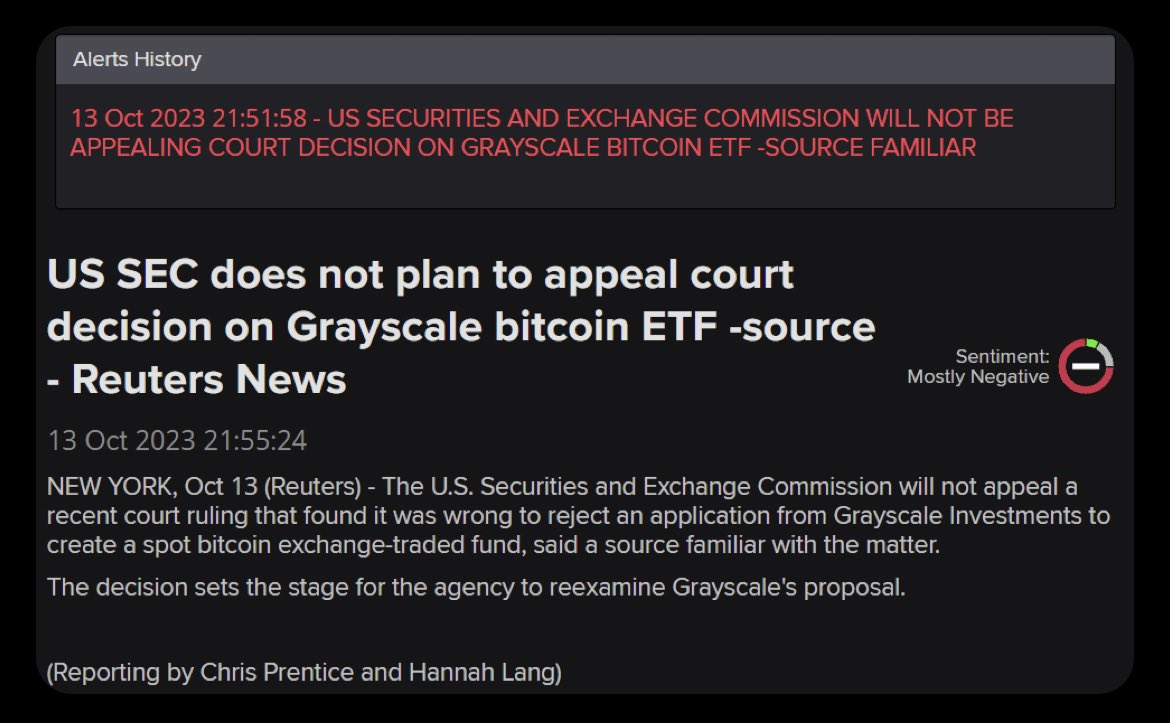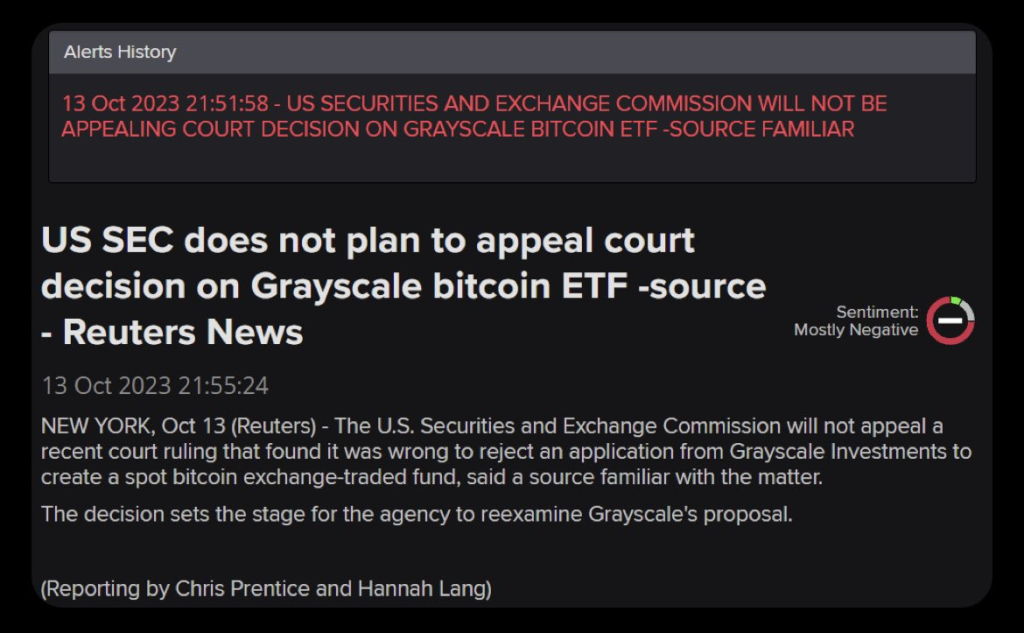 The recent revelation has emerged as a light of hope for Bitcoin enthusiasts. The SEC's reported decision to not appeal is expected to open the door for the agency to reevaluate Grayscale's application.
SEC's Rejection of Grayscale's ETF Application
Notably, the SEC had previously rejected all spot Bitcoin ETF applications, including Grayscale's, citing concerns about investor protection from market manipulation.
In July, Grayscale sued the securities regulator for not approving its Bitcoin ETF proposal. It had argued that the SEC's prior approval of certain surveillance agreements in Bitcoin futures-based ETFs should apply to its spot ETF, as both rely on bitcoin's price.
After a month in August, the District of Columbia Court of Appeals in Washington determined that the SEC's rejection of Grayscale's proposed Bitcoin ETF was "arbitrary and capricious". It found the SEC's denial unjust due to a lack of explanation about the differences between the two setups. The court stated that federal agencies should "treat cases alike."
The appeals court is anticipated to issue a mandate outlining how its decision should be implemented, likely instructing the SEC to re-examine Grayscale's spot ETF application.
Importance of the SEC's Decision
This case had garnered major industry attention as it aimed to advance such products for over a decade. The SEC's decision to not appeal the court's ruling on Grayscale's spot ETF proposal is likely to have a significant impact on the Bitcoin future and spot ETF environment. The development signals a potential shift in regulatory stance toward Bitcoin-related investment products.
Increased Confidence: The SEC's acceptance of the court's decision could boost investor confidence in the Bitcoin market, particularly in relation to ETFs, as it implies a more favorable regulatory outlook.
Potential for More Approvals: The ruling may encourage other asset managers to pursue similar spot ETFs, increasing the diversity of Bitcoin investment options for investors.
Regulatory Clarity: The decision may prompt regulators to provide clearer guidelines for cryptocurrency-related financial products, enhancing transparency and safety for investors.
Market Growth: Acknowledgment by a regulatory body like the SEC also has the potential to draw a more diverse spectrum of investors. It can lead institutional investors to enter the market, stimulating market growth and potentially resulting in greater adoption of Bitcoin.
Innovation Catalyst: If the regulatory hurdle around spot ETFs clears, it would encourage innovation in the development of new financial products tied to digital assets, fostering a more dynamic and competitive market environment.
Other asset managers, such as BlackRock, VanEck, Bitwise, Valkyrie, and Invesco, also have similar spot bitcoin ETF applications pending with the regulator, with decisions expected by next year.
Related reading: