Each month at Bitcoin Park in Nashville, TN, the meetups focus on singular aspects of Bitcoin. One month it will be a mining conversation and the next it will be about investing and building businesses in the Bitcoin space. The panel discussions are riveting, and the guest speakers are at the top of the industry. Everyone is familiar with the names.
In February, open-source development is the theme at Bitcoin Park. The discussion on Wednesday night was around a few Bitcoin-based products that were developed independent from the watchful eye of an overbearing fiat corporation. Off the path of software development, a board game "HODL UP" was showcased. Dozens of people were playing at various tables.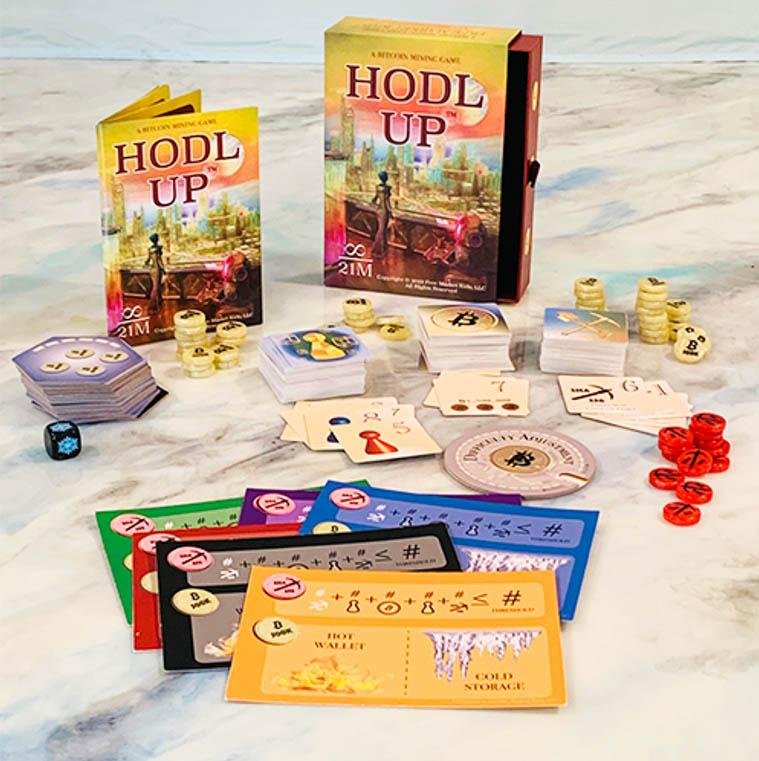 Scott Lindberg, founder of Free Market Kids, has spent 2 years developing HODL UP, to educate his kids on the fundamentals of Bitcoin. "My inspiration was my family. I wanted a way to discuss Bitcoin with my children without being an over-zealous, lecturing Dad". Scott and his wife Tali would know about education, as they've been homeschooling their kids for 20 years.
The mechanics of HODL UP are inspired by Bitcoin and the components mirror Bitcoin terminology. The game mixes strategic decisions with luck so experienced Bitcoiners can enjoy some fun and fellowship.  On the other hand, the game simplifies Bitcoin concepts enough to avoid intimidating no-coiners.  It is simply a game.  It is a great way to start someone's Bitcoin journey.
All aspects of play introduce something related to Bitcoin. For example, there are exactly 21,000,000 bitcoin in the game and they start on the time-chain. Players mine bitcoin with transactions linked by the last block's hash. Bad actors can attempt to steal private keys, but players can defend their bitcoin by moving it to cold storage. Oh, yes, there are also halving events.
HODL UP is STEM-Product certified. The math required to play is simple addition but when combined with other game elements, it might be overwhelming for younger kids. The recommended age is 14+.
The easiest way to learn is to jump in and start trying to mine bitcoin. Typically, new players grasp the concepts after a few practice rounds.
The accompanying book, "Learning through Games – 21 Bitcoin Lessons", is a guide for those who want take the next step down the rabbit hole. It's available for pre-sale now and will be ready to ship in March.
If you'd like to learn more about HODL UP and Free Market Kids, you can follow the project on their website.