A prominent bitcoin mining firm based in Canada, Hut 8, has officially confirmed mining 111 bitcoins in September 2023. The firm's BTC reserves now include 9,366 bitcoin amid the ongoing merger deal with another mining firm, US Bitcoin (USBTC).
Hut 8 Announcement
According to an announcement on October 10, Hut 8 said that its average production rate was approximately 3.7 bitcoin per day while adding that it did not sell a single BTC during the entire month of September. Moreover, the total bitcoin balance in the firm's reserves was 9,366 BTC, of which 7,269 were unencumbered.
Hut 8 produced 42.7 BTC/EH in September. It was also revealed that the installed ASIC hashrate capacity at the miner's Alberta facilities was 2.6 EH/s at the end of the month.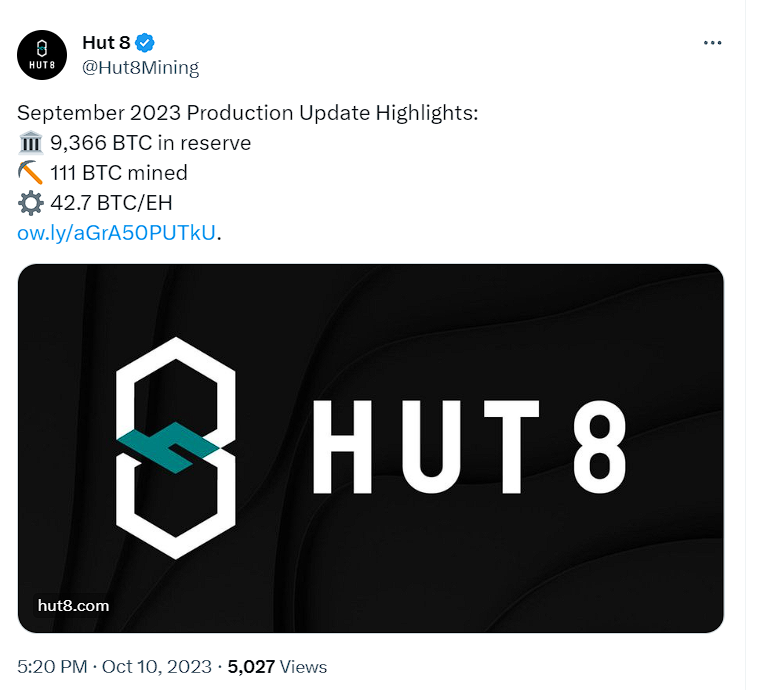 Merger with USBTC
Jaime Leverton, CEO of Hut 8, thanked the firm's shareholders who voted in favor of the merger with USBTC while adding that the transaction between the two firms is ongoing. Additionally, the official approval for the merger from the Supreme Court of British Columbia came on September 15. The merger of the two miners will result in the creation of the "New Hut" or "Hut 8 Corp."
"The vote, along with the Supreme Court of British Columbia's approval of our plan of arrangement, continue to advance us toward a new Hut 8, which will have highly diversified fiat revenue streams in high performance computing, hosting, and managed infrastructure operations, all of which are intended to capture upside and solve for the challenges that single-threaded miners will face going into the next halving."
Moreover, Hut 8's infrastructure portfolio includes seven sites. Five computing data centers are present across British Columbia and Ontario. These centers offer cloud, co-location, managed services, AI, machine learning, and VFX rendering computing solutions. Further, two Bitcoin mining sites are located in Southern Alberta.
Bitfarms also Ramped Up BTC Mining Production
As reported earlier by BitcoinNews, another Canadian bitcoin mining firm, Bitfarms, also substantially boosted its BTC mining production in September. The firm mined a total of 411 BTC last month, a notable 7.3% increase from August.
However, contrary to Hut 8, Bitfarms liquidated 362 out of 411 BTC mined, generating $9.5 million in revenue. The firm holds a total of 703 BTC in its reserves. Also, the Bitcoin miner confirmed a 9% surge in its hash rate in September, reaching 6.1 exahashes per second (EH/s).
Related reading: