German lawmaker Joana Cotar, currently a member of the Bundestag, the German federal parliament, remains a big critic of Central Bank Digital Currencies (CBDC). She has slammed the digital euro over privacy concerns while advocating for making Bitcoin a legal tender in Germany.
Cotar has criticized the debut of the digital euro due to centralization, privacy, and increased control over financial institutions' data. The lawmaker has highlighted the complexities and controversies surrounding the adoption of a Central Bank Digital Currency in Europe. As per a report from Forbes, the German politician has shown her support for making bitcoin legal tender in Germany.
Related reading: Congress Advances Pioneering Anti-CBDC Bill to Curb Surveillance
Related reading: Iranian Parliament Warns Central Bank: CBDC Project Unlawful And Unconstitutional
Joana Cotar: Bitcoin as Legal Tender in Germany
During an interview, Cotar revealed her intentions for pushing the adoption of Bitcoin in mainstream finance. The lawmaker seeks to introduce a "preliminary examination" that will work towards the integration of Bitcoin into the country's traditional financial system. She also pointed out the importance of introducing a balanced framework for the recognition of bitcoin as legal tender. "This includes ensuring legal security for companies and citizens," she explained.
Related reading: Bitcoin: The Monetary Metric System
Additionally, Cotar's approach to legalizing bitcoin addresses potential risks such as money laundering, tax evasion, and other illicit activities often associated with the usage of digital assets. The lawmaker is focused on preserving the innovative and liberating aspects of bitcoin and said:
"This includes ensuring the legal security for companies and citizens…We need to combat potential risks such as money laundering, tax evasion and other illegal activities associated with bitcoin. But without stifling innovation and the freedom aspects of bitcoin."
'Bitcoin in the Bundestag' Initiative
In a speech, Cotar said that she is kickstarting the "Bitcoin in the Bundestag" initiative to educate other lawmakers on digital assets, enabling them to make informed decisions on the matter.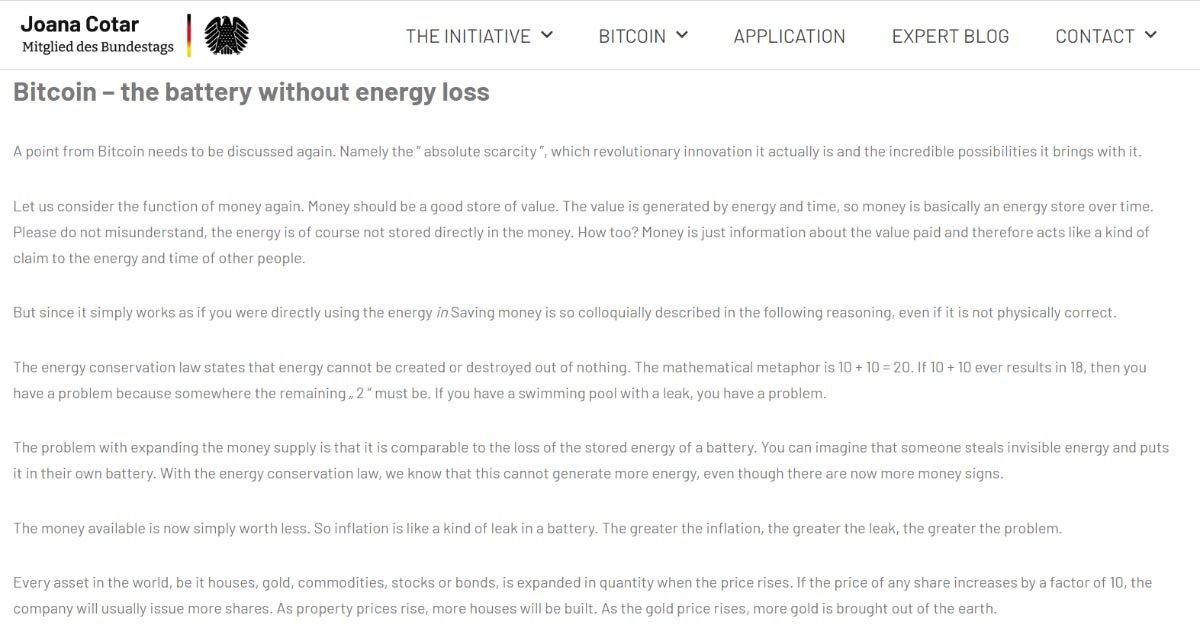 "We need to promote the freedom aspects of bitcoin. This includes protecting privacy, ensuring security standards and preventing excessive regulation to maximize the benefits of bitcoin," Cotar said.
The lawmaker also added that her sole fixation is on bitcoin, and none of the other digital assets interest her. She continued:
"Establishing a formal Bundestag committee that recognizes the technological differences between Bitcoin and other crypto assets and mainly deals with the importance of bitcoin for our society is very important for us. My initiative is bitcoin only."
Coral's criticism of the digital euro has been widely covered. "Nobody needs the digital euro. Except for one EZB and politicians who have something else in mind," she said while noting that a digital euro will only lead to total monitoring of citizens.
Digital asset regulation in Europe is gathering attention in a hurry, as earlier reported by BitcoinNews. The European Securities and Markets Authority (ESMA) published its second consultation paper on the Markets in Crypto-assets (MiCA) framework in October.
The 307-page document seeks stakeholders' input on five areas of MiCA: distributed ledgers, inside information disclosures, whitepaper requirements, trade transparency, and record-keeping requirements for crypto-asset service providers (CASPs).