Marathon Digital Holdings Inc., a leader in the Bitcoin ecosystem, has launched a groundbreaking 27-megawatt Bitcoin mining project in Paraguay, marking its second international deployment. The Marathon Paraguay expansion, announced in their press release, is unique as it is entirely powered by renewable, hydro energy sourced near the majestic Itaipu Dam, the second-largest hydroelectric facility in the world by annual production.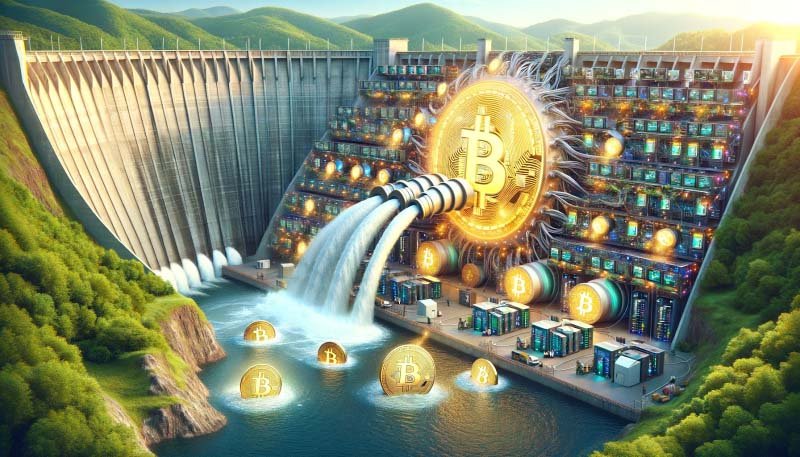 Marathon Paraguay Expansion: Harnessing Excess Hydro Energy
Paraguay generates about 32 terawatt hours of surplus energy annually, a resource largely underutilized until now. In collaboration with Penguin Infrastructure Holding, Marathon Digital aims to transform this surplus energy into a driving force for human potential in the region, while also monetizing the excess energy efficiently for Paraguay. A win-win for everyone involved.
Phased Implementation for Maximum Efficiency
The deployment of this project is planned in two stages. The first phase will utilize about seven megawatts to power approximately 0.3 EH/s of Marathon's miners, with energization expected in November 2023. The second phase, scheduled for 2024, will utilize about 20 megawatts, powering approximately 0.8 EH/s of Marathon's miners, to complete the project's full scale at 1.1 EH/s.
Reducing Costs, Increasing Renewable Energy Mix
Fred Thiel, Marathon's Chairman and CEO, highlights the dual benefits of this project. For Marathon, it presents an opportunity to reduce power costs and increase their sustainable energy mix.
For Paraguay, it's a chance to efficiently monetize their excess energy, circumventing the need for costly transmission lines and infrastructure. This project could serve as a valuable case study in utilizing Bitcoin mining to capitalize on excess power in regions like Paraguay.
Risks and Opportunities Ahead
Marathon Digital Holdings' continued innovation and expansion come with inherent risks that investors should weigh carefully, according to the company's latest press release.
Though Marathon aims to be at the forefront of the Bitcoin mining industry, uncertainties like changing market conditions could significantly impact the success of their projects and overall performance.
For investors looking to gain Bitcoin exposure with less risk, simply buying and holding bitcoin may be a safer bet than investing in a mining company. While Marathon's operations provide leveraged access to bitcoin, that leverage can work against investors if mining becomes less profitable.
Securing a Sustainable Future With Bitcoin Mining
Energy is the foundation of human civilization, so its responsible use should be encouraged while considering tradeoffs that impact human flourishing. Marathon Digital Holdings positions itself as a leader in sustainable North American Bitcoin mining, but all energy sources have downsides.
Hydropower can disrupt ecosystems, and renewables require land and storage when scaled up. However, the energy provided enables progress that is often worth these impacts. More significantly, Bitcoin mining presents opportunities to leverage energy that would otherwise be wasted through flaring in oil and gas operations.
Related reading: Bitcoin is ESG Compliant: A KPMG Report
By converting this excess gas into mining power, environmental harm is reduced. As people consider how to best power Bitcoin mining, the complex tradeoffs involved should be weighed with nuance. Some impacts may be justified for the benefits mining provides. But we must also acknowledge its drawbacks and work to mitigate them through emerging technologies and innovation.
With careful planning and hard work the vast energy needs of humanity can be met with cleaner, more efficient means over time.
Related reading: