Once again MicroStrategy, the business intelligence company renowned for its strategic bitcoin investments, have bolstered its bitcoin portfolio.
On September 25, MicroStrategy announced its latest bitcoin acquisition, displaying its unwavering faith in the asset. According to the press release, the firm had purchased 5,445 BTC for $147.3 million. Notably, the latest stash was acquired at an average price of $27,053 per BTC, an impressive 9% discount compared to the average price of its entire bitcoin holdings.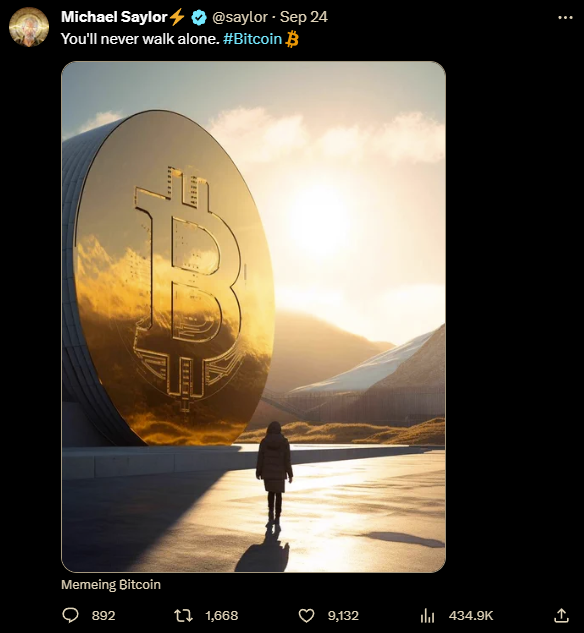 It is important to note that the firm has sold 403,362 of MicroStrategy shares for net proceeds of around $147.3 million, as per the Monday's filing.
MicroStrategy Now Holds $4.68B
The Form 8-K filing with the United States Securities and Exchange Commission shows that MicroStrategy and its subsidiaries purchased this stash between August 1 and September 24.
As of September 24, the accumulated bitcoin holdings of MicroStrategy and its subsidiaries stand at around 158,245 BTC. The firm strategically secured this massive reserve at an average price of $29,582 per bitcoin, implying that its total bitcoin holdings is worth an impressive $4.68 billion.
Co-founder and executive chairman of the firm, Michael Saylor, shared the news on X (formerly Twitter).
It's worth noting that he recently stated that bitcoin is the best weapon one can use against inflation and political instability. This move comes at a time when bitcoin has experienced a period of relatively sideways trading, hovering around the $26,000 mark for several weeks.
Maintaining its position as the biggest bitcoin holding company, MicroStrategy reaffirms its ongoing confidence in the market's potential. The company's previous significant purchase, made in June 2023, involved 12,333 BTC at a cost of $347 million (an average purchase price of $28,136 per BTC).