MicroStrategy's unwavering and strong belief in Bitcoin pays off. Bitcoin's recent price surge has driven the company's investment back in profit again.
Holding steadfast through the volatile waves of the Bitcoin market is no small feat, and it demands unwavering conviction. Michael Saylor, as the spearhead of MicroStrategy, has unquestionably demonstrated that doubters were mistaken about his dedication to the digital money.
The company's proactive approach to consistently stacking bitcoin regardless of the price seems to be paying off, with their investment now back in the green.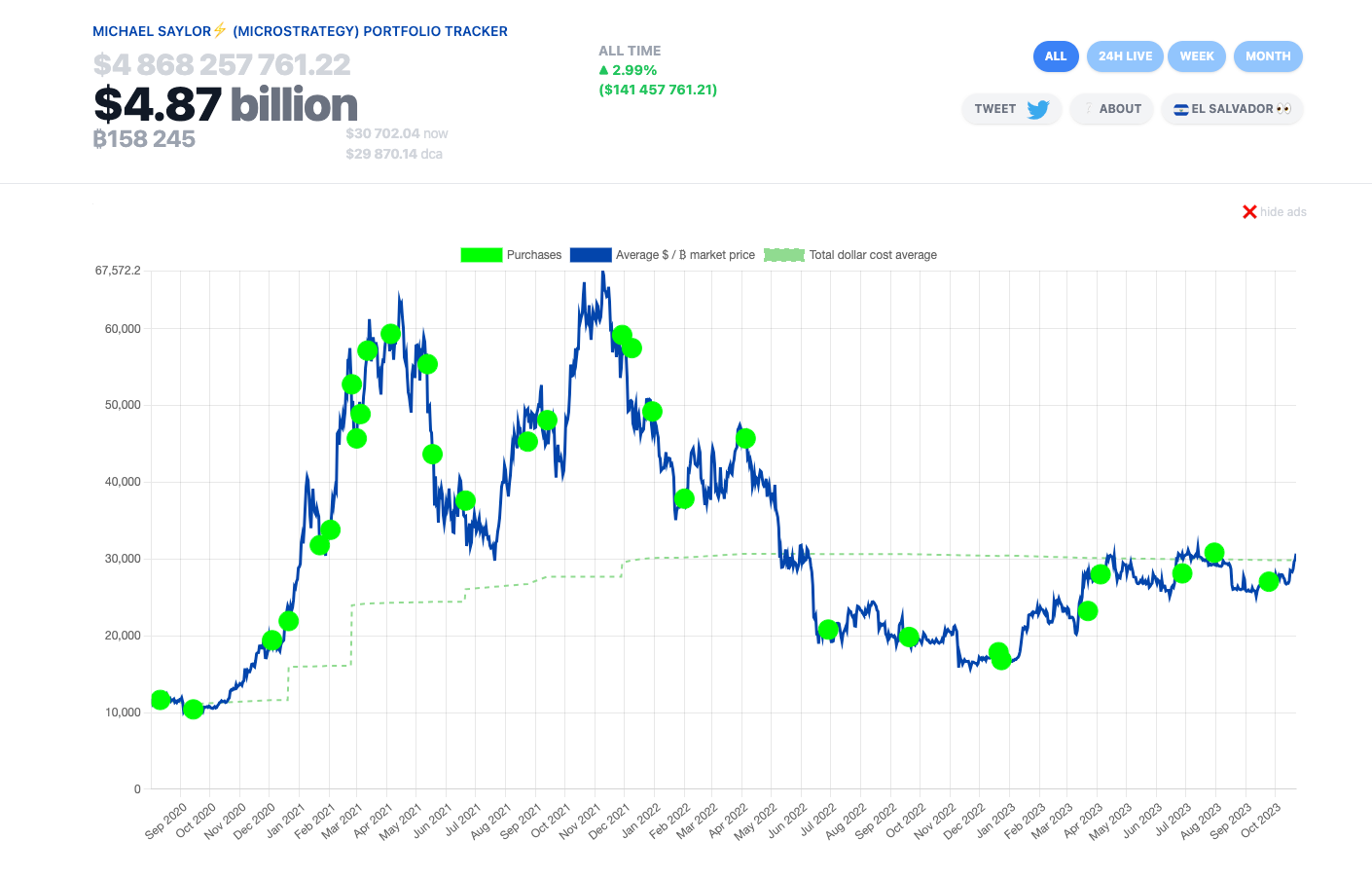 Strong Belief in Bitcoin: Actions vs Words
The SaylorTracker chart, marked with green dots, represents each of Saylor's tweets about the firm's Bitcoin acquisitions. These dots clearly highlight that the company has been methodically dollar-cost averaging into the asset, irrespective of its fluctuating price. As of October 23, 2023, with Bitcoin's surge above $30,000, the company boasts an impressive estimated unrealized gain of approximately $138 million.
Related reading: Michael Saylor Says Bitcoin is a Shield Against Inflation
Related reading: Bitcoin Is an Unprecedented Blend of Invention And Discovery — Michael Saylor
The site's statistics show that MicroStrategy has secured 158,245 bitcoins for its corporate treasury. Saylor recently presented data illustrating BTC's superior performance compared to traditional assets such as gold, Nasdaq, silver, and bonds since the company's pivot towards a Bitcoin-centric strategy in 2020.
Furthermore, the company's stock, MSTR, is thriving, marking a notable year-to-date surge of approximately 150%. The decision to embrace Bitcoin has been transformative for the company's financial trajectory.
As MicroStrategy's star continues to rise it will become increasingly hard for other companies to keep ignoring Bitcoin.
MicroStrategy: Championing Bitcoin Beyond Just A Corporate Treasury Asset
The company's commitment to Bitcoin transcends its role as merely a corporate treasury asset. MicroStrategy is actively fostering a network where businesses can leverage the potential of Bitcoin and the Lightning network.
Their flagship Bitcoin initiative, "Bitcoin & Lightning for Corporations," stands as a testament to this endeavor. This program, showcased on their website, aspires to equip corporations with the knowledge and tools to harness Bitcoin's capabilities.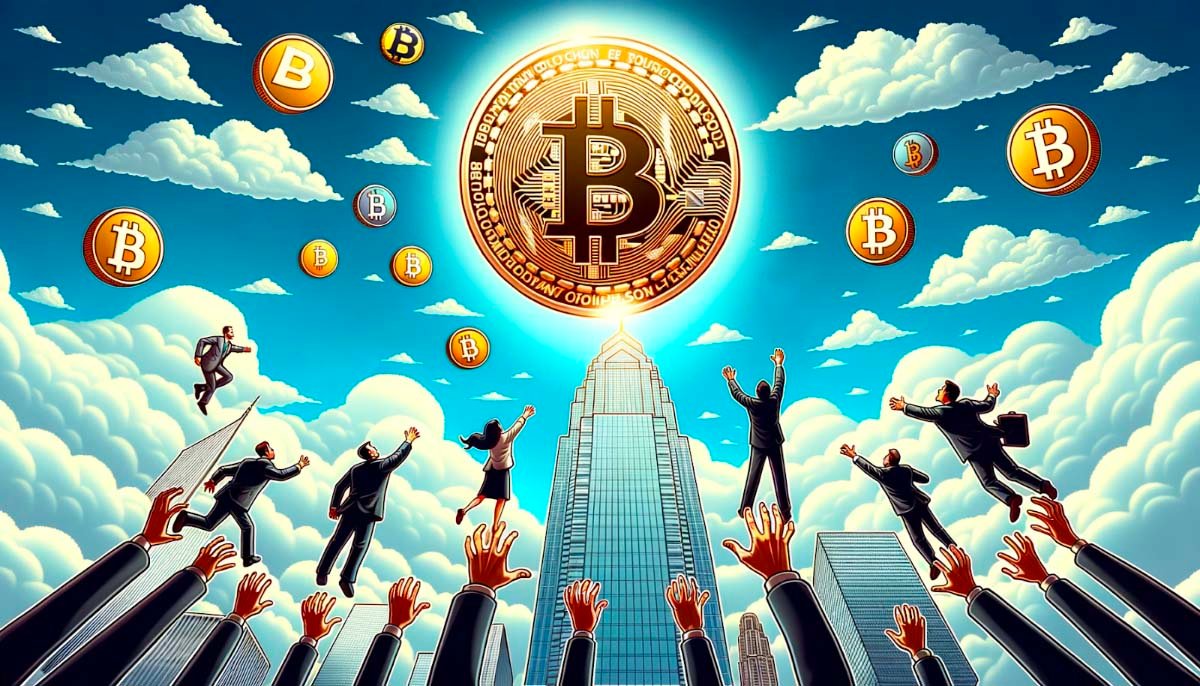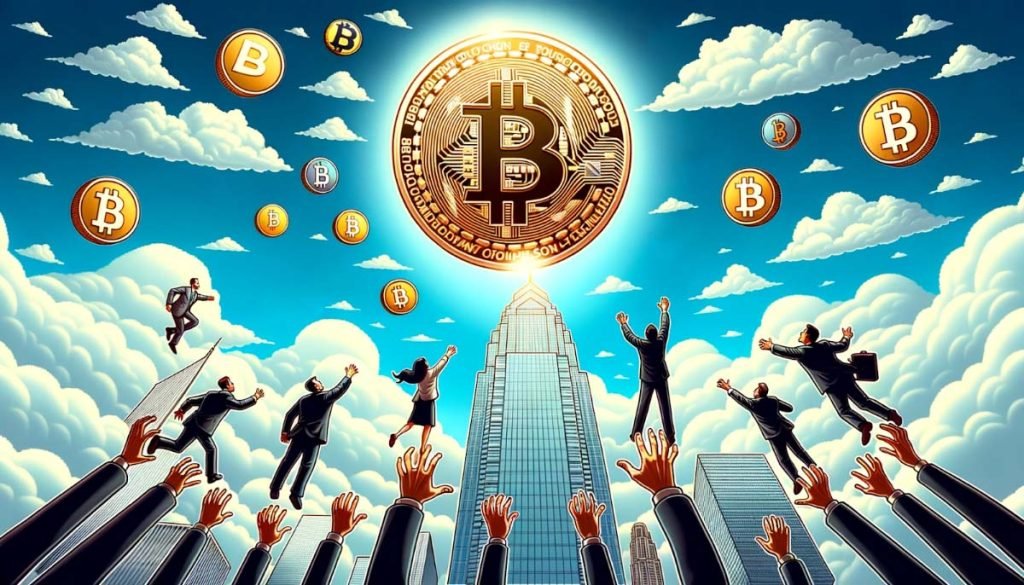 MicroStrategy Paving the Way for Institutional Investors
It amalgamates the expertise of industry stalwarts, financial maestros, and technological visionaries to provide actionable insights. Through these efforts, MicroStrategy is not just reinventing its business paradigm but also laying down a roadmap for other corporations to tap into the revolutionary prospects of Bitcoin.
While Bitcoin's existence is independent of corporate validation, the resounding success of MicroStrategy in the Bitcoin realm is a blaring call for corporations. It's not about Bitcoin needing corporations; it's about corporations realizing the indispensable advantages Bitcoin can offer them.
Given the finite nature of bitcoin, being capped at 21 million, and considering a significant portion is either lost or held by unwavering "psychopaths" unlikely to sell, early adopters stand to reap monumental advantages. In contrast, latecomers may find themselves at a strategic disadvantage in this evolving financial landscape.
Related reading: