In a move that has stirred both excitement and controversy, President of El Salvador Nayib Bukele has officially announced his bid for re-election in the Central American nation. Bukele, who gained international recognition as a pro-Bitcoin leader for his efforts to make Bitcoin legal tender in El Salvador, made his re-election intentions public, setting the stage for a significant political showdown.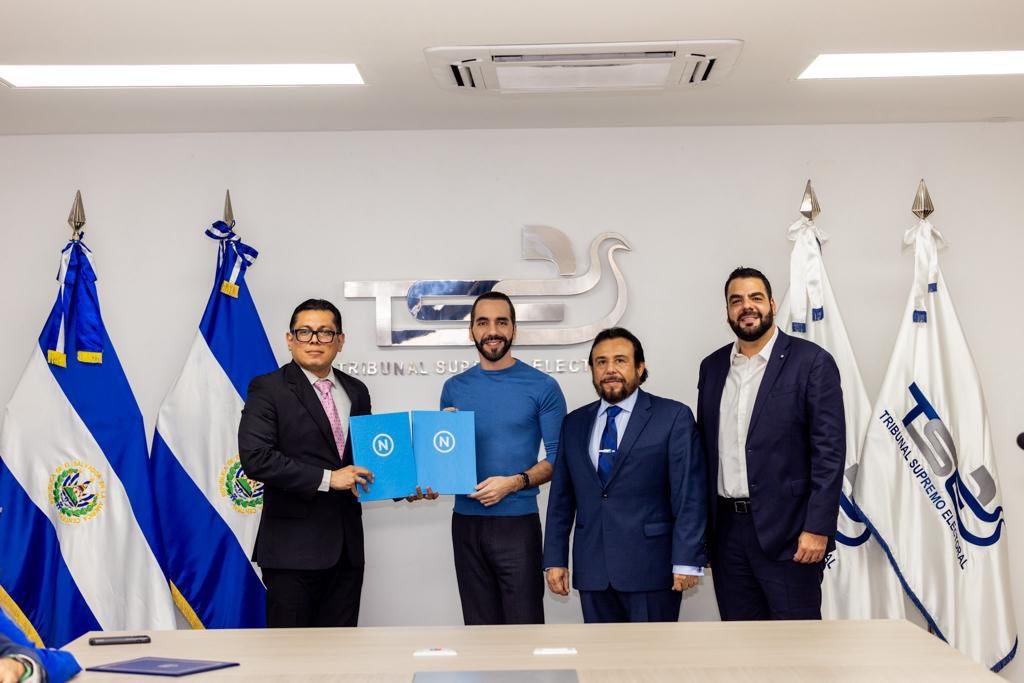 President of El Salvador to Continue Plans
Bukele and El Salvador's Vice President Felix Ulloa officially submitted their re-election candidacy despite legal uncertainties at the Supreme Electoral Tribunal (TSE) in the capital, San Salvador. The submission took place amid tight security, accompanied by enthusiastic supporters chanting "Nayib!" and "re-election!" Notably, the election in the Central American country is scheduled for February 4, 2024.
Bukele's announcement comes on the heels of his push for a more inclusive and progressive approach to governance. During a recent speech in front of thousands of Salvadorans, he stated:
"Five more [years], five more, and not one step back. We need five years to continue improving our country."
On September 7, Bukele, who leads the New Ideas party, boldly announced Bitcoin as legal tender in El Salvador and oversaw its implementation, making the country the first in the world to embrace BTC in this manner.
His government has not only championed pro-bitcoin policies but has also embraced other technology-friendly measures to bolster the nation's economy. Notably, they have abolished all taxes on technological innovations.
Gabor Gurbacs, a strategy advisor associated with VanEck, has lauded these efforts and suggested that El Salvador is on the path to becoming the "Singapore of the Americas."
Mixed Reactions
The decision to seek re-election has ignited both fervent support and deep-seated opposition. Supporters hail his initiatives to modernize the country and make it a hub for Bitcoin adoption.
On the other hand, critics, who call him the "Dictator of El Salvador," argue that his re-election bid is a threat to the nation's democratic institutions. The nation's notable critic, Alfonso Fajardo, maintains that the constitution prohibits Bukele from seeking a second consecutive term. He stated on X:
"Today is a good day to remember that immediate presidential re-election is prohibited up to seven times by the Constitution."
Notably, in September 2021, the Supreme Court of El Salvador issued a ruling that cleared the way for presidents to seek consecutive terms.
According to Reuters, a study by a Salvadoran university shows that the New Ideas party has strong support from about 70% of the country's eligible voters. Its closest rival garnered a mere 4% of the total votes.
One of New Ideas' political opponents, FMNLB, initiated a legal challenge in June 2021, arguing that Bukele's Bitcoin adoption initiative violated the constitution.
As this political saga unfolds, it's evident that Bukele's determination to promote Bitcoin adoption remains a defining feature of his presidency, and his re-election bid signifies his commitment to continuing this bold and controversial experiment.
The world will be closely watching the 2024 election to see whether El Salvador will maintain its unique position as a pro-Bitcoin nation under President Bukele's leadership.