On Thursday, a federal appeals panel rejected Sam Bankman-Fried's plea for release from a New York detention center. He faces criminal fraud charges tied to an alleged scheme diverting millions in customer funds, marking another legal setback for the former billionaire awaiting trial.
In August, the founder of FTX had his bond revoked, leading to his imprisonment, as a judge concluded he had likely attempted to interfere with witnesses. Earlier this month, his appeal to reverse that decision was unsuccessful. On Thursday, an appeals court upheld this ruling.
Bankman-Fried, who maintains his innocence regarding all charges and saw his $250 million bail revoked last month, will continue to be held in custody until his fraud trial scheduled for October 3.
In their ruling, the three-judge panel stated that there is "probable cause to believe" that Bankman-Fried made efforts to tamper with witnesses, seeking to influence them prior to the trial.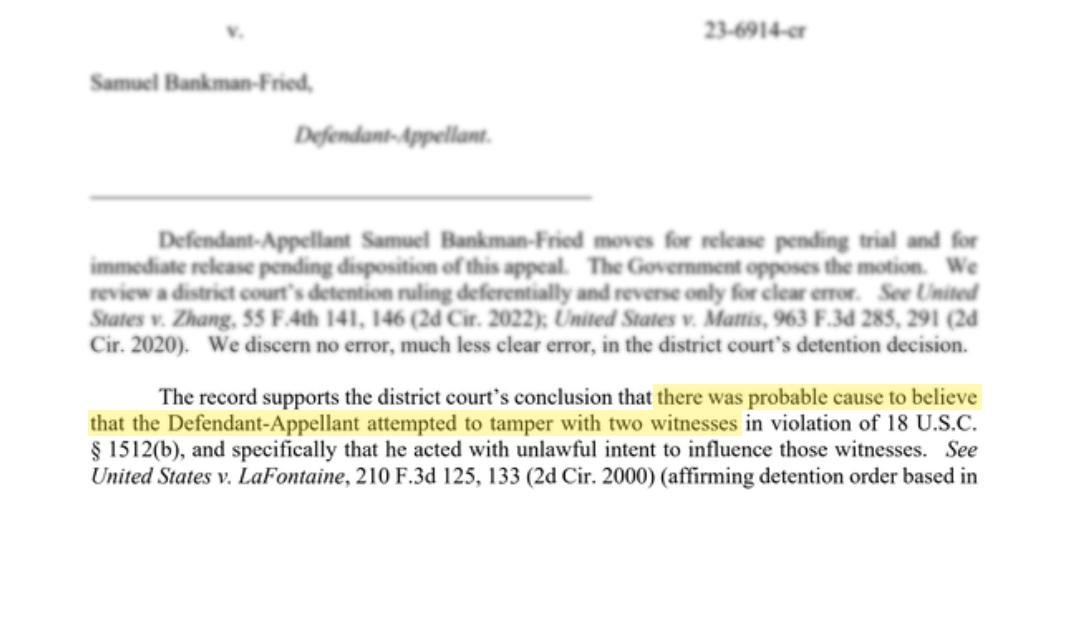 The order stated:
"We reject [Bankman-Fried's] contention that the district court failed to consider a less restrictive alternative to detention. The record shows that the district court considered all of the relevant factors, including the Defendant-Appellant's course of conduct over the time that had required the district court to repeatedly tighten the conditions of release."
This denial marks the latest in a series of setbacks for Bankman-Fried, as his previous requests, including access to a cell phone, internet, and a vegan diet, have all been denied while he remains in detention at a Brooklyn facility awaiting trial.
Another knockback for Bankman-Fried occurred last Thursday when Judge Lewis Kaplan, who is presiding over the criminal case, approved the prosecutors' requests to disallow all of his suggested expert witnesses.
In the previous weeks, an associate of Bankman-Fried, the former CEO of FTX Digital Markets, Ryan Salame, admitted guilt to criminal charges.
These charges include conspiring to operate an unlicensed money transmitting business and conspiring to make unlawful political contributions, which are connected to Bankman-Fried's fraud case.
Salame is the most recent among a series of former FTX executives who have entered pleas in the past few months. This list includes company co-founders Nishad Singh and Gary Wang, as well as former Alameda Research CEO Caroline Ellison, all of whom have pleaded guilty to criminal fraud charges.
Although the defense team can make further attempts to have some of the witnesses testify, they will need to navigate specific requirements, and the U.S. Department of Justice can still raise objections.
Bankman-Fried is set to go on trial on October 3 in a federal courtroom located in Manhattan. He is confronting charges of fraud and conspiracy in connection to the operation and subsequent downfall of his digital assets exchange.
Bankman-Fried has entered a plea of not guilty to all seven charges.