In the latest SBF news, Former FTX CEO Sam Bankman-Fried (SBF) and his defense team have once again approached the presiding judge, Lewis Kaplan, with a plea to modify the jury instructions. This latest communication seeks to emphasize the consideration of English law in interpreting FTX's terms of service, marking another pivotal development in the trial.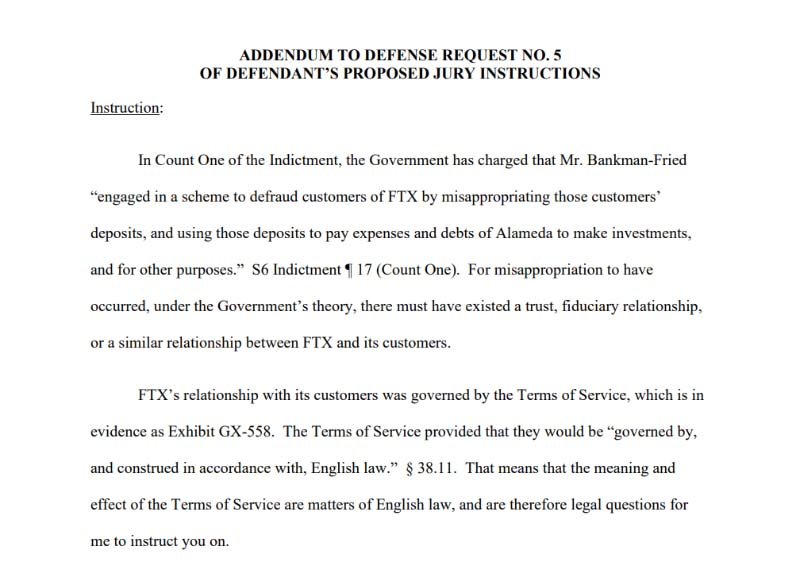 Latest SBF News: The Defense Proposed Changes
The defense's proposition urges the 12 jurors to recognize a fundamental principle under English law: that misappropriation necessitates the existence of a trust, fiduciary relationship, or a similar association between FTX and its customers. However, the exchange's terms of service categorically stipulate the absence of such a relationship between the two sides. The defense attorneys emphasized:
"Under English law, the Terms of Service do not create a trust relationship or similar fiduciary relationship between FTX and its customers. Nor, under English law, do any representations made after a customer agrees to the Terms of Service create a trust relationship or similar fiduciary relationship."
Notably, they added that subjective expectations or beliefs held by a person, do not, under English law, create such a relationship. The defense team also cited precedents from the United Kingdom's legal landscape to support their argument in a final bid to prove SBF's innocence.
DOJ Raises Concerns Over Defense's Strategy
Bankman-Fried's legal team has presented several petitions to the presiding judge over the duration of the case. These requests include multiple appeals for pre-trial release on bail, justified by the insufficiency of proper facilities for adequate trial preparation. The majority of these requests have been met with denial.
The latest move has raised skepticism within the United States Department of Justice (DOJ), which has consistently expressed concerns over the defense's strategy. They assert that the SBF's suggestion to the jury to focus solely on the terms of service, given the full scope of his alleged misrepresentations and deceptive conduct, is an erroneous approach.
During the trial, prosecutors have been actively probing FTX users and Bankman-Fried regarding the exchange's marketing practices. They believe that past statements and the general understanding among customers are pertinent factors to consider.
Notably, a jury charge conference will be scheduled after both parties have presented their cases. This conference will serve as a platform for deliberation and debate over the various proposed jury instructions, ultimately influencing the jury's final decision.
The former FTX CEO, Sam Bankman-Fried, currently faces seven charges, including fraud and the misappropriation of customer funds for personal use. Throughout the course of his trial, Bankman-Fried has consistently denied any wrongdoing, asserting that he has not defrauded his customers. In the past, he has also faced allegations of witness tampering.