October 13 marks the closing window for the United States Securities and Exchange Commission (SEC) to file an appeal regarding the Grayscale bitcoin spot ETF ruling issued by the US District of Columbia Circuit. With this important deadline approaching, the Bitcoin community is showing its expectation and optimism regarding the potential outcome for the broader digital currency landscape.
Anticipations Around Grayscale's ETF Appeal
The ongoing developments surrounding the Bitcoin spot ETF have reached a critical juncture, with Congress' open letters putting more pressure on the SEC.
Renowned senior ETF analyst at Bloomberg, Eric Balchunas, has shared his perspective on the current situation on X, stating:
"The fact that [the SEC] is actively engaging with issuers on their current filings (via comments, which hasn't ever happened before), we think appeal and denial are unlikely. Again, we hold a line at 75% odds approval by the end of the year, a number that would only go up if we go into January."
Echoing Balchunas' optimistic outlook, his colleague James Seyffart added, "I don't think they will 'appeal'. But it's possible, and even if they do, the SEC will lose. More likely, we just get a better understanding of the next steps."
There has been intense debate about potential scenarios within the wider digital asset community on X. A user named Rat Fat noted the prevailing uncertainties, highlighting that the absence of an appeal may not automatically mean approval for Grayscale's ETF conversion proposal.
Another user, Wilson, speculated on what might happen after the deadline. He proposed that if there's no appeal, the Court might swiftly establish a clear timeline for the SEC to make a final decision on Grayscale's plan.
Seyffart concurred with Wilson, asserting that the US regulatory body cannot indefinitely delay the decision on a Bitcoin spot ETF. He stated:
"At some point, either the courts or the SEC will set a deadline by which the SEC must issue a decision—whether it's 45 days, 60 days, 90 days, or some other time frame."
Rising Hopes for Pending ETF Applications
Notably, on August 29, the court passed a unanimous ruling that leaned in favor of Grayscale. The lawsuit revolved around Grayscale's bid to transform its Bitcoin Trust into a spot ETF.
The court's ruling compels the SEC to impartially consider this conversion. It has subsequently raised hopes for other pending ETF applications from big names, including BlackRock, VanEck, Bitwise, Valkyrie, and Invesco. The potential approval of a Bitcoin spot ETF would fuel this growing optimism, serving as a catalyst for a surge in institutional investments.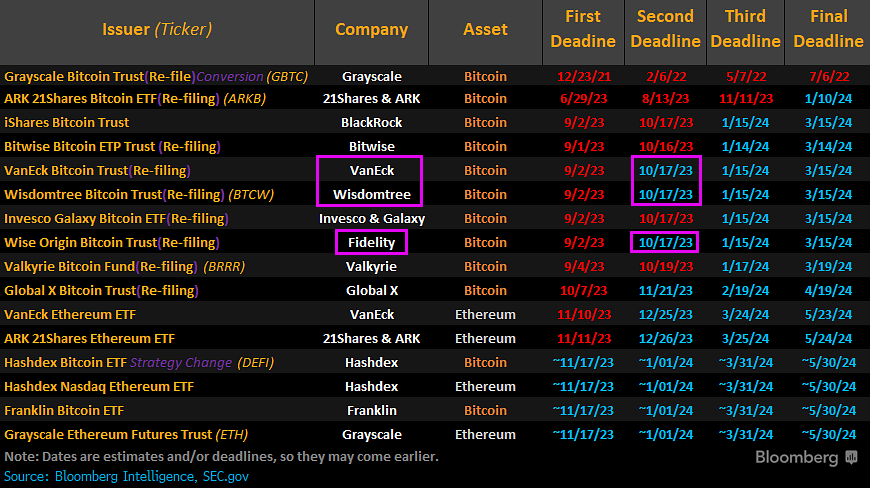 Reports indicate that as much as $17.7 trillion of institutional capital could flow into Bitcoin ETF products. As a result, it could overshadow existing futures ETF volumes and represent a pivotal moment in the broader digital asset market.
Read more on the subject