In a recent CNBC interview, Vanguard Group CEO Tim Buckley made clear that the world's second-largest asset management firm has no intentions to pursue a Bitcoin Exchange-Traded Fund (ETF). While some asset managers are diving into the Bitcoin pool, Vanguard CEO confirmed the firm is staying dry, sticking to more traditional investments like stocks and bonds.
Understanding Value in Investments
Buckley compared Bitcoin to gold, highlighting that neither asset class fits Vanguard's criteria for an ideal investment. Vanguard favors assets that generate intrinsic cash flows, rather than relying solely on speculation. For example, equities provide value through company earnings, while bonds offer contractually guaranteed interest payments.
Related reading: Bitcoin's Growth Curve Knocks Out Gold, Oil and Bonds
Gold as an asset might not generate cash flows or yield but it has served as free market money for around ~5000 years. Bitcoin on the other hand is much newer than gold. It is important to note that Bitcoin's value has increased 4,830% in the last 10 years, which is an annualized return of 74%. This means that a $4,000 investment 10 years ago would be worth around a million dollars today.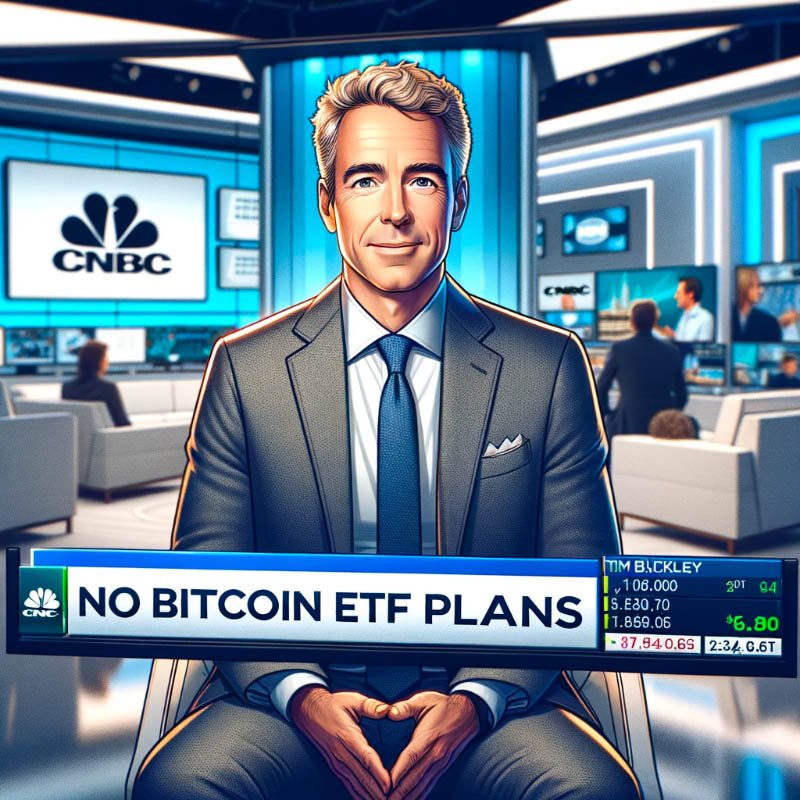 Of course gold and Bitcoin derive their fiat ticker values based on demand, making them difficult for Vanguard to systematically analyze. With no underlying business activities or claims on the assets, Bitcoin and precious metals depend on investors' beliefs about their worth. This leaves their prices vulnerable to dramatic swings based on hype and emotion.
Vanguard prefers assets with tangible sources of returns. This allows for a fundamental analysis of their inherent value over time. Consequently, Buckley does not see Bitcoin or gold as prudent investments for Vanguard's evidence-based, long-term strategies. This philosophy underlies the company's decision not to seek approval for Exchange-Traded Funds (ETFs) containing Bitcoin.
Vanguard CEO: Traditional Investments Remain Our Choice
When talking about investing, Buckley thinks sticking with tried and true stocks and bonds is the way to go. He expects around 5% returns per year over the next decade. He's all about playing the long game, favoring a mix of 60% stocks and 40% bonds. This blend has steadily grown money over time.
But some wonder if the past will predict the future. With high debt, some think bonds may struggle if interest rates keep rising. Stocks also face uncertainty from high prices and slowing growth.
Still, Buckley believes in stocks and bonds for the long haul. He says despite ups and downs, they should give reasonable returns over decades. Mixing them can smooth out market swings too.
The future may differ from the past though. Vanguard says most long-term investors should still make stocks and bonds their main investments. But they suggest flexible plans that can change exposures as risks and opportunities come up.
While not flashy, to Buckley, tried and true stocks and bonds are hard to beat for steadily growing wealth.
The Buzz Around a Bitcoin ETF
Even though Vanguard isn't on board, there's a lot of talk about the U.S. Securities and Exchange Commission (SEC) possibly giving the thumbs-up to a Bitcoin ETF soon. This would be a big deal because it could make it easier for more people and big companies to invest in Bitcoin, which would increase demand and push the USD price of bitcoin up.
Is Vanguard Too Cautious?
Vanguard's choice to skip Bitcoin has some people scratching their heads. Bitcoin is becoming more popular, and not just with computer whizzes but with regular folks too. Critics would argue that Bitcoin is like "digital gold," and avoiding it might make Vanguard miss out on a chance to attract younger investors who are comfortable with the idea of digital assets.
The Takeaway for Vanguard
Vanguard is playing it safe by not applying for a Spot Bitcoin ETF, even as digital assets boom. This cautious stance may cost them, like missing the internet craze in the 1990s. Finance is changing fast, but Vanguard is sticking to traditional investments they understand better.
While this conservative approach could look prudent in hindsight, many believe avoiding Bitcoin is shortsighted. Vanguard may be protecting client assets, but their reluctance to embrace Bitcoin may seriously limit future growth. Only time will tell if their old-school philosophy will set them back or not.