During the weekend, there were suspicions that the Bitcoin network had fallen victim to a DoS attack, as evidenced by the surge in transaction fees and significant backlogs in the mempool. This method of attacking Bitcoin involves rendering it more expensive to use by flooding it with excessive transactions causing exorbitant transaction fees.
The surge in the number of suspended transactions resulted in higher-than-normal transaction fees. According to BitInfoCharts, the average bitcoin transaction fee reached $19.20 on May 8, while Mempool.Space indicated a backlog of 444,341 transactions.
However, as of the current moment, transaction fees have decreased to approximately $8, and the count of unconfirmed transactions has fallen to around 417,900.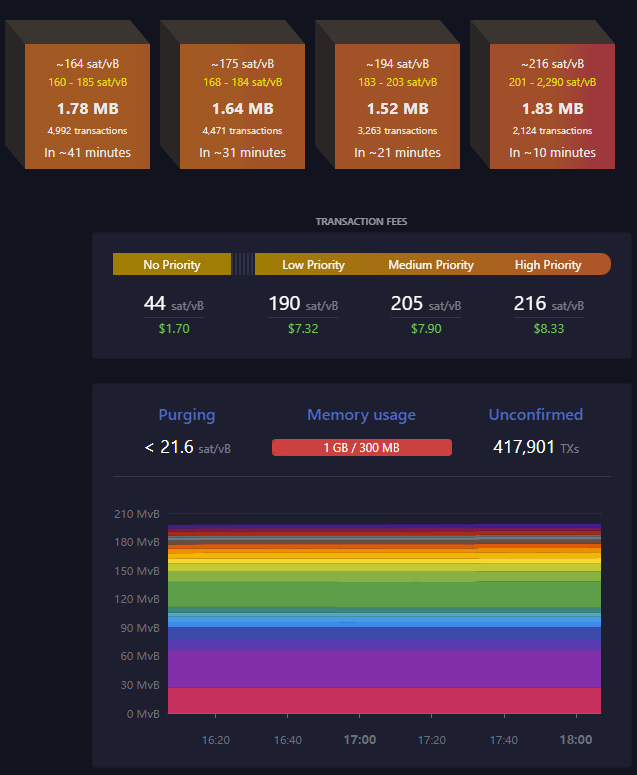 The heightened network demand resulted in a temporary occurrence where the total cost per block exceeded the block reward of 6.25 BTC.

Typically, each block contains numerous transactions, each requiring a small fee. However, in rare instances, the cumulative fees surpass the block subsidy. This weekend marked the first occurrence since 2017 when such a situation arose again. A Twitter user reported transaction fees amounting to 6.76 BTC:
The increased activity and demand for blockspace can be attributed to the growing popularity of Bitcoin inscriptions.
Based on data from Glassnode, on May 7, a significant portion of Bitcoin transactions, approximately 75%, made use of Taproot — a transaction type that can be utilized by Ordinals technology to generate non-fungible tokens (NFTs) and embed them into satoshis.
Additionally, with the introduction of the new BRC-20 standard, meme coins can now be created on the Bitcoin network as well.
This sparked speculation among Twitter users. Some stated that the congestion experienced during this period was a result of a DoS attack. Others disagreed and said this is just an increase in bitcoin use and that the protocol is behaving as intended.
In a DoS attack scenario, a large number of transactions are deliberately initiated to impede the Bitcoin network's speed and intentionally drive up transaction costs.
But other users refuted this, saying "paying hefty fees to a network isn't an attack."
Others mentioned this could be a perfect opportunity for bitcoin layer 2 solutions to shine.
Meanwhile, other users mentioned although the current circumstances deprive users of cheap transactions, it's not the end of the world and it will eventually pass.