Digital asset manager CoinShares has unveiled its projections for the potential price impact following the approval of a Spot Bitcoin Exchange-Traded Fund (ETF) by the U.S. Securities and Exchange Commission (SEC). According to CoinShares, the green light for Bitcoin ETFs could serve as a catalyst for Bitcoin to surpass the $265,000 mark.
In a recent blog post, CoinShares' Head of Research, James Butterfill, delved into the anticipated effects of capital inflows into Bitcoin-based ETFs in the United States on BTC price dynamics. The firm posits that upon the approval of Bitcoin Spot ETFs in the U.S., the price of Bitcoin might skyrocket to over $141,000 within the initial 12 months. This calculation is grounded in the Fund Flows Model, as detailed by Butterfill.
Related reading: U.S. Investors Rush Into Bitcoin As Industry Giants Apply For Bitcoin ETF
CoinShares Predicts an Inflow of $14.4 Billion
The model's conservative assumption, based on Galaxy's report, envisions Spot Bitcoin ETFs as potentially constituting a $14.4 trillion market. If only 10% of these fund holders were to invest 1% of their wealth, the resulting inflow into the segment could exceed $14.4 billion. If accurate, this would mark the highest recorded inflows, surpassing the 2021 record of US$7.24 billion, constituting 11.5% of assets under management (AUM).
This approach suggests a potential 300% rally for bitcoin within the first year post-SEC approval, contingent on the estimated inflows. Butterfill states:
"If we take the aforementioned $14.4 billion of inflows, the model suggests it could push the price up to $141,000 per bitcoin."
Related reading: A Bitcoin Spot ETF Might Result in Wide Spread BTC Adoption
However, CoinShares acknowledged the uncertainty in precisely determining the actual inflows when Spot ETFs are launched. It presented a matrix with diverse inflow scenarios and their potential impacts on bitcoin prices.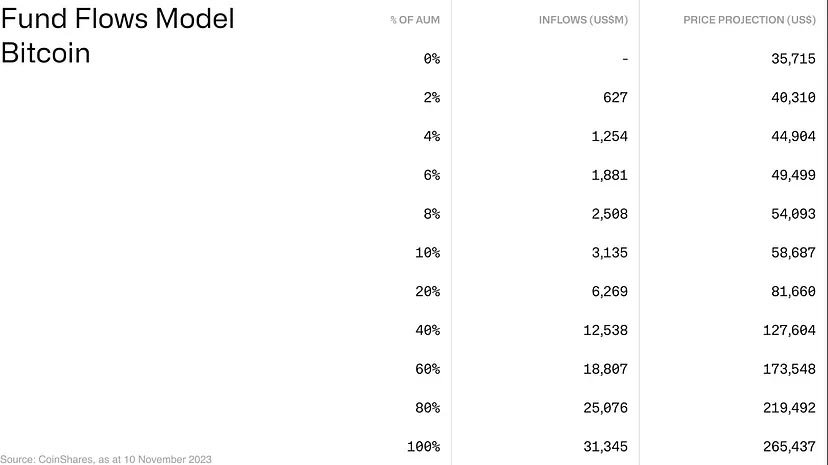 In one scenario, an inflow of $31 billion into the segment is projected to trigger an additional rally, potentially driving the price of bitcoin to an impressive $265,000. This represents a substantial 627% increase from its current value of $36,400 at the time of writing.
CoinShares To Acquire Valkyrie's Digital Asset ETF Unit
Notably, CoinShares manages over $3.46 billion in assets under management. On November 16, it secured an exclusive option to acquire a U.S.-based digital asset manager, Valkyrie. The option would remain valid until March 31, 2024.
This strategic move positions the company amidst the wave of major U.S. asset management players seeking SEC approval for Bitcoin Spot ETFs.
Almost all the heavyweights have submitted Bitcoin Spot ETF approval requests with the regulator. Analysts are optimistic, with expectations that at least one of these applications could gain SEC approval by the close of 2024.