Joltz is releasing an innovative new Bitcoin wallet which allows users to mint, hold, and transfer Taproot Assets. This is an exciting development following the recent announcement from Lightning Labs confirming that the Taproot Assets daemon is officially on mainnet.
Taproot Assets as a protocol provides a compelling way to make bitcoin a multi-asset network in a way that benefits from the existing network effect of the Lightning Network. Joltz Wallet is a non-custodial web wallet that supports onchain bitcoin and Taproot Assets, with support for Lightning and Taproot channels coming soon as the broader protocol continues to develop.
An alpha version of the Joltz Wallet is slated to launch this week, allowing users the first opportunity to interact with Taproot Assets in a user-friendly way.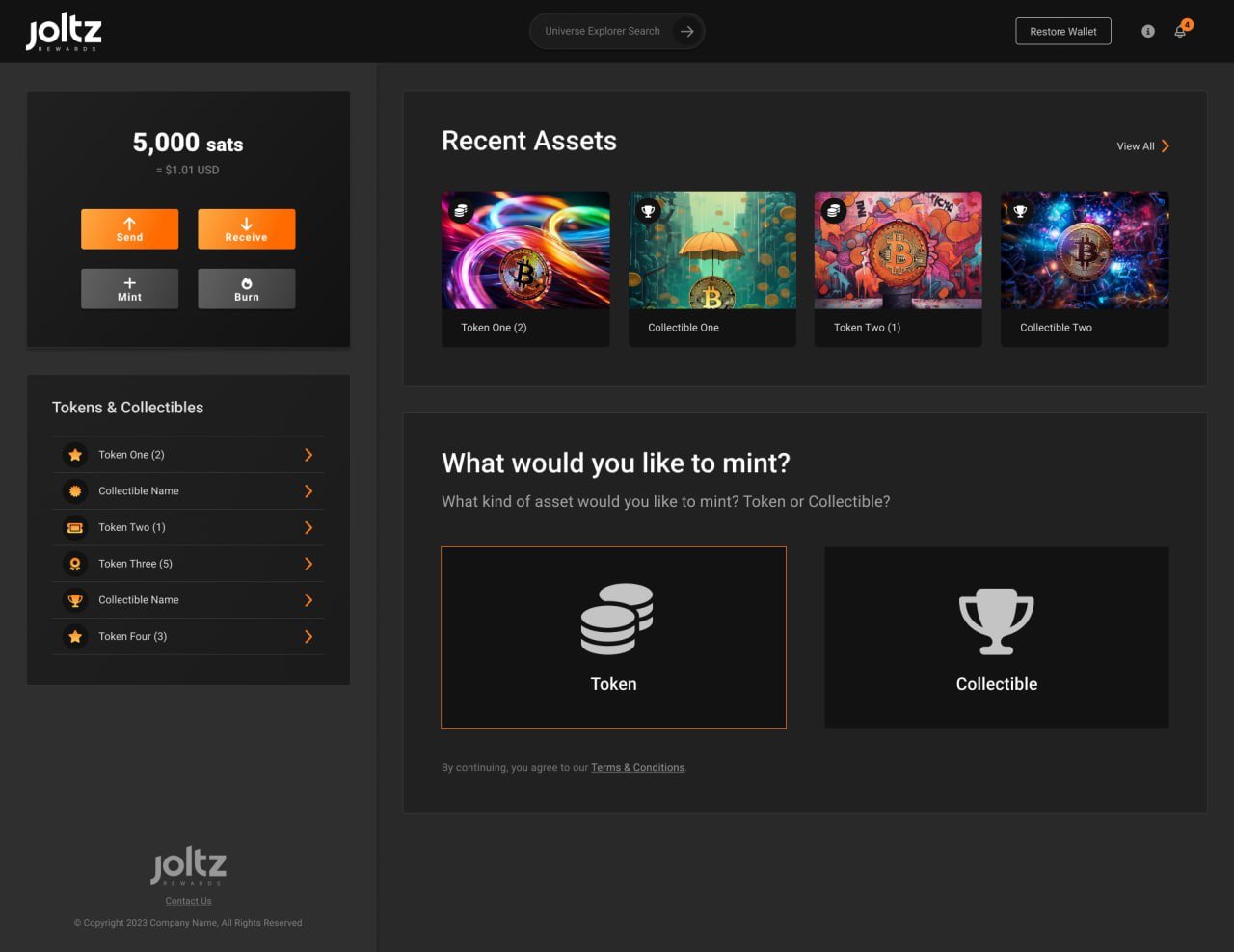 Joltz Bitcoin Rewards Program
Joltz is a bitcoin rewards company that launched its first product at the beginning of 2023, offering bitcoin rewards integrations for popular e-commerce platforms like Shopify and WooCommerce. They went on to launch their bitcoin rewards API to expand the types of use cases and businesses supported.
Any business now has a flexible, easy way to incentivize customer acquisition, engagement, and retention with bitcoin. Unlike existing bitcoin reward solutions that often require separate payment cards, apps, or browser extensions, Joltz's API paves the way for integrating bitcoin rewards directly into a business' existing systems.
Taproot Assets will further expand the types of use cases Joltz can support. For example, instead of robbing consumers of their purchasing power with frequent debasement of loyalty points, businesses could offer consumers the option of bitcoin-backed loyalty points that actually preserve value and offer more flexibility. Loyalty collectibles could unlock exclusive token-gated content or serve as a private login on a merchant's website.
In today's digital age, loyalty programs have evolved beyond the mere accumulation of reward points, and consumers are demanding more value and flexibility in how they earn with brands. The top-three airlines have a combined 330 million members in their loyalty programs.
Gartner predicts "that one in three businesses without a loyalty program today will establish one by 2027." There is clearly demand for these types of programs and with Joltz Rewards, innovative companies will be able to leverage a full suite of bitcoin rewards to enhance their loyalty propositions to consumers.
Joltz's Vision
The broader vision harbored by Joltz is encapsulated in an August Twitter thread, which paints a scenario where major brands like Starbucks could effortlessly integrate bitcoin rewards into their apps. This vision underscores the user-centric design of their solution and the immense potential it holds in reimagining the loyalty rewards landscape.
By amalgamating the domains of loyalty rewards and Bitcoin's technology, Joltz is not merely launching a product but is shaping the trajectory of global loyalty programs. Their mission of bringing bitcoin to more individuals and bringing the $200B global loyalty economy onto a bitcoin standard is an exciting one.
Building on Bitcoin
While Bitcoin's primary use case remains redefining money, there are a variety of other projects working on alternate use cases. These include use cases of tokens, NFTs, and other collectibles which history has shown there to be demanded (even though they are still relatively early in the broader adoption curve).
This year has seen an explosion in token protocols such as Ordinals, and with the release of Taproot Assets it will be interesting to see how users react. Ordinals are compelling to many in that users can inscribe data directly onto the blockchain.
At the same time, many have criticized Ordinals as an inefficient solution for certain use cases. For fungible tokens for example, even BRC-20's own documentation page states that Taproot Assets is "unequivocally a better solution."
There is particular interest around bringing stablecoins to the Lightning Network with Taproot Assets. There have been over 35 million inscriptions to-date. Will Taproot Assets see similar levels of activity? Time will tell but competition breeds greatness and the end user is the victor here.