The United States Securities and Exchange Commission (SEC) has granted Volatility Shares LLC permission for the inaugural leveraged bitcoin futures Exchange Traded Fund (ETF).
Notably, the introduction of Volatility Shares' ETF marks a significant milestone as the first of its kind to be accessible within the United States. Trading for the ETF is scheduled to commence on Tuesday.
The approval of the registered futures ETF is a direct outcome of ongoing progress in the industry. Notably, BlackRock has initiated steps towards introducing bitcoin spot ETFs. In the meantime, the Volatility Shares futures ETF has received the necessary approval and is poised to become operational in the upcoming week.
In recent weeks, the digital asset industry in the United States has been filled with uncertainties. The SEC has taken a strong stance by cracking down on two major exchanges, Coinbase and Binance. However, there are now positive developments as the SEC has given the green light for a new bitcoin ETF offering in the country.
This approval marks a significant milestone as Volatility Shares prepares to launch the first leveraged bitcoin ETF in the United States.
As per the prospectus filing, the commencement of operations for the 2x bitcoin Futures ETF is scheduled for June 26, 2023. Furthermore, the filing mentioned that the ETF may exhibit correlation with the CME Bitcoin Futures Daily Roll Index.
Volatility Shares intends to introduce the 2x Bitcoin Strategy ETF (with ticker symbol BITX), designed to provide twice the performance of the S&P CME Bitcoin Futures Daily Roll Index on a daily basis. The company's website suggests a potential launch date of Tuesday.
This decision comes at a time when bitcoin has experienced a recent surge in price. Breaking the $30,000 threshold, this upward movement may have been influenced by the announcement of BlackRock's spot ETF intentions.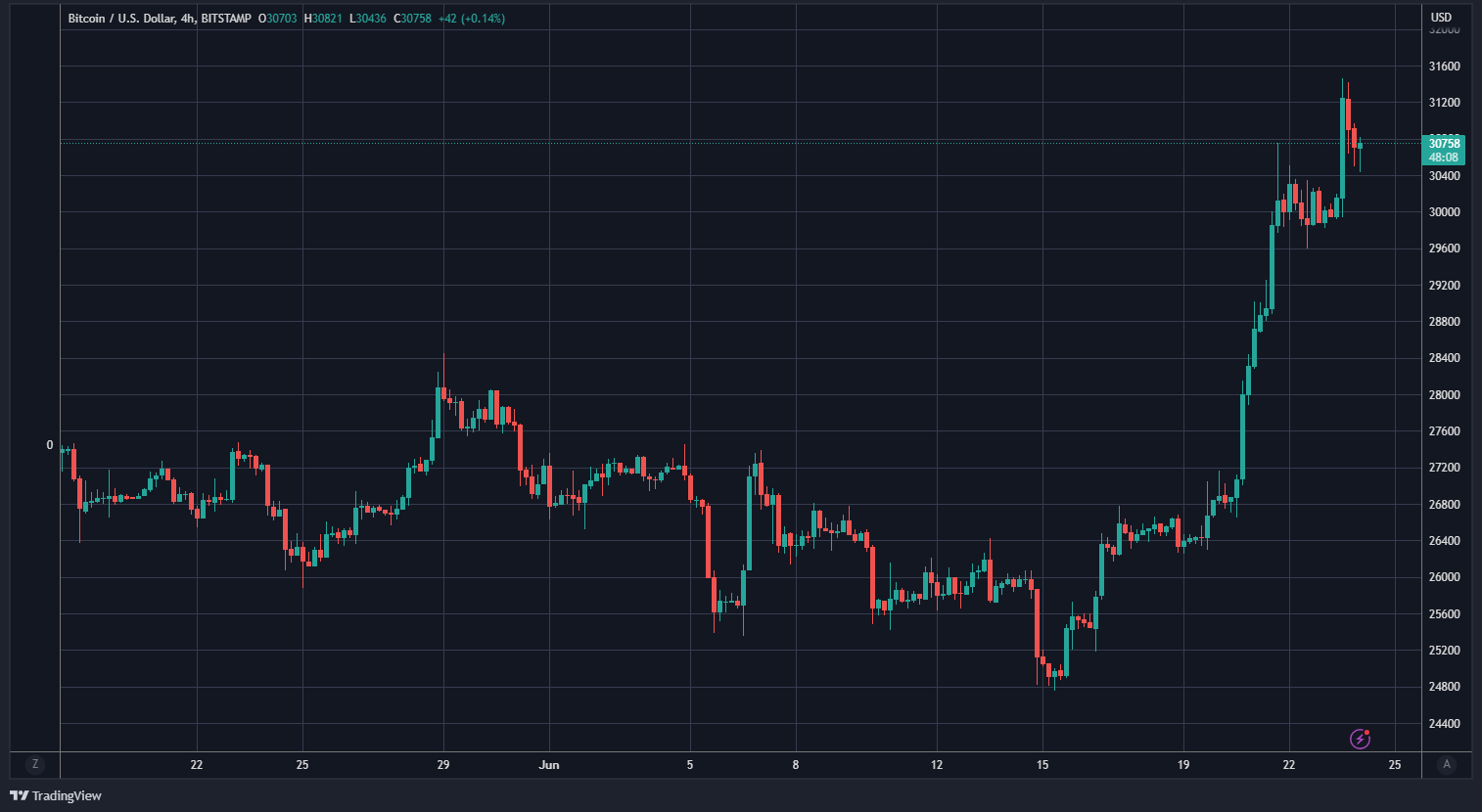 In the current market, Volatility Shares stands out as the sole ETF provider in the United States to offer double the returns of bitcoin. With $160 million in assets under management across three funds, Volatility Shares plans to launch the BITX ETF with an expense ratio of 1.85%, as per Bloomberg data.
The ETF's strategy involves not holding bitcoin directly but seeking gains from daily price increases in bitcoin futures contracts, as outlined in the filing.
However, despite the approval of a futures ETF, there remains uncertainty regarding the regulator's stance on approving bitcoin spot trading offerings.