The U.S. Securities and Exchange Commission (SEC) has postponed its decision on yet another four bitcoin spot exchange-traded fund (ETF) proposals, contributing to a series of recent delays.
The delays, affecting BlackRock, Bitwise, Invesco Galaxy Digital, and Valkyrie, could have been prompted by an impending government shutdown that threatens to leave the SEC with minimal staffing levels.
Delays by the SEC
The SEC's move to postpone these ETF applications follows a pattern of delays impacting the digital asset industry. Earlier delays for ETF proposals from Ark 21Shares and GlobalX were extended until January, adding to the uncertainty surrounding bitcoin ETFs. Bloomberg analyst James Seyffart believes that these delays are a precautionary measure to ensure that the SEC can address pending matters in light of potential staffing shortages during a government shutdown.
The recent delays in bitcoin ETF decisions came earlier than anticipated, occurring two weeks prior to the expected deadline for many applicants, which had been set for October 16-19.
US Government Faces Imminent Shutdown
It is possible that these delays were influenced by the looming possibility of a U.S. government shutdown on October 1, which could disrupt various federal agencies, including financial regulators.
The shutdown threat stems from a lack of agreement between the House and Senate on funding bills necessary to finance government operations. To avoid a shutdown, Congress must pass 12 separate full-year funding bills by the October 1 deadline.
BlackRock's Application
Among the delayed bitcoin spot ETF applications, BlackRock's proposal is particularly highly anticipated. The asset management giant, with approximately $9 trillion in assets under management, has a history of successfully obtaining approvals from the SEC, boasting a remarkable track record of roughly 575-1 in favor of approvals. However, despite these expectations, the SEC's actions have raised questions about its stance on bitcoin ETFs.
Grayscale's Application
This delay also coincides with the SEC's ongoing consideration of Grayscale's application to convert its Bitcoin Trust (GBTC) into an ETF. A recent court ruling overturned the SEC's initial decision to reject Grayscale's application, raising the possibility of approval in the near future. The SEC has a 45-day window, ending around October 13, to appeal this decision.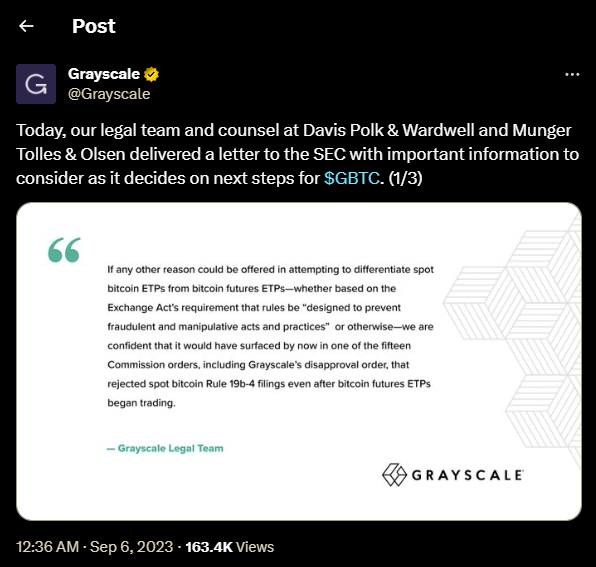 SEC's Stance on the Delays
During a House Financial Services Committee hearing held on Wednesday, Gensler stated that the agency is currently in the process of carefully reviewing the court's decision. He emphasized that it remains an active point of discussion within the commission and expressed a desire not to preemptively anticipate the views of the staff or his fellow commissioners.
Despite these delays and uncertainties, the industry remains highly dynamic, with several other ETF applications pending, including those from WisdomTree, Fidelity, and VanEck, all with deadlines in the third week of October.
Conclusion
The SEC's repeated delays of prominent bitcoin ETF proposals are seen as precautionary measures ahead of a potential government shutdown. These delays have raised questions about the regulator's stance on bitcoin ETFs, while the Grayscale case adds further complexity to the evolving regulatory landscape.