Wyre, a digital assets payments company based in San Francisco, is closing its doors after nearly a decade in operation. The company attributes its closure to the financial challenges posed by the bear market and clarifies that it has no connection to the strict regulatory stance taken by U.S. authorities.
In a blog post dated June 16, Wyre explained that the decision to wind down operations was made to safeguard the interests of its valued stakeholders and customers. The company assures users that it will continue to prioritize the security of customer assets.
It stated that customers can still withdraw their funds through Wyre's dashboard until Friday, July 14. Any remaining assets on the platform will be subject to a separate recovery process after that date.
Additionally, the Wyre team has indicated that they are making their assets available for sale. They added, "If you are interested in acquiring the assets of Wyre or its subsidiaries, kindly contact 88 Partners."
When Did Trouble Begin For Wyre ?
According to reports, the company's decline began when Bolt, a one-click checkout company, decided to cancel its $1.5 billion acquisition of Wyre in September 2022.
On January 4, 2023, further complications arose when Juno, a fiat-to-digital-asset on-ramp solution provider, advised its users to transfer their assets from the Juno platform and take self-custody. This recommendation was made due to the alleged "uncertainty" surrounding Wyre, Juno's custodial partner.
The day after Juno's announcement, MetaMask, a popular crypto wallet, also discontinued its support for Wyre's crypto payment services over the same issue.


Shortly thereafter, Wyre implemented a 90% withdrawal limit for all its users. However, on January 13, the company swiftly removed this limit after securing funding from an undisclosed "strategic partner," indicating a potential recovery for the firm.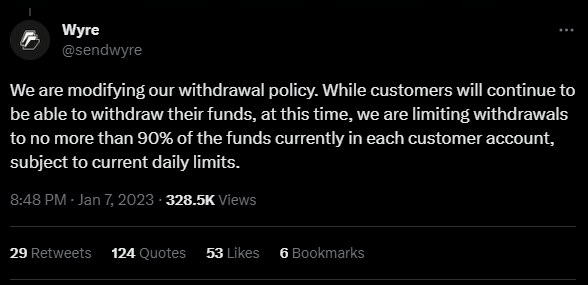 In addition, reports indicate that Wyre had to let go of 75 employees in January as part of its restructuring efforts.