Bitmain, the world pioneer in bitcoin mining ASICs, has introduced its newest flagship, the Antminer S21, during the 2023 World Digital Mining Summit held in Hong Kong.
The New Antminer S21 Series
Within the S21 series, options for both air-cooled and hydro-cooled models can be found. This momentous announcement signals Bitmain's new product series launch since their debut of the Antminer S19XP in Dubai back in November 2021.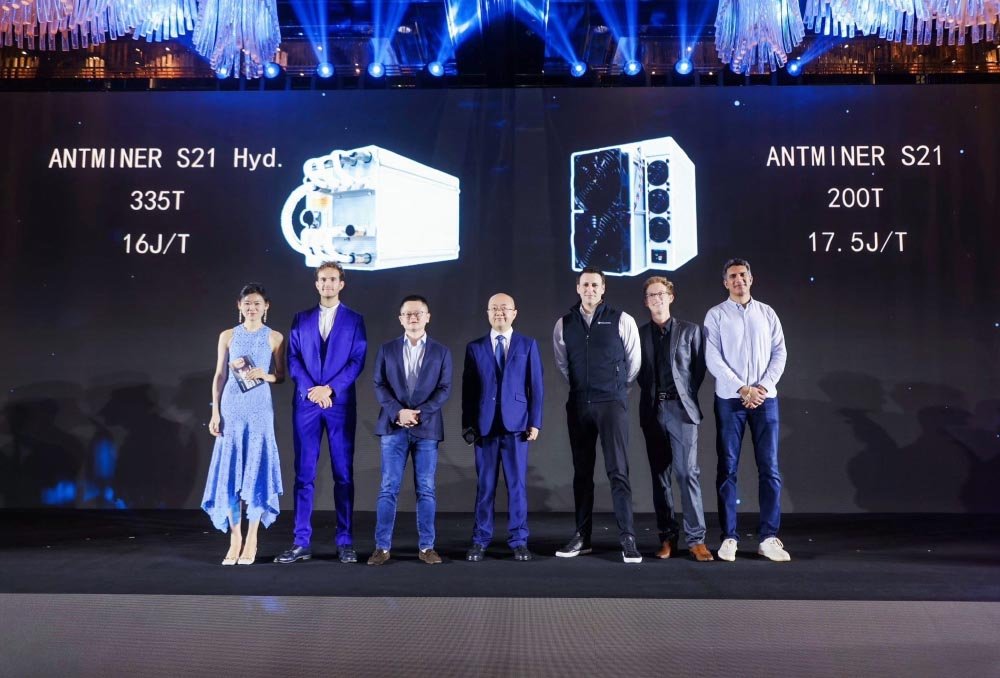 Miner Specifications
The following stats for the air-cooled miner were revealed during the conference:
Hashrate: 200 TH/s
Efficiency: 17.5 J/TH
Wattage: 3500 W
The hyrdo-cooled model has better stats, as expected:
Hashrate: 335 TH/s
Efficiency: 16 J/TH
Wattage: 5360 W
Bitmain seems to be offering exceptional stats with the new miners. The air-cooled variant showcases an impressive hashrate of 200 TH/s, a substantial improvement over its predecessor, the Antminer S19j XP, which managed a hashrate of 151 TH/s.
To make things even more interesting, the hydro-cooled Antminer S21 Hydro pushes the boundaries further, achieving an astonishing hashrate of 335 TH/s. Consequently, Bitmain confidently asserts that it delivers the highest hashrate among all bitcoin mining ASICs currently available in the market.
The hydro-cooled model not only boasts remarkable computational prowess but also achieves an outstanding energy efficiency rating of 16J/T. This signifies its capability to generate 1T of computational power while consuming just 16 Joules of electricity, surpassing the performance of most other miners available in the market.
The announcement of these products not only signifies a technological milestone but also signifies the official entry of the bitcoin mining industry into a new era of sub 20 J/T energy efficiency.
Production, Availability and Shipping
According to a report by HashRateIndex, Bitmain anticipates a monthly production target of a minimum of 50,000 units for the next eight months, evenly split between air-cooled and hydro-cooled variants. However, production may ramp up to as many as 100,000 units per month should demand warrant it.
Bitmain is set to commence shipping the initial batch of Antminer S21 units in December, with the majority of its new S21 inventory scheduled for shipment during the first and second quarters of 2024.
Currently, Bitmain is exclusively accepting pre-orders from bulk buyers. Nevertheless, secondary sellers are emerging to provide smaller quantity options to interested parties.
Pricing
During its initial launch, the Antminer S21 is available at a promotional price of $14 per TH for orders totaling 1.2 EH/s or more. This equals $2,800 per unit for air-cooled models and $4,690 per unit for hydro-cooled models.
It's important to highlight that this pricing is exclusive to the Antminer S21 launch and that subsequent orders will be subject to higher costs. For instance, the second phase of orders will be priced at $19.6 per TH (equivalent to $3,920 for air-cooled and $6,566 for hydro-cooled units), according to HashRateIndex.
In the months and years ahead, as the Antminer S21 enters the secondary market, it is expected to command a significant premium over older models like the Antminer S19j Pro and a modest premium compared to other next-generation rigs such as the Antminer S19 XP.
About Bitmain
Bitmain Technologies Ltd. is a privately held company with its headquarters situated in Beijing, China.
The company specializes in the design of application-specific integrated circuit (ASIC) chips specifically tailored for bitcoin mining purposes. Established in 2013 by Micree Zhan and Jihan Wu, Bitmain rapidly ascended in the industry.
By 2018, it had attained the status of being the global leader in ASIC chip design for bitcoin mining. Additionally, Bitmain operates BTC.com and Antpool, historically recognized as two of the most prominent mining pools for bitcoin.