In the latest FTX lawsuit development, Mark Cohen, the attorney representing Sam Bankman-Fried (SBF), the former CEO of collapsed exchange FTX, has raised concerns regarding the proposed jury questions for the upcoming fraud trial.
FTX Lawsuit: Arguments Presented by SBF's Lawyer
In a filing on September 29, he argued that the United States government's proposed jury questions already insinuate his guilt in fraud and money laundering, resulting in an unfair trial for Bankman-Fried. He states:
"The Government's proposed voir dire discourages full disclosure from potential jurors, fails to elicit sufficient information to allow the defense to ascertain potential juror bias, and risks tainting the jury by presenting the allegations in a prejudicial manner."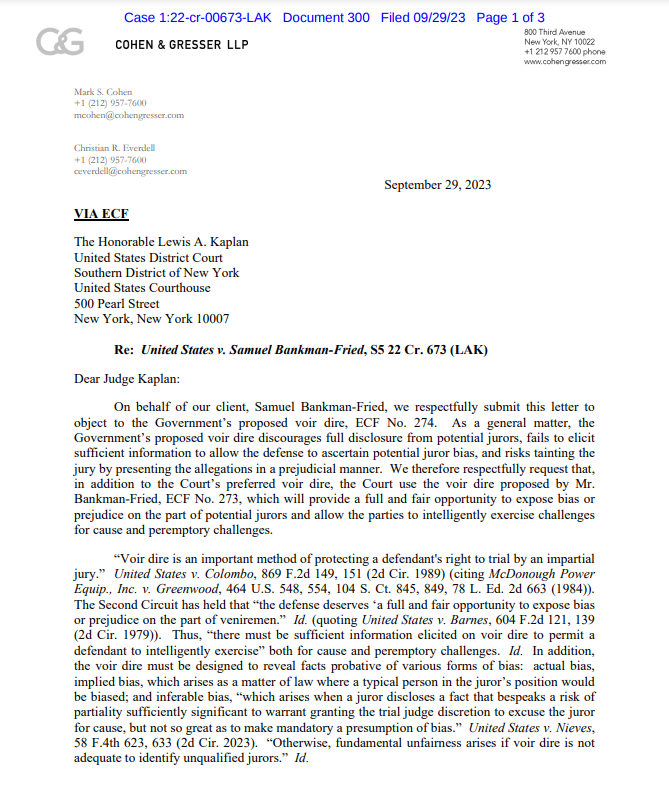 Cohen specifically objected to the prosecutor's summary of the charges, stating that they risk affecting the jury by "presenting the allegations or circumstances of the case in a manner that undermines the presumption of innocence."
In a paragraph, Cohen remarked, "in particular, by referring to "his fraud," rather than "his alleged fraud" or simply "fraud," the final sentence in paragraph 3 improperly suggests that fraud by Mr. Bankman-Fried is an established fact."
He emphasized the need for the court to remind potential jurors that SBF is entitled to the presumption of innocence unless proven guilty beyond a reasonable doubt.
Moreover, Cohen requested the court to adopt the voir dire questions proposed by Bankman-Fried. However, it is worth noting that the U.S. government recently opposed his proposed questions, deeming them time-consuming and unnecessary.
The objections are mainly centered around questions related to pretrial publicity, the effective altruism philosophical movement, political donations, lobbying, and attention-deficit/hyperactivity disorder (ADHD).
Trial to Begin on October 4
The jury selection process is set to begin on October 3, preceding the trial's commencement on October 4. The latest trial calendar, posted to the public court docket on Thursday, reveals that October will see 15 full trial days, with another six scheduled for November.
The former FTX executive has pleaded not guilty to the charges of money laundering, fraud, and conspiracy. He has remained in detention at the Metropolitan Detention Center since August 11.
Despite numerous requests, U.S. Judge Lewis Kaplan has consistently turned down his appeals for temporary release before the upcoming trial preparation. However, he has granted SBF the permission to arrive early at the courthouse on most days, allowing him to prepare with his legal team before the court sits.