In this article we provide a comprehensive Umbrel Home review and explore all the different features it comes with.
Table of Contents
About Umbrel
Umbrel is a household name by now. It's the happy brand that cheers you up, loving, caring and always up for a little joke to make you smile. Oh and they also somehow figured out how to turn a dreadfully boring and cumbersome IT job – running a bitcoin full node – into a beautiful, joyful and pleasant experience.
Nobody really knows how they did it. But everyone loves it.
After the successful start as umbrelOS, an operating system for bitcoin nodes, Umbrel decided it's time to join the hardware game in May 2023.
With Umbrel Home the team designed a personal homeserver that gives you the convenience of the cloud, without having to give up your data.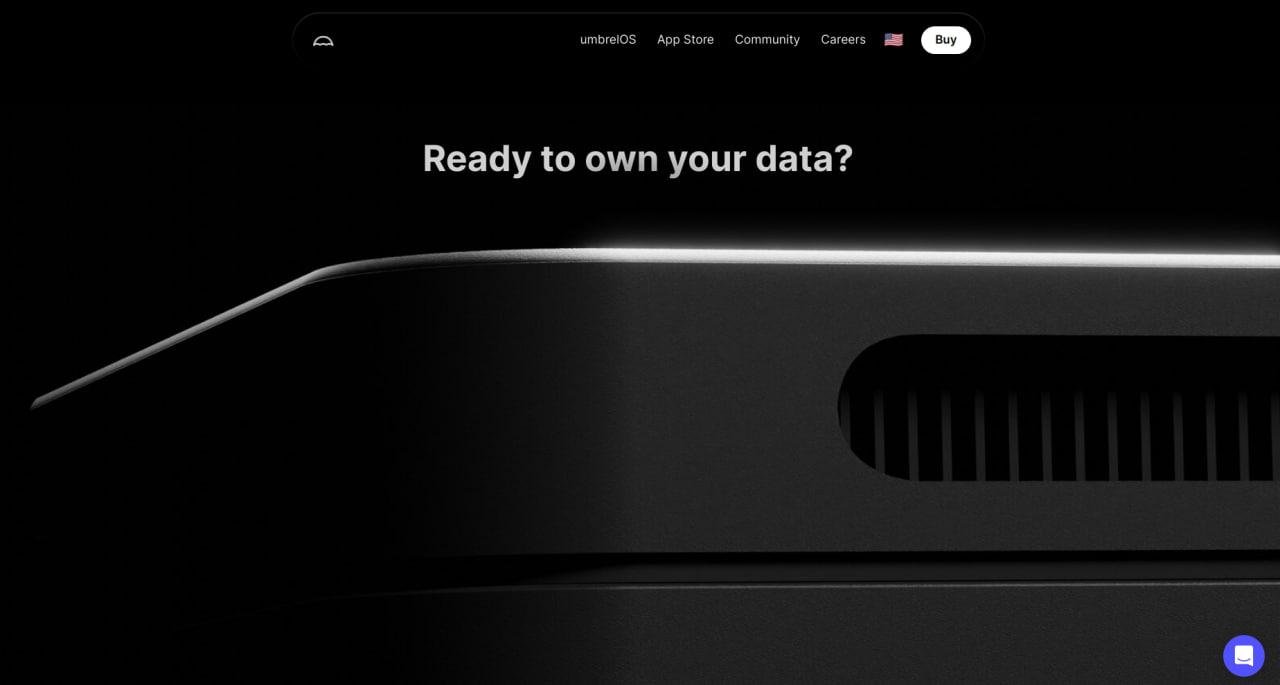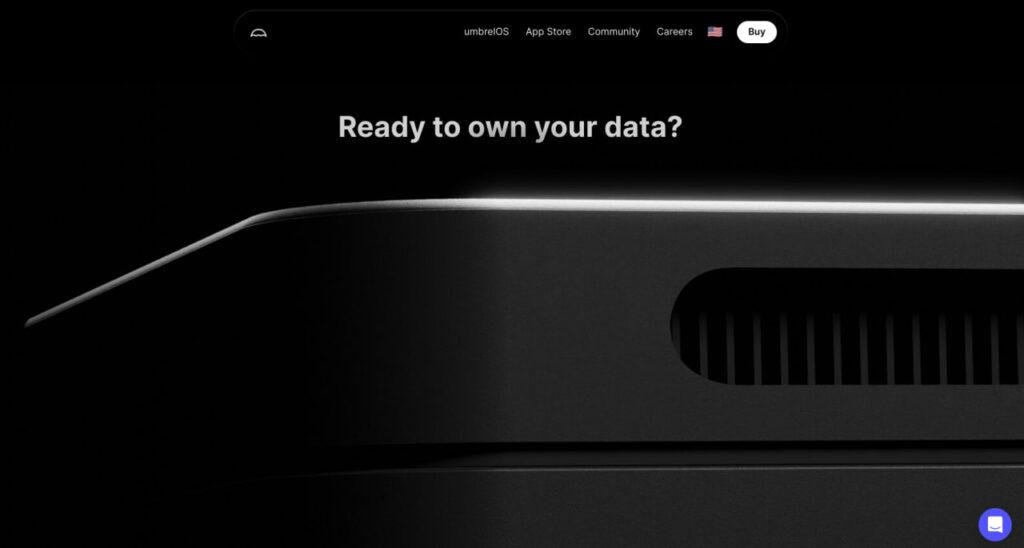 The founders Mayank Chhabra and Luke Childs believe in making complex things easy and beautiful so that anyone can use it without technical knowledge.
On Umbrel's website we can learn:
Over this decade, personal servers will become as ubiquitous as the internet routers today. Our goal is to power this shift by making an incredibly simple yet powerful operating system for running them.

Source: Umbrel
The term 'umbrel' is actually a 19th century alternative for umbrella; a sovereign device used to protect you when the cloud rains — the name and logo embodies Umbrel's goal to provide a personal, sovereign alternative to cloud services.

UmbrelOS quickly became the bitcoin standard for beautiful UI and intuitive UX in the bitcoin space. There aren't many bitcoin design awards yet, but they'd score high if there were any.
But enough praise, let's get to work.
The founders recently went to Asia for three months to find the highest-quality components and best ingredients for their new baby.
As a result they didn't just enter the hardware arena with a top-notch product. They actually lifted the bar a couple meters higher.
Unboxing Umbrel Home
The box came from Umbrel's fulillment partner located in Millwaukee, USA. The fulfillment center ships worldwide and it ships surprisingly fast. The box arrived in Germany in a week via Fedex.
Now the bad news. Unfortunately, German customs want their cut of import taxes and sent three very obscure pages with a type of "request of payment". While it arrived two weeks after the Umbrel box had arrived, the hefty fee of 91,70 EUR (~100 USD) for their "services" is impressive.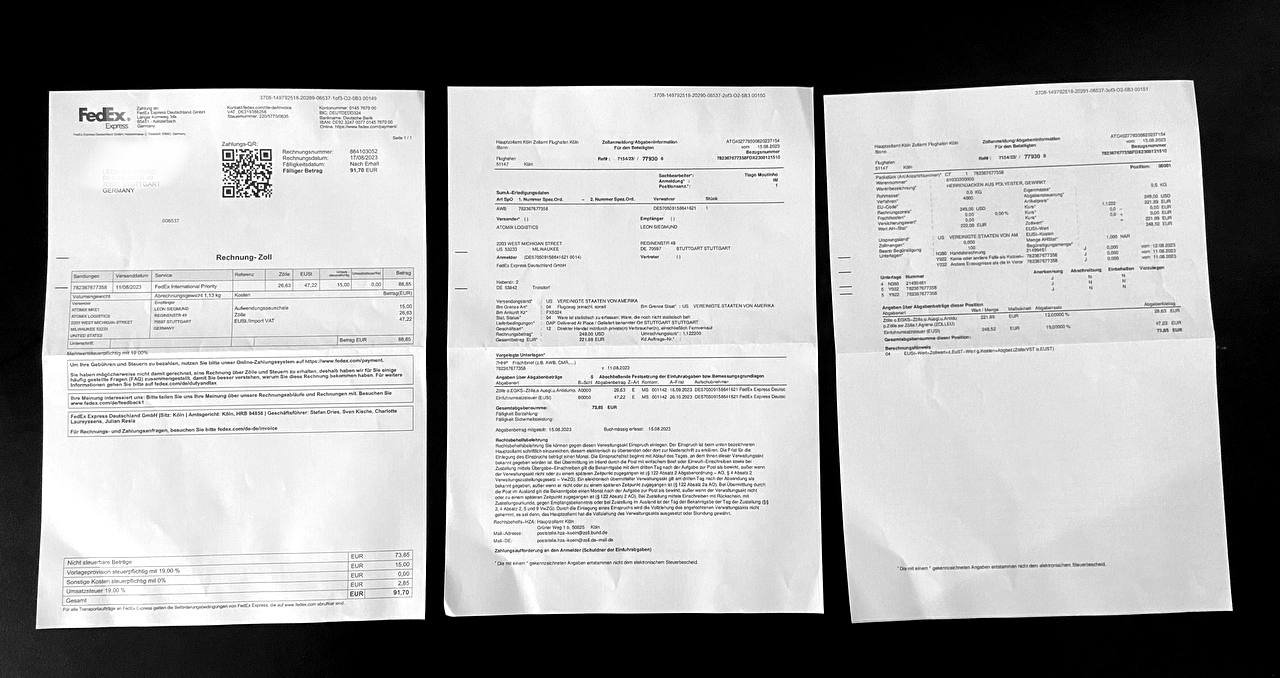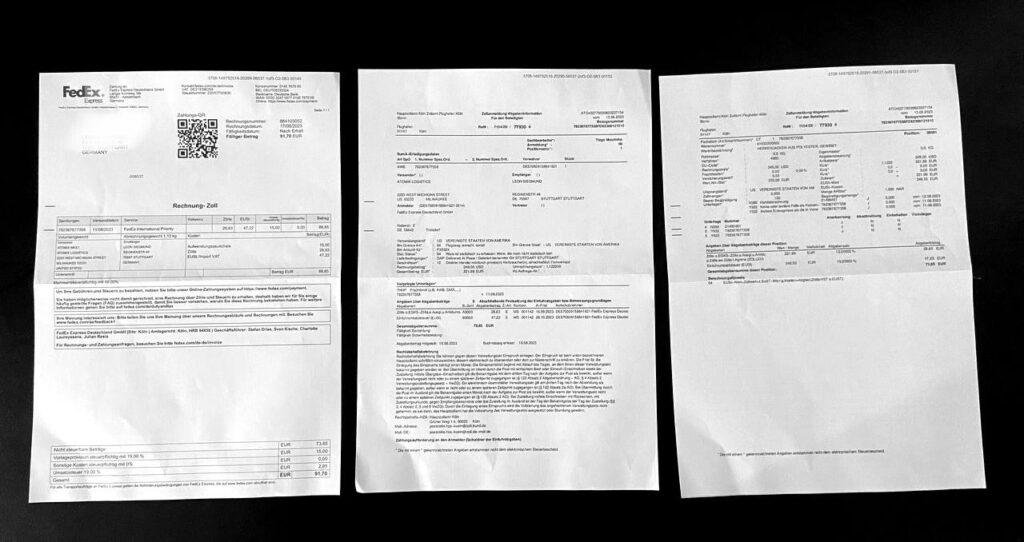 It might seem off-topic but besides the emotions it caused, I do find it an important detail to mention for anyone who is looking to receive their Umbrel Home outside of the US. The jokers in uniform want a cut.
The only positive aspect is the fact that customs charges are usually a lifetime fee and you'll give them your dirty and soon worthless fiat money.
It left me stunned, confused yet even more motivated to spin up my bitcoin node.
Remember, fix the money, fix the world and thanks to Umbrel this is incredibly easy and also a real joy for enthusiasts of good design and aesthetics.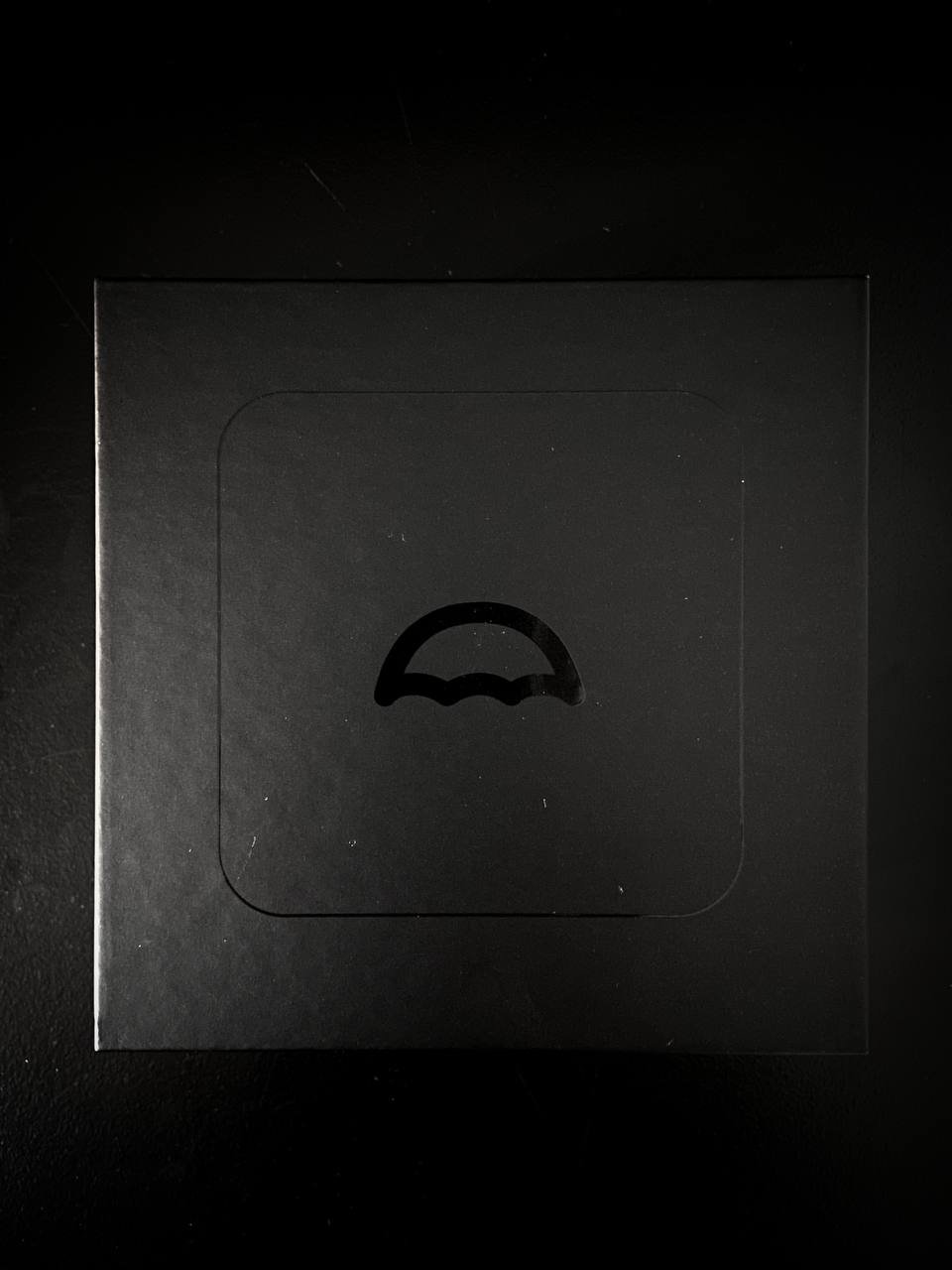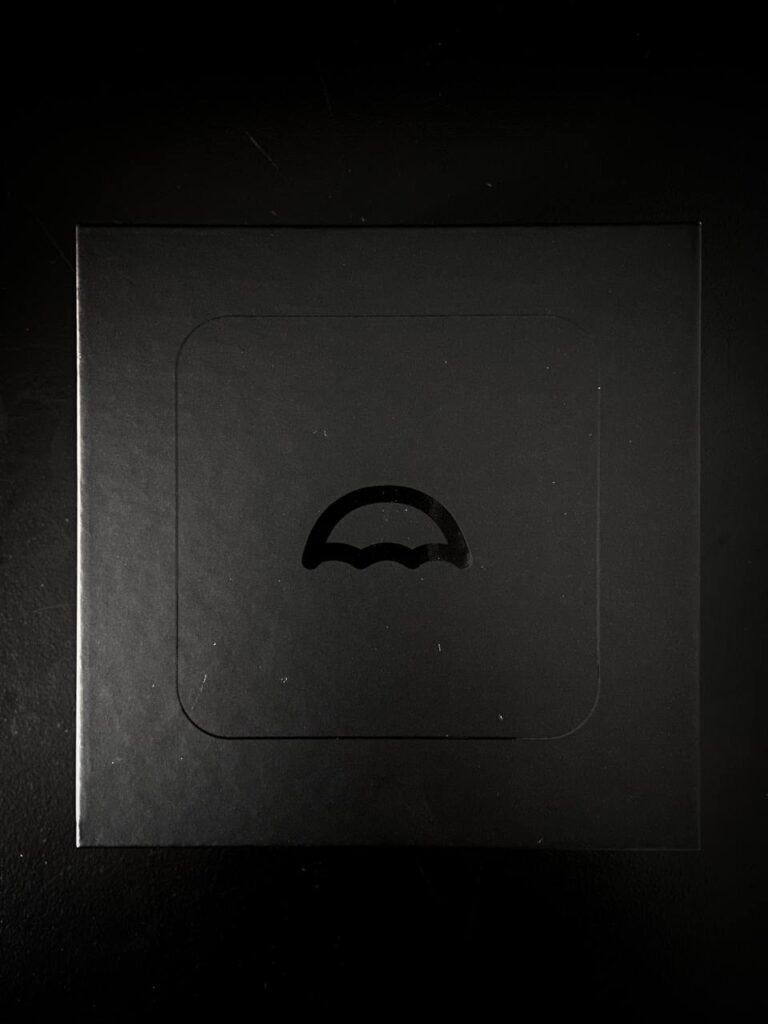 Unboxing the product is pure bliss. The box is wrapped in a plastic sleve to protect the carton from scratches. Once you unwrap the plastic, the elegant black box makes you wonder what's inside.
Lifting up the lid is nice and smooth and underneath you'll finally see your Umbrel.
It's much more compact than I expected. It's so tiny it's almost cute. Actually it is cute! It's wrapped in protective sleeve that easily comes off.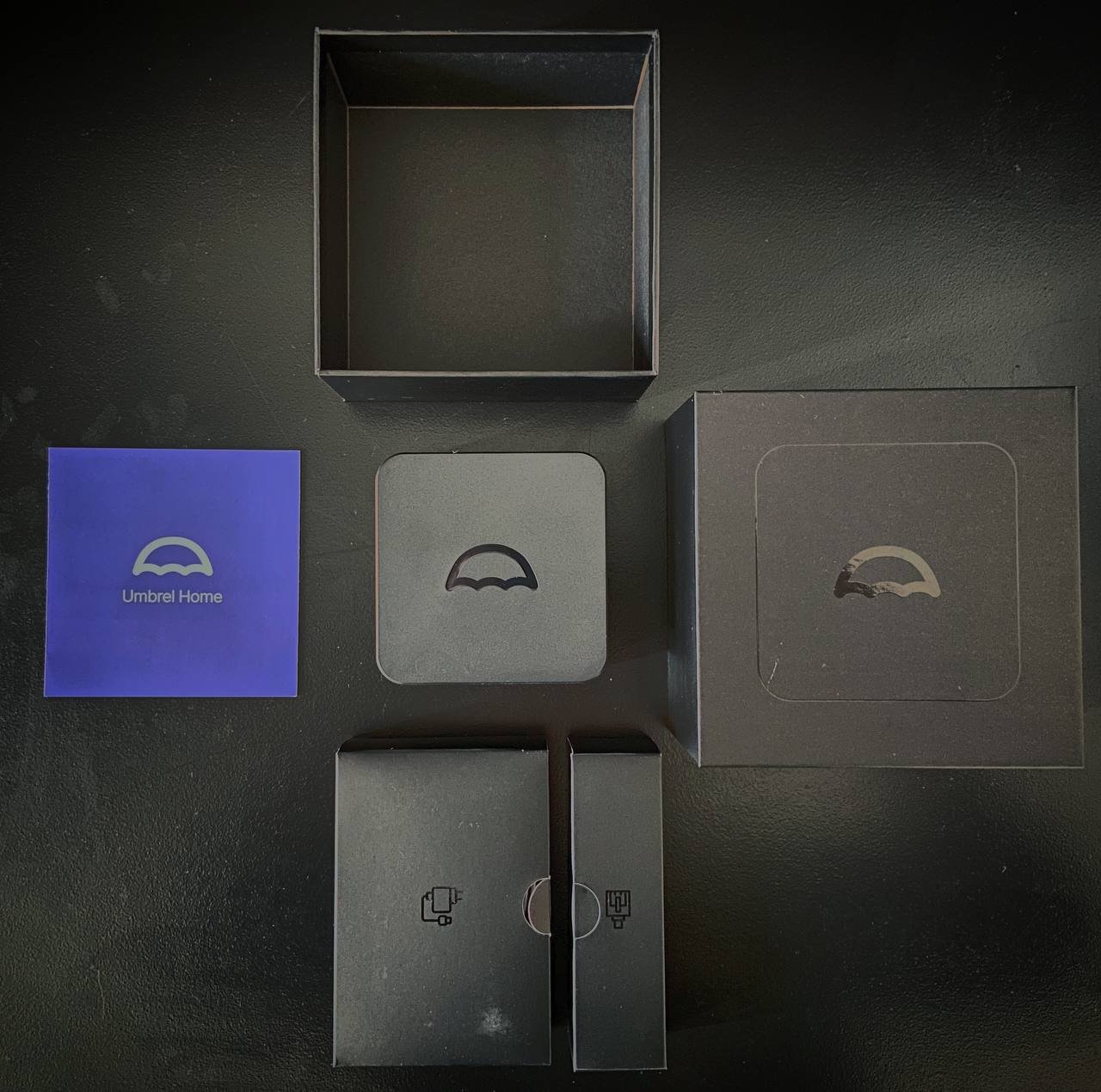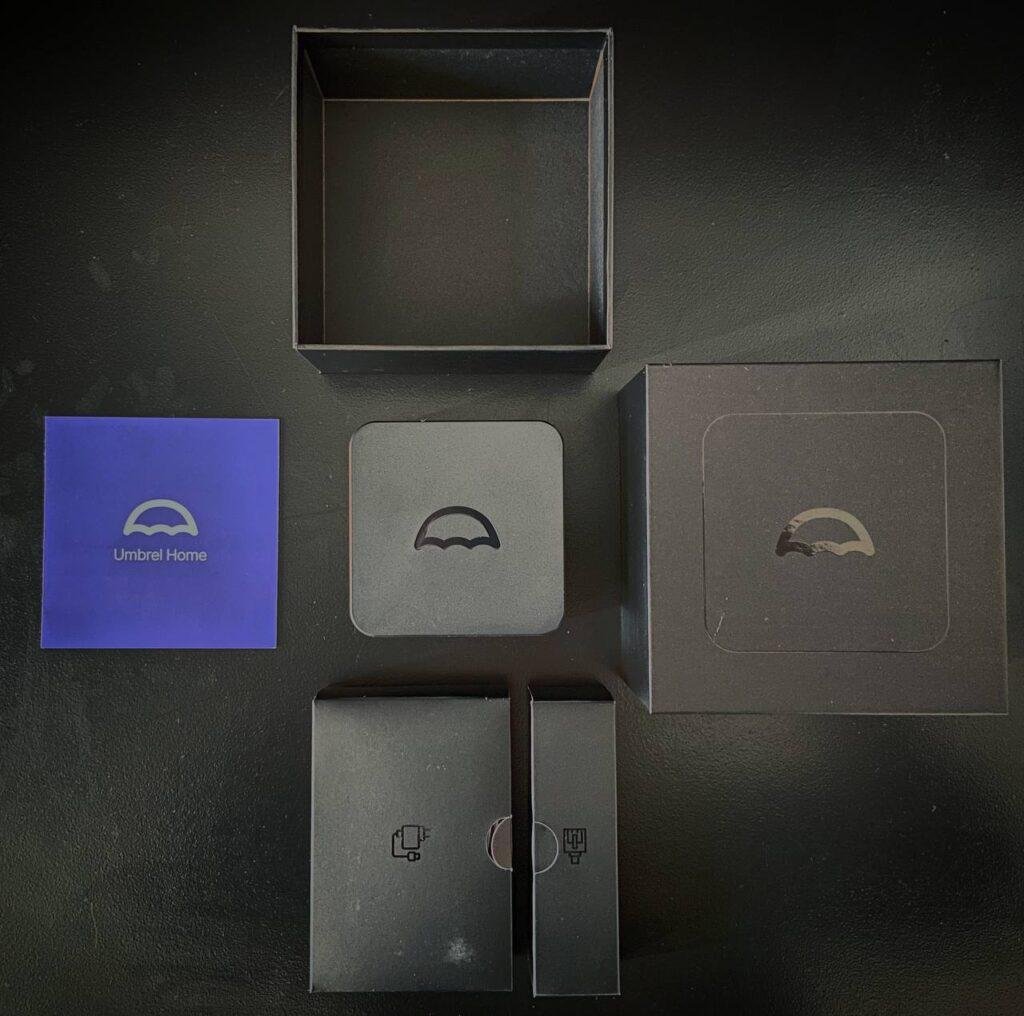 What's inside the box?
Below the device you'll find a compartment containing three essential items:
| Pcs | Item Name |
| --- | --- |
| 1x | Umbrel Home Device |
| 1x | Umbrel Home manual |
| 1x | Ethernet cable (short) |
| 1x | Power Adapter (USB-C) |
Table of included items
I like that Umbrel is focusing on the essentials. The ethernet cable is super short, suggesting to place the device next to your internet router or an ethernet socket.
The power cable is compact and matches the design of the Umbrel device itself.
The simplicity of the package reflects the notion of making things easy and user-friendly.
Overall, Umbrel impresses with the packaging experience. Everything looks great and feels smooth. You can tell that the team aimed at creating a premium product experience which starts with well thought out packaging design.
Installing Umbrel Home – Setting up your new home cloud
As mentioned, Umbrel Home is a compact device smaller than the palm of your hand. It's lightweight but feels robust and of decent quality.
The compact size make it easy to find a good spot for it. If it's your work desk it won't take a lot of space. If your server or router compartment isn't spacious, that won't be a problem because you can probably still fit in the device.
How to install Umbrel Home
Setting up Umbrel Home is incredibly easy. It takes not more than a few minutes and requires absolutely no technical knowledge.
Plug-in power adapter
Connect ethernet cable
Wait 30 seconds
Open umbrel.local in your browser
Set name and password
Done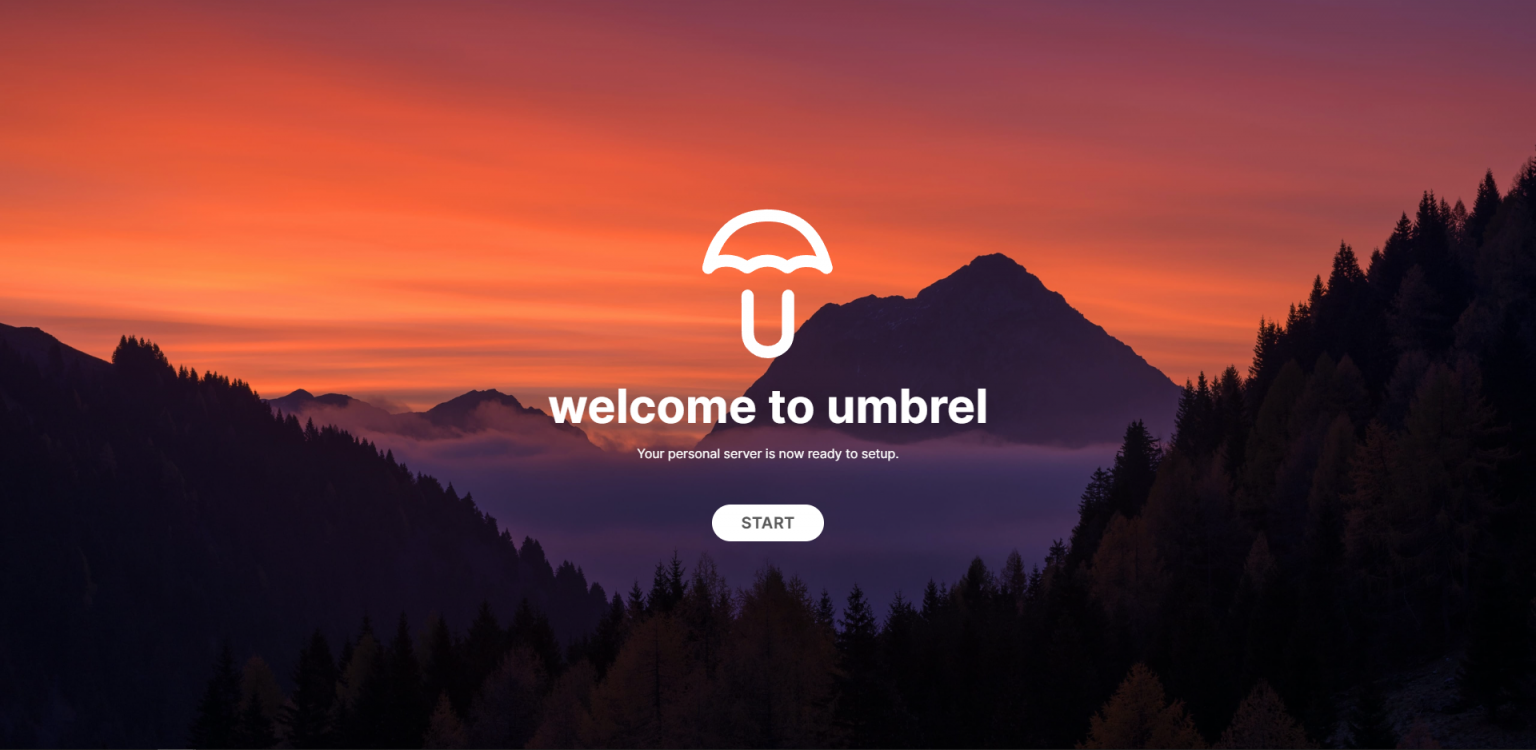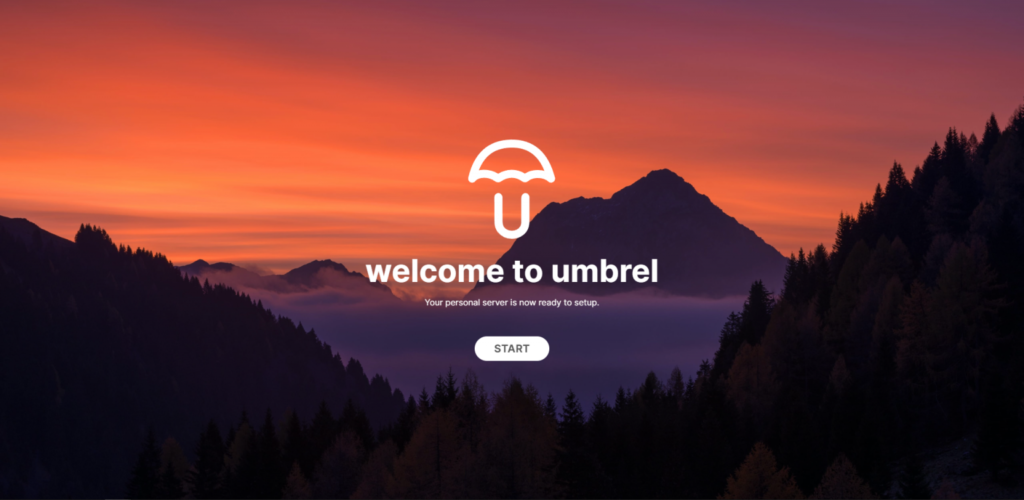 After you have set your username and password, you're ready to go.
Dark mode on Umbrel Homeserver
The dark mode button has it's own place on the toggle bar. Priorities. Switching between light mode and dark mode is a charm on Umbrel Home. It's super fast, super smooth and looks absolutely fantastic. Both dark mode and light mode have their own benefit depending on your work environment, light situation and personal preferences.
Since both modes look so great, you might find yourself switching around every now and then.
Bitcoin Full Node App & Synchronizing the Blockchain
What would be the first thing for a Bitcoiner when launching the Umbrel Home? You've guessed it right, synchronizing with the Bitcoin time chain and becoming a part of the monetary network.
Installing the Bitcoin full node app is simple. One click is all it takes and a minute later you can boot your bitcoin full node.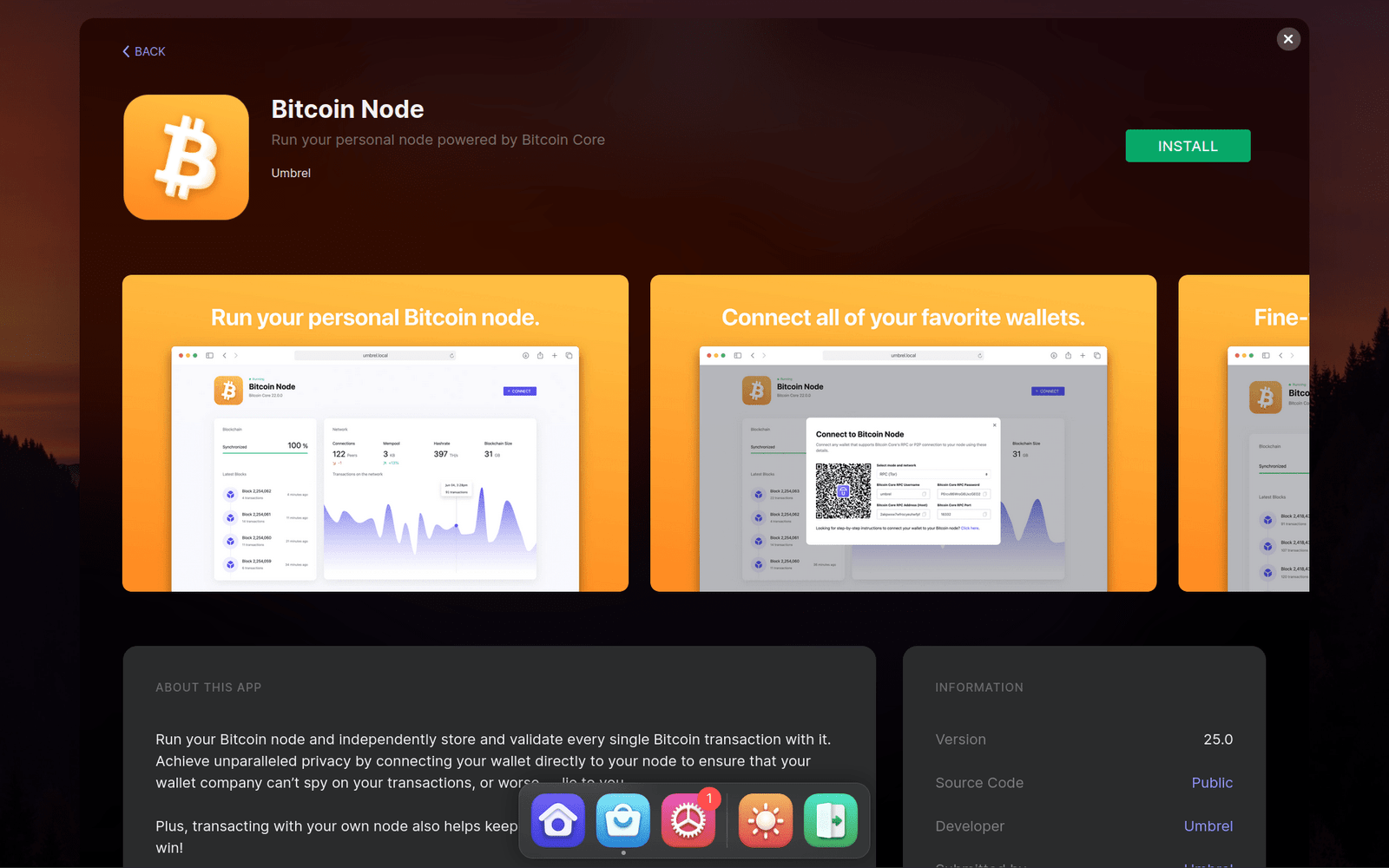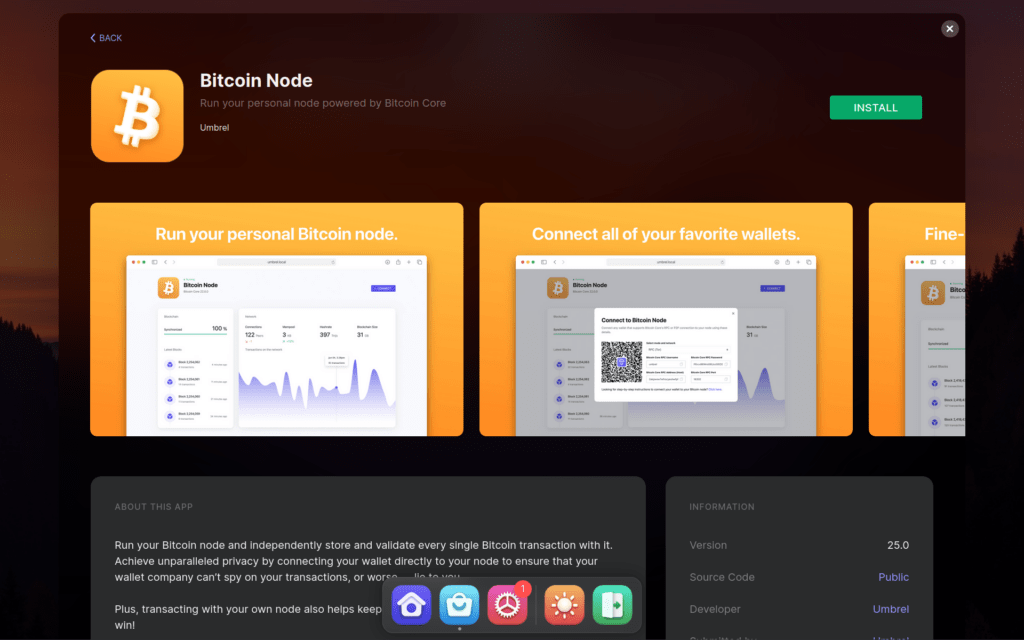 The interface of the bitcoin node is a piece of beauty and most certainly the best looking bitcoin node dashboard to date.
Let's kick off the synchronization process. Despite its small size, the specs of Umbrel Home are a mighty combination and Umbrel is armed well to win a block validation marathon.
A blazing fast 2.9 Ghz Intel N5105 quad core CPU combined with 16GB Dual-Channel RAM and 2TB NVMe SSD.
Umbrel is crunching the numbers eight blocks at a time at a rapid speed. I remember when I synchronized the blockchain with an older version of umbrelOS on an old laptop (just for fun) and it took ages to validate three blocks.
The machine is connected to 10 peers and goes through the blocks like a hot knife through butter.
I start synching at 6pm and 30 minutes in, we're at 1,25%, 5GB of blockchain data and 215,351 of 804,946 blocks. After one hour we're at 2% which means I probably will need around 50 hours or two days of validating.
With Tor disabled from the advanced settings, the Bitcoin node on Umbrel Home can sync in about ~15.5 hours.
Given my home internet is not the fastest, I believe even better speeds are possible. Two days for a fully validated copy of the Bitcoin blockchain is not bad either.
At 6.30pm the next day, we're already at 50%.


You might have wondered if you can access Umbrel Home from your phone. Of course you can and it looks splendid. There is no difference in functionality either. Which means you can install or remove apps by using your phone.
I can check if the bitcoin node has finished synchronizing from the convenience of my phone.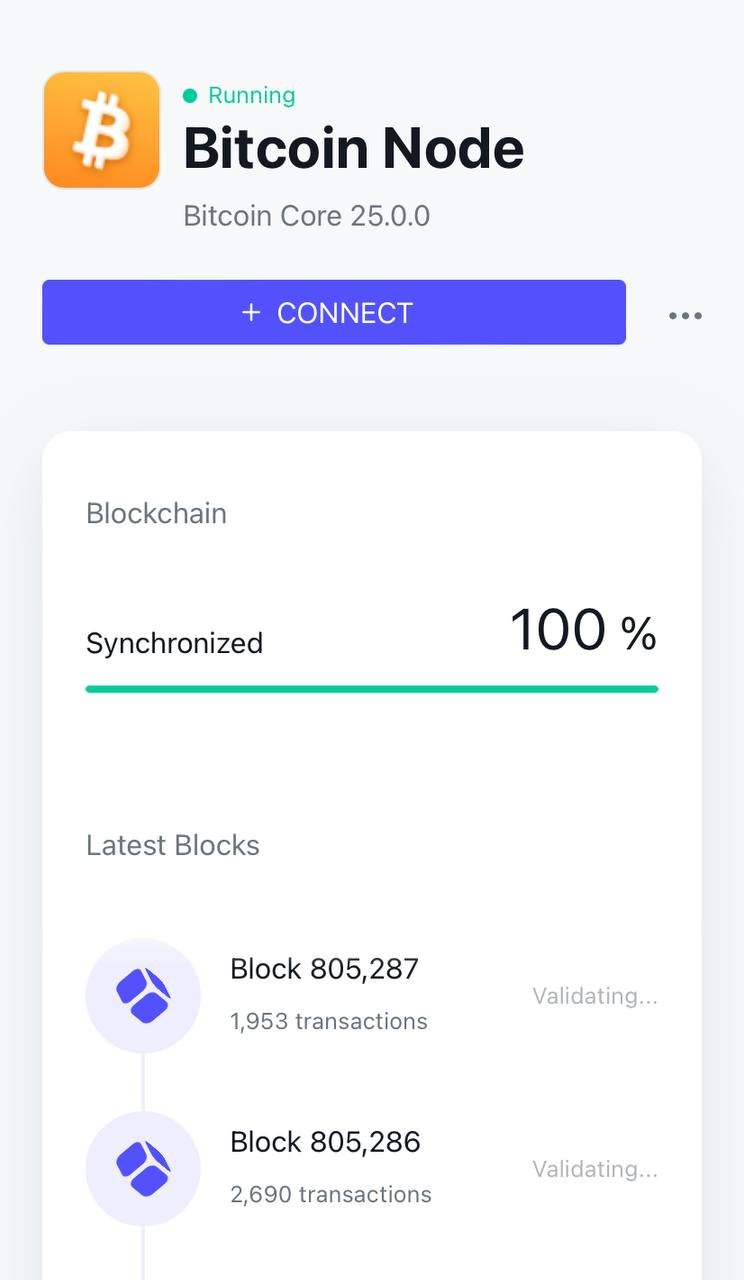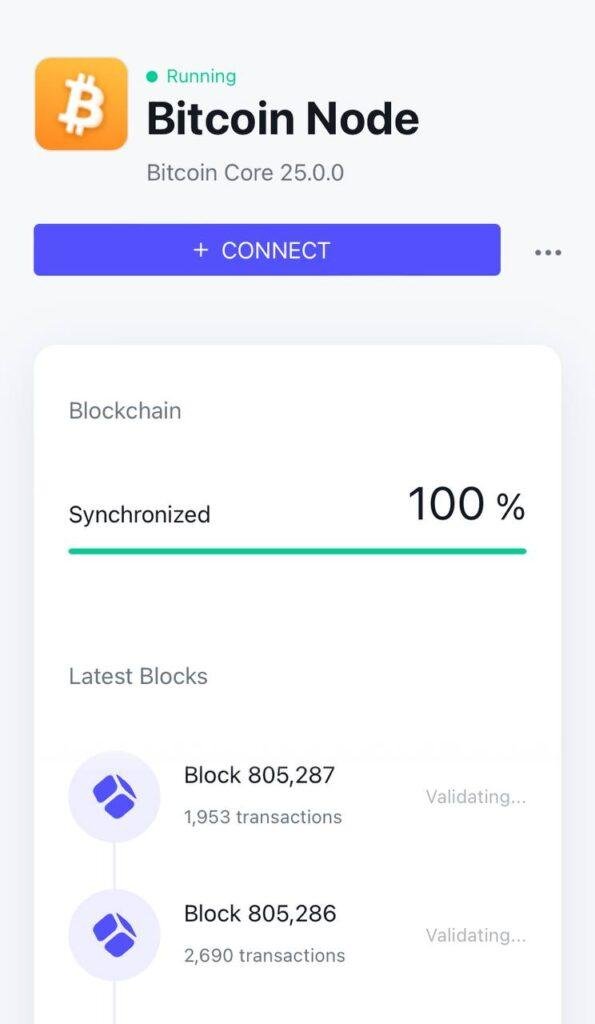 Running a bitcoin node is a wonderful experience as you become part of the network and contribute to its overall security. With Umbrel Home this job is effortless and anyone can do it.
The requirements for the user is simply to plug in the ethernet and power cable, set a password and with a single click, the node starts synchronizing. It's amazing to see that this rather complex process has been made so incredibly easy.
It's time to check out some of the other features. You might get concerned to run apps in parallel but I didn't notice any loss in performance of the synchronization process when installing other apps in the meantime. Umbrel Home can handle a few simultaneous threads with ease thanks to it's quad core chip and massive RAM.
Beyond Bitcoin – Umbrel Home Server
With Umbrel Home, the team continued on their mission to give back control to users.
Besides the bitcoin node, you can use Umbrel as full-fledged homeserver that can run many applications. This means Umbrel is a lot more versatile and can solve more problems in a bitcoiner's life:
Store and share personal files? Spin up your nextcloud and own all your data.
Search the web without leaving traces? Use Whoogle, a self-hosted, ad-free, privacy-respecting metasearch engine.
Host your own AI chatbot? Use Llama-GPT, a self-hosted, offline ChatGPT-like chatbot.
With over 100 apps available, Umbrel Home is a swiss pocket knife that can cater for many different data and cloud needs without having to pay for AWS or other cloud providers.
The following categories of apps are currently available on umbrelOS.
Files & Productivity
Bitcoin
Finance
Media
Networking
Social
Home & Automation
AI
Developer Tools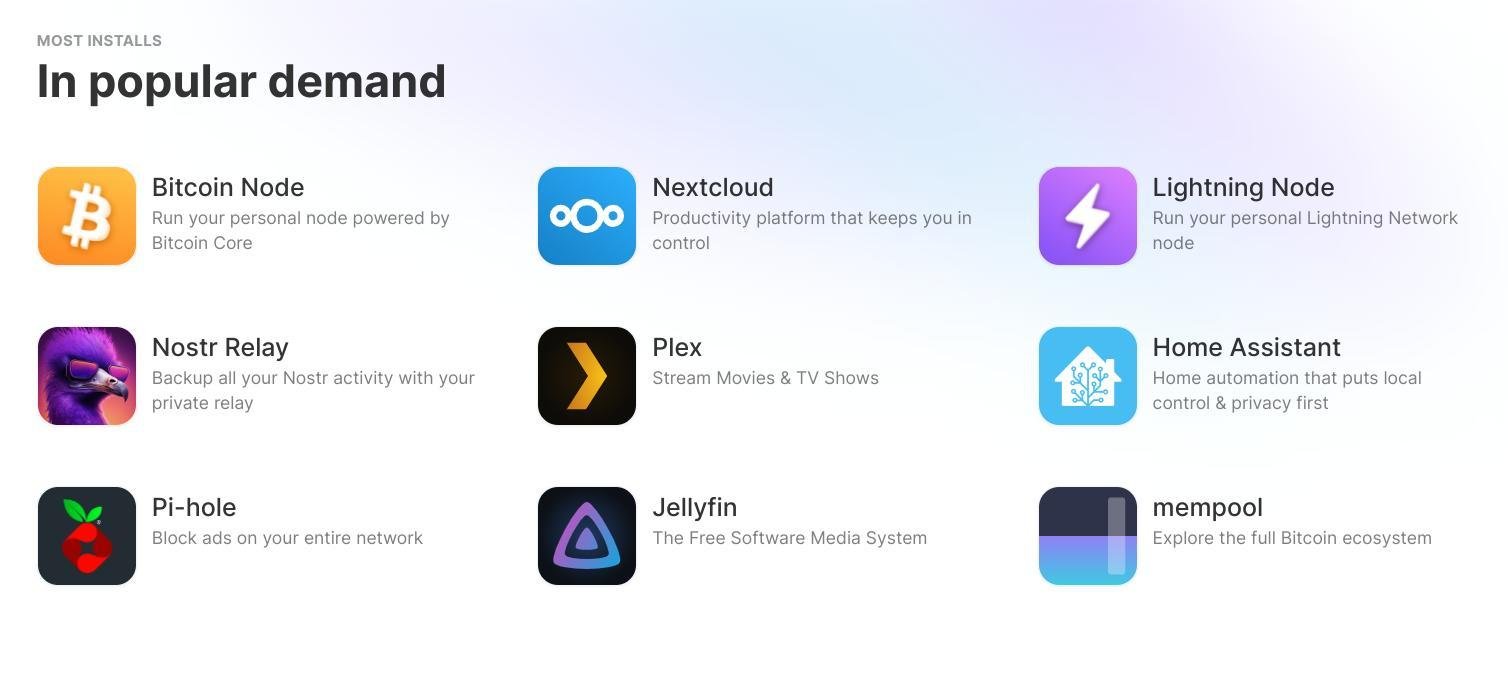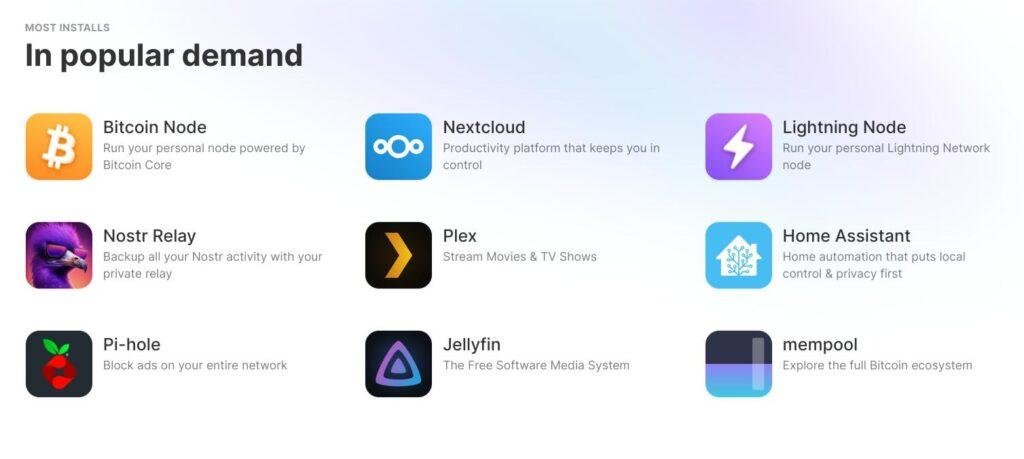 Umbrel Support
Setting up your device is fairly easy and you should not require any external support. But if you do encounter difficulties you will have a number of different options to get help.
The fastest option is to use the live chat where members of the support team can help you. This is also a great option if you encounter more sever problems since you will be in touch with technical support people.
If the live chat is not available (working hours or timezone difference) you can always use the community forum or the Telegram group. To test the response time I asked a fairly technical question and was answered a few hours later.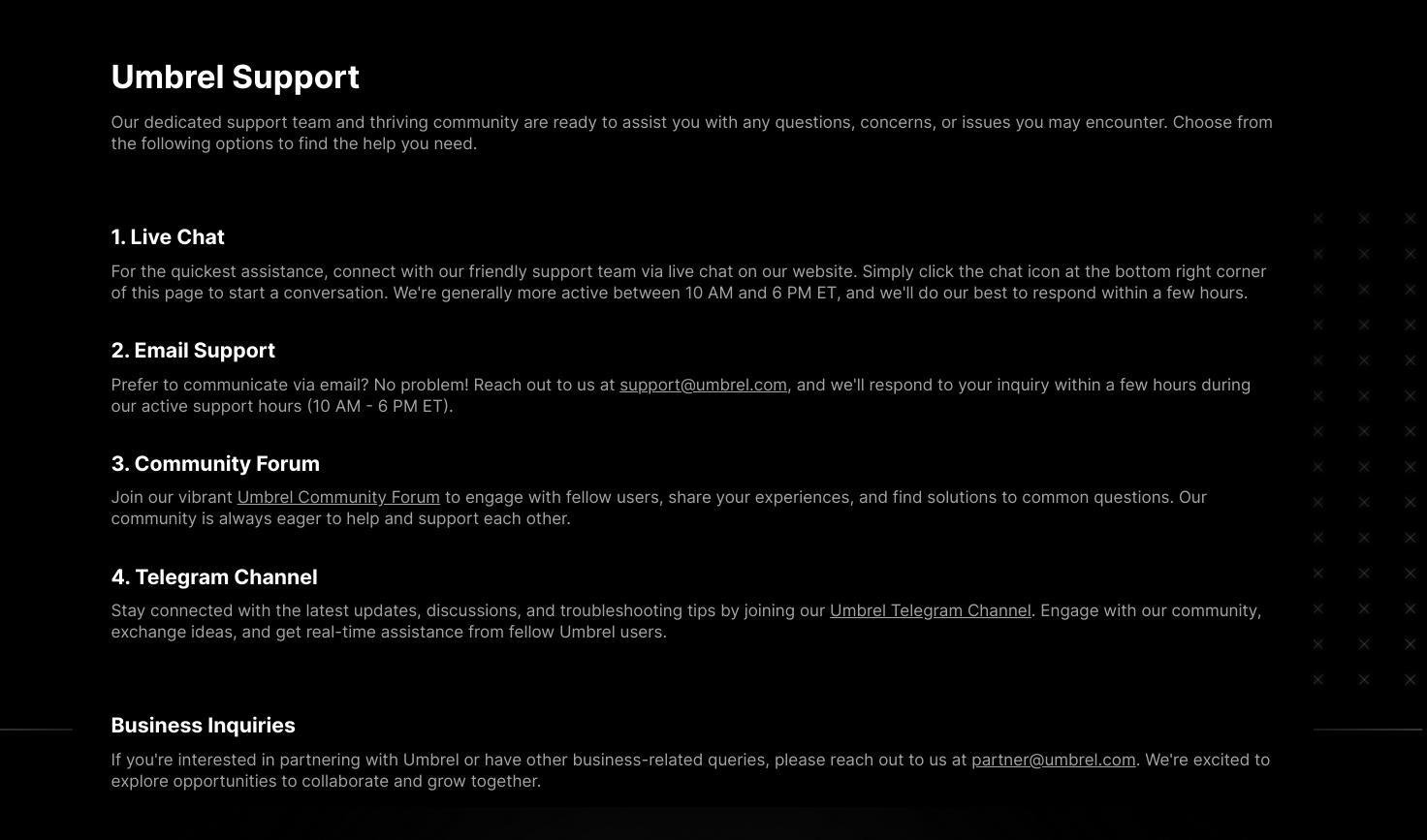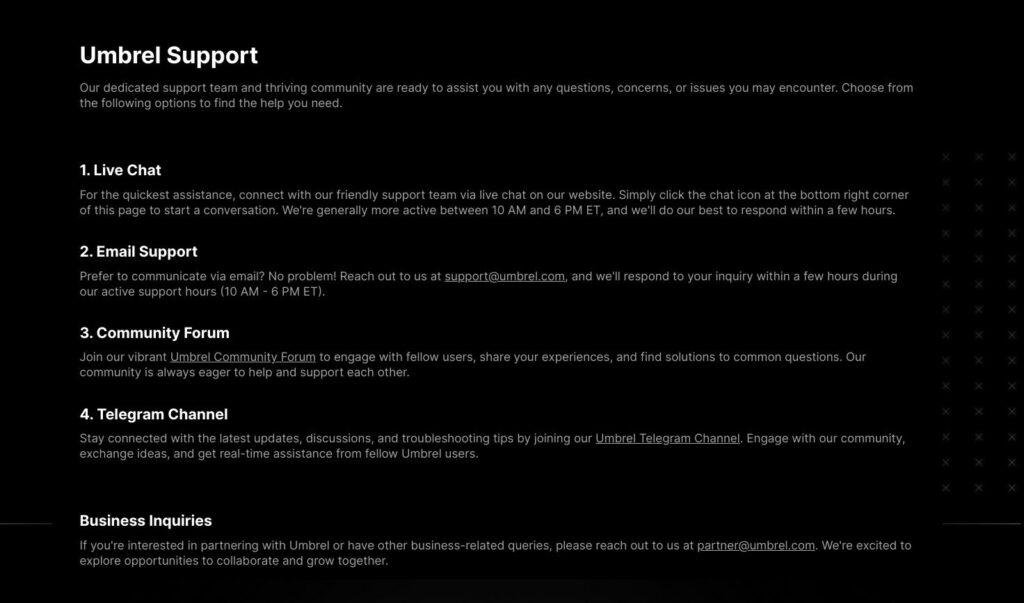 Conclusion
Umbrel Home is the perfect device for the modern man or woman who wants to run a bitcoin node with a plug-and-play solution. It's crazy how simple running a bitcoin node can be.
For Bitcoiners, Umbrel Home brings a wonderful bitcoin node interface. It shines at the core features of synchronizing the blockchain, validating blocks and managing a Lightning Network node.
But there is a lot more you can do. Umbrel Home is also a great option for folks who are not tech savvy but are still looking to become more self-responsible with their own data and cloud applications.
With over 100 apps available, Umbrel Home is a versatile homeserver that can make your life easier and your home network more feature rich.
With Umbrel Home you will get a premium product that is a joy to use. It's beautifully designed, unbelievable easy to use, powerful and crammed full with amazing features.
Pros
Great specs. The hardware specs inside the Umbrel Home are generous and power a seamless experience.
Great design. The Umbrel Home is the "iphone of homeservers" both the hardware and software are intuitive, beautiful and powerful, traits many love about their Apple products.
Easy setup. Setting up an Umbrel is fully automated an requires zero technical knowledge. Absolutely zero. You could give it to your grandmother and she would figure it out, it's incredible.
Community. The Umbrel community is on fire, highly active and ever growing. If you have any issues with your Umbrel, you 'll be answered likely within minutes. Link to Telegram group.
Versatile. Over 100 apps in the Umbrel App Store speak for itself. And you can program your own app too.
Cons
There are barely any cons. Umbrel Home excels at every level. Every bitcoiner should run a full node and Umbrel Home makes it easy, convenient and blissful. It's hard to find any downsides about Umbrel but since we're great at researching, we dug up some criticism.
Price. While the price tag of $599/530€ is justified for what you get, price sensitive folks should probably stick with a DYI solution if they just want to run a full node.
VC funding. While venture capital backing boosts growth it could also come at a cost of shifting the focus on profits over other aspects which are important but not as profitable.
Too easy. Since everything is made super easy, users could become lazy and less self-responsible to understand how their systems work under the hood.
Things to improve
I personally find the favicons on the menu bar a bit too childish and would prefer a slightly more mature look.
The user manual is a bit tiny and should be overhauled to match Umbrel's design guide. The back of the booklet is empty but could be used for cool art and memes to add to the experience.
No stickers are included 🙁
I received a US power adapter, quite the tabu for Germans.
Complete List of Apps for Umbrel Home
| No. | App Name | Description |
| --- | --- | --- |
| 1 | Agora | Sell your files for Bitcoin |
| 2 | Nostr Wallet Connect | The power of the zaps at the tip of your fingers. |
| 3 | Audiobookshelf | Audiobook and podcast server |
| 4 | Bazarr | Manage and download subtitles for Sonarr and Radarr |
| 5 | Bitcoin Node | Run your personal node powered by Bitcoin Core |
| 6 | Bitfeed | A beautiful mempool visualizer and block explorer |
| 7 | Bleskomat Server | Connect a Bleskomat ATM to your Lightning node |
| 8 | BlueWallet Lightning | Connect BlueWallet to your Lightning node |
| 9 | BTC RPC Explorer | Simple, database-free blockchain explorer |
| 10 | BTCPay Server | Accept Bitcoin payments with 0 fees & no 3rd party |
| 11 | Calibre Web | A clean web app for your eBooks |
| 12 | ChatBot UI | ChatGPT but better |
| 13 | Chatpad AI | Premium quality UI for ChatGPT |
| 14 | Circuit Breaker | Your Lightning Node's Firewall |
| 15 | code-server | Run VS Code on your Umbrel |
| 16 | Ride The Lightning (Core) | Manage your Core Lightning node with RTL |
| 17 | Core Lightning | Run your personal Core Lightning node |
| 18 | Electrs | A simple and efficient Electrum Server |
| 19 | Element | A glossy Matrix client compatible with Synapse |
| 20 | Elements Core | Liquid Network full node |
| 21 | ESPHome | Intelligently manage all your ESP8266/ESP32 devices |
| 22 | File Browser | Browse and manage the files you download on your Umbrel |
| 23 | Firefly III | Your personal finance manager |
| 24 | Firefox | Firefox is a free and open-source web browser |
| 25 | Freshrss | A free, self-hostable aggregator for rss feeds |
| 26 | Ghostfolio | Manage your wealth like a boss |
| 27 | Gitea | A painless self-hosted Git service |
| 28 | Heimdall | Organize your most used web sites in a simple way |
| 29 | Helipad | View boosts & boostagrams from Podcasting 2.0 apps |
| 30 | Home Assistant | Home automation that puts local control & privacy first |
| 31 | HomeBox | An inventory and organization system built for the home user |
| 32 | Homebridge | HomeKit support for the impatient |
| 33 | Immich | High-performance photo and video backup solution |
| 34 | Invidious | Browse YouTube without tracking or ads |
| 35 | Invoice Ninja | We'll help with the invoicing |
| 36 | IPFS Podcasting | Crowd-host podcasts over IPFS |
| 37 | ItchySats | Peer-2-peer derivatives on Bitcoin |
| 38 | Jam | Your sats. Your privacy. Your profit. |
| 39 | Jellyfin | The Free Software Media System |
| 40 | Kollider | Lightning-fast derivative trading |
| 41 | Krystal Bull | Become an oracle and create Bitcoin bets |
| 42 | LibReddit | An alternative private front-end to Reddit |
| 43 | LibreOffice | Do more – easier, quicker, smarter |
| 44 | LibreSpeed | Free and open source speedtest |
| 45 | Lidarr | Looks and smells like Sonarr but made for music |
| 46 | Lightning Shell | Web shell with a selection of LN node management utilities |
| 47 | Lightning Terminal | The easiest way to manage channel liquidity |
| 48 | Lightning Node | Run your personal Lightning Network node |
| 49 | LlamaGPT | Self-hosted, offline ChatGPT-like chatbot powered by Llama 2 |
| 50 | LnVisualizer | View the Lightning Network from your node's perspective |
| 51 | LNbits | Multi-user wallet management system |
| 52 | LndBoss | A GUI for BalanceOfSatoshis |
| 53 | LNDg | Analyze and automate your Lightning node management |
| 54 | LN Markets | Trade Bitcoin derivatives on Lightning |
| 55 | Lightning Network+ | Get incoming liquidity and double your channels for free |
| 56 | Mealie | A Place for All Your Recipes |
| 57 | mempool | Explore the full Bitcoin ecosystem |
| 58 | n8n | Build complex workflows, really fast |
| 59 | Nextcloud | Productivity platform that keeps you in control |
| 60 | Nitter | Browse Twitter without tracking or ads |
| 61 | Node-RED | Wire together the Internet of Things |
| 62 | Node-RED (Bitcoin) | Wire together the Internet of Things |
| 63 | nolooking | Open all your channels in one transaction |
| 64 | Nostr Relay | Backup all your Nostr activity with your private relay |
| 65 | Nutstash Wallet | Nutstash is a Cashu wallet for your browser. |
| 66 | Oak Node | Do more with your LND node |
| 67 | OctoPrint | A snappy web interface for your 3D printer |
| 68 | Ordinals | Trustlessly view Ordinal inscriptions using your Bitcoin node. |
| 69 | Overseerr | Beautiful media discovery |
| 70 | Passky Client | Simple, modern, lightweight, open source and secure password manager |
| 71 | Passky Server | Simple, modern, lightweight, open source and secure password manager |
| 72 | Penpot | Design and prototyping platform |
| 73 | PhotoPrism | Self-host your photo and video library |
| 74 | Pi-hole | Block ads on your entire network |
| 75 | Plex | Stream Movies & TV Shows |
| 76 | Prowlarr | Prowlarr is an indexer manager/proxy |
| 77 | qBittorrent | Free and reliable P2P Bittorrent client |
| 78 | Radarr | Your movie collection manager |
| 79 | Remmina | Remote access screen and file sharing |
| 80 | Ride The Lightning | A powerful dashboard for the Lightning Network |
| 81 | RoboSats | Simple and Private Bitcoin P2P Exchange |
| 82 | rotki | Portfolio tracking, analytics, accounting and tax reporting |
| 83 | Samourai Server | Your private backing server for Samourai Wallet |
| 84 | SatSale | Lightweight Bitcoin payment processor |
| 85 | SimpleTorrent | Download torrents with your Umbrel |
| 86 | Snapdrop | Opensource Airdrop Alternative |
| 87 | Snort | Fast Nostr UI |
| 88 | Tor Snowflake Proxy | Help defeat internet censorship |
| 89 | Sonarr | Smart PVR for newsgroup and bittorrent users |
| 90 | Sparkkiosk | Minimal LNURL kiosk |
| 91 | Specter Desktop | Multisig with hardware wallets made easy |
| 92 | Sphinx Relay | Chat and pay over the Lightning Network |
| 93 | Squeaknode | A peer-to-peer status feed with Lightning monetization |
| 94 | Squeak Road | Run your own anonymous market |
| 95 | Suredbits Wallet | A universal DLC wallet |
| 96 | Synapse | Matrix reference homeserver |
| 97 | Syncthing | Peer-to-peer file synchronization between your devices |
| 98 | Tailscale | Zero config VPN to access your Umbrel from anywhere |
| 99 | Tallycoin Connect | Crowdfund donations directly to your Umbrel node with Tallycoin. |
| 100 | tautulli | Monitor your Plex Media Server |
| 101 | TDEX Provider | Provide liquidity on the TDEX Network, an open protocol to trade Liquid Network assets. |
| 102 | ThunderHub | Take full control of your Lightning node |
| 103 | Torq | Scalable Node Management Software |
| 104 | Transmission | A fast, easy and free BitTorrent client |
| 105 | Trilium Notes | Build your personal knowledge base with Trilium Notes |
| 106 | Uptime Kuma | Self-hosted uptime monitoring tool |
| 107 | Urbit Bitcoin Connector | Connect your Urbit's Bitcoin wallet to your Bitcoin node |
| 108 | Urbit | Run Urbit on your Umbrel |
| 109 | usocial | Read. Listen. Pay back. |
| 110 | Vaultwarden | Unofficial Bitwarden® compatible server |
| 111 | Whoogle Search | A self-hosted, ad-free, privacy-respecting metasearch engine |
| 112 | WikiJS | Make documentation a joy to write |
| 113 | WoofBot (LND) | A chatbot for your personal node |
| 114 | WoofBot (without Lightning) | A chatbot for your personal node |
Complete list of apps on Umbrel – updated 28/08/2023
FAQ
What is umbrelOS
UmbrelOS refers to an open-source operating system designed specifically for running a personal Bitcoin and Lightning Network node.
UmbrelOS aims to simplify the process of setting up and running your own Bitcoin and Lightning Network node, allowing individuals to participate in the network's validation and transaction processing while also contributing to its decentralization.
By using umbrelOS, users can have more control over their financial transactions and support the overall health of the Bitcoin network.
What is a Bitcoin node?
A Bitcoin node is a software application that maintains a copy of the entire Bitcoin blockchain and validates transactions, contributing to the security and decentralization of the network. The Lightning Network is a layer-2 scaling solution for Bitcoin that aims to enable faster and cheaper transactions.
What is Umbrel Home?
Umbrel Home is a hardware mini-server that runs umbrelOS. A personal home server that gives you the convenience of the cloud, without having to give up your data. Powered by umbrelOS, Umbrel Home enables you to run your own cloud storage, media/VPN/home automation server, Bitcoin/Lightning node, network-wide adblocker, and more from hundreds of self-hosted apps in the Umbrel App Store.